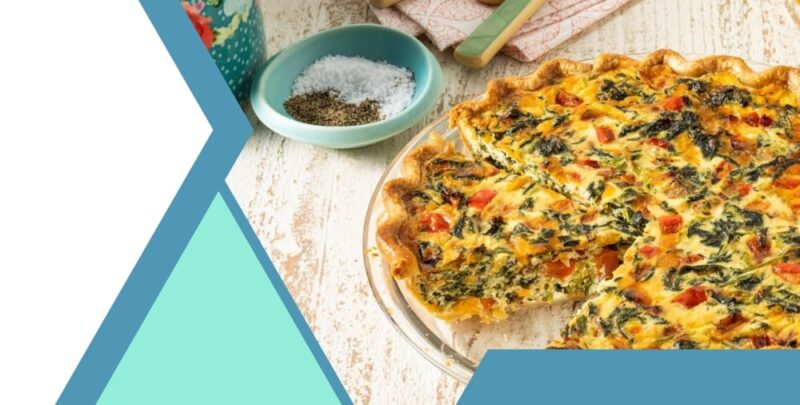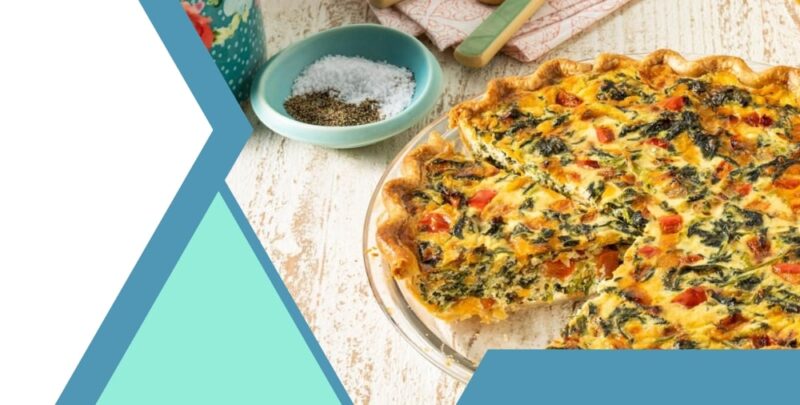 Are you also an avid follower of Alton Brown? This celebrity chef not just gave me the best recipe there is, but taught me how to make it the right way. I have this habit of collecting recipes of my favorite food. One day, I just came across with the Alton Brown quiche, and since then, I found myself making the delicious tart for whatever party or occasion it might be.
In fact, I guess I am already obsessed with quiche that it has become a part of our family's favorite recipes. Let me share with you the Alton Brown Quiche that I managed to make and perfect in time.
Do you know what a quiche is?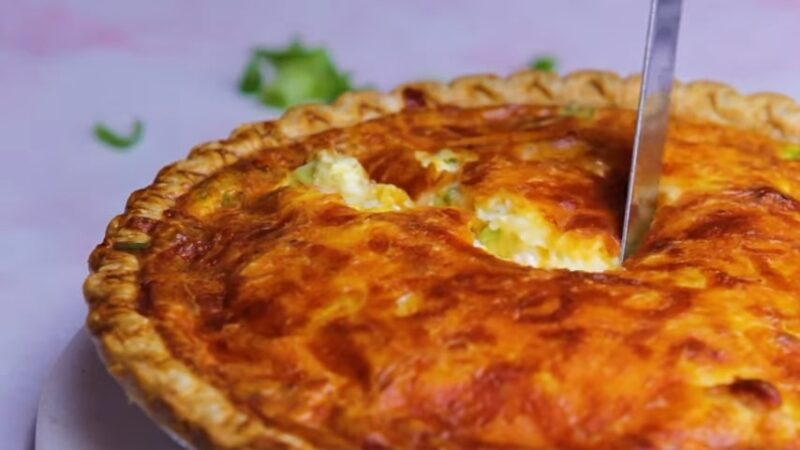 For a brief background, quiche or "refrigerator pie" as Alton Brown usually calls it, is simply a baked flan, pie, or tart with a flavorful filling that could be meat, seafood, or vegetables. The combination of milk or cream and eggs makes the flaky crust thick. Although it is from French cuisine, you can find the recipe anywhere. Wherever there is a party, this pie never fails to pop up.
Hence, when Alton Brown a famous celebrity shared his quiche recipe, all who loves to bake (including me) have found a new interest to indulge with at home. Therefore, I am sharing it to you as well.
Read more: Mangrove Snapper Recipe Collection that Your Family Will Love
Alton Brown Refrigerator Pie Recipe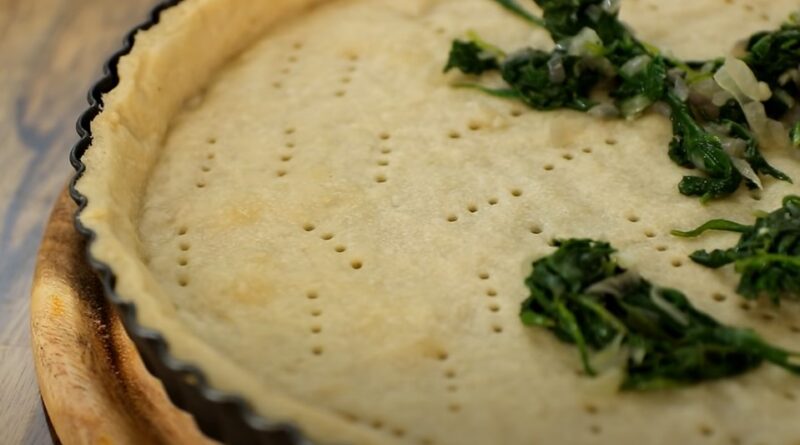 Quiche is easy and fast to make, so it really is not that hard to try even when you are baking it for the first time. The truth is I can mix all the ingredients I want inside my fridge (leftovers and whatever) if I have to. Maybe that is why Alton called it refrigerator pie. Nothing is easier than tossing all you like in a bowl, using a wooden spoon to mix it with egg and pour the mixture over a pie crust.
Hey, what I like about Alton's quiche recipe is that he encourages using a frozen pie crust, which is convenient for me. He also is open to giving me choices on what fillings I like to use.
Ingredients
1 cup of heavy cream (or half-and-half)
2 large eggs, beaten
2 pinches Kosher salt
Pepper
Freshly grated nutmeg
1 frozen 9-inch pie crust for each refrigerator pie (that fits a 9-inch baking dish or glass plate)
If you like a little bit of a challenge and prefer your own homemade pie crust, here is a link to Alton Brown's pie crust recipe. Enjoy!
For the pie filling, you can try choosing any of the following combinations (or improvise your own). However, I suggest that one out of the three must be any kind of cheese.
Cooked spinach, cheddar cheese, cubed cooked ham
Bacon, sautéed leeks, and Gruyere cheese
Cooked spinach, canned artichoke hearts, and parmesan cheese
Roasted Chicken, goat cheese, and sundried tomatoes
Blanched asparagus and smoked salmon
Spam and Port Salut (semi-soft cheese with a creamy flavor and smooth texture)
Directions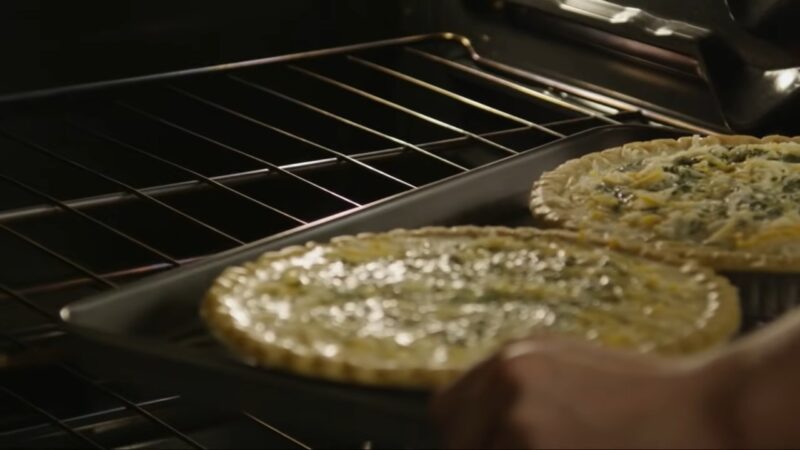 ​The ingredients are only good for one 9" pie (8 servings).
Preheat oven to 350 degrees Fahrenheit.
You can place a baking sheet under your frozen pie crust so that spillage will not end up all over your oven.
Add all the ingredients of the filling you decided to pick. Make sure cutting them into bits small enough for the mixture. Pour all of it in the pie crust and arrange evenly.
Meanwhile, beat the eggs in a non-reactive stainless steel bowl and mix in the heavy cream, salt, and nutmeg. Whisk until all the ingredients are well blended.
Pour the egg mixture on top of the pie just enough to fill in the edges. The egg will expand during the cooking process. If ever it spills a bit, then the baking sheet will catch it.
Now, bake it for 45 minutes or until you notice that, the edges are brown and all set. The center must also be a bit firm like Jell-O.
Remove from the oven and let it sit and cool at room temperature for 15-30 minutes. This will allow time for the pie to settle down so it will be easier to cut.
Serve and enjoy!
Here is a video tutorial on how to make the Alton Brown Quiche:
Crepe Quiche Lorraine courtesy of Alton Brown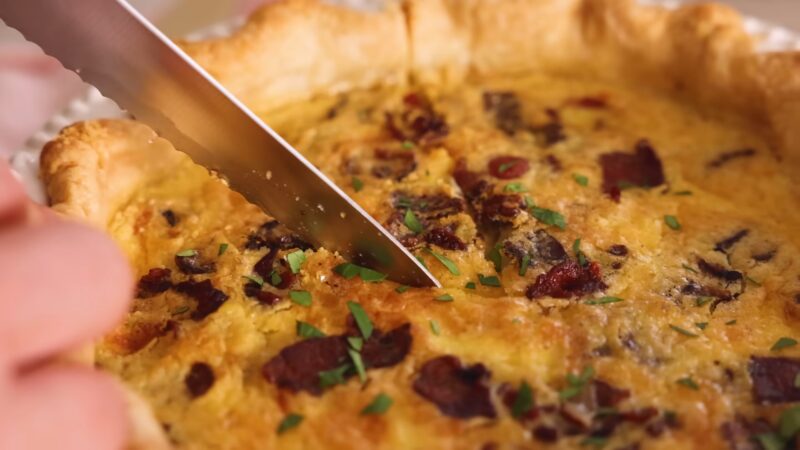 This recipe is another variety of Alton Brown's quiche, only this time it is served in crepes instead of pie crusts.
Ingredients
1 large egg
6 tbsp. whole milk
½ cup all-purpose flour
1 ½ tbsp. unsalted melted butter
2 tbsp. chopped fresh herbs (as you like)
½ tsp. kosher salt
For the quiches:
1 tsp. unsalted butter; and more for the pan
¼ cup sliced onion
2 strips bacon, cooked and crumbled
4 large eggs, beaten
6 ounces whole milk
Kosher salt and freshly ground pepper
¼ cup of shredded cheddar cheese
Directions
When making the crepes, using a food processor, blend in all crepe ingredients excluding the butter for the pan coating. Pulse in 10 seconds. Let the batter sit in the fridge for an hour letting the bubbles settle down. This will make the crepes sturdy during the cooking.
Heat the butter-coated skillet over medium-low heat. Pour ¼-cup batter into the center of the pan and twirl to spread equally. Cook for half a minute, then flip. After 10 seconds, remove and place it flat to cool on a cutting board. Do the same for the rest of the batter.
When making the quiches, preheat the oven to 325 degrees F. In a pan, melt the butter and sweat the onions until soft. Then in a bowl, mix the onion and crumbled bacon together. In another bowl, whisk the eggs and mix the milk, salt, and pepper until well blended.
In a muffin pan, place a crepe in each cup slot. Make the edges of the crepe to slightly pleated and overlap the edges of the cups. Pour the bacon and onion mixture in each cup, and sprinkle the cheese evenly in each of them. Then pour the egg mixture next.
Bake for 30 minutes or until the egg mixture is totally set. Let it cool for 5 minutes before serving.
FAQ
Can I make a quiche without a crust?
Yes, it is possible to make a crustless quiche by simply pouring the egg and filling mixture into a well-greased pie dish or baking dish. However, the crust adds flavor and texture to the quiche, so it is recommended to use one if possible.
Can I use a different type of cheese in the quiche?
Yes, you can use any type of cheese that you prefer in the quiche. However, it is important to choose a cheese that melts well and complements the other flavors in the filling. Some good options include Swiss, Gouda, feta, and cheddar.
Can I use frozen vegetables in the quiche filling?
Yes, you can use frozen vegetables in the quiche filling. However, it is important to thaw and drain them before adding them to the mixture to prevent excess moisture.
How can I tell if the quiche is done baking?
The quiche is done baking when the edges are golden brown and the center is set but still slightly jiggly. You can test this by gently shaking the dish – if the center wobbles excessively, it needs more time in the oven.
Can I make a quiche in advance?
Yes, you can make a quiche in advance and store it in the refrigerator for up to 3-4 days. To reheat, simply place it in a preheated oven at 350°F for 10-15 minutes.
Can I freeze a quiche?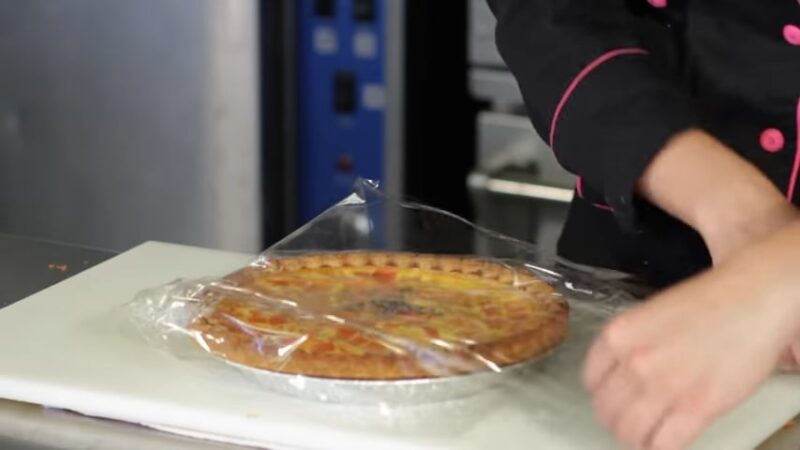 Yes, you can freeze a quiche by wrapping it tightly in plastic wrap and aluminum foil before placing it in the freezer. To reheat, let it thaw overnight in the refrigerator and then bake it in a preheated oven at 350°F for 10-15 minutes.
How can I prevent the quiche crust from getting soggy?
To prevent the quiche crust from getting soggy, you can pre-bake it for a few minutes before adding the filling. Another option is to brush the crust with a beaten egg white before adding the filling, which creates a barrier and helps to keep the moisture from seeping in.
Can I make a mini quiche?
Yes, you can make mini quiches using muffin tins or mini pie dishes. Simply adjust the amount of filling and baking time accordingly.
Can I add meat to the quiche filling?
Yes, you can add meat to the quiche filling such as bacon, ham, or chicken. Just make sure to cook the meat thoroughly before adding it to the mixture.
How can I make a low-carb or keto-friendly quiche?
To make a low-carb or keto-friendly quiche, you can use a crust made from almond flour or coconut flour instead of traditional pastry dough. You can also substitute heavy cream for milk to reduce the carb count, and use low-carb vegetables like spinach or asparagus in the filling.
Conclusion
What is your own combination of quiche filling? The Alton Brown quiche recipe provides several choices that are a guarantee to be a hit for your family and friends. It is actually fun tossing several ingredients especially most of them are a few of your favorites. It does not matter whether they are frozen or fresh it always ends up delish.
Quiche is delicious served either cold or hot. Try making one now and see if you can make exactly the same quiche Alton makes. On the other hand, do you think your version is much better? Let us find out, shall we?