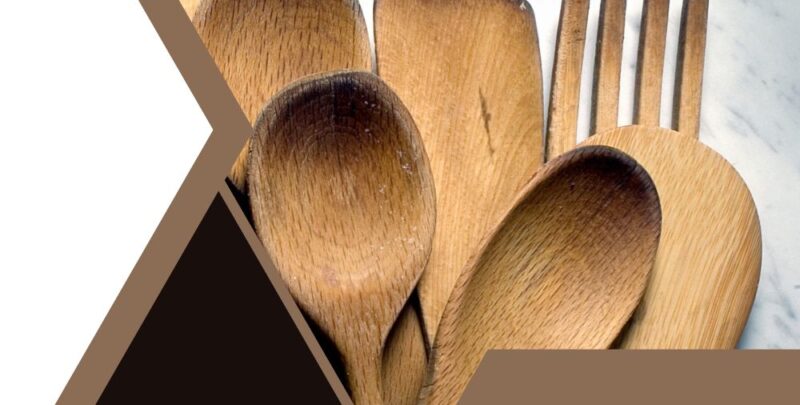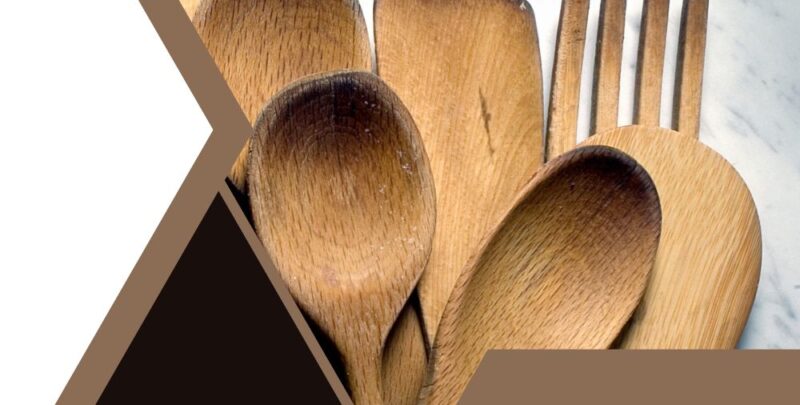 Of all your kitchen utensils, what is your favorite? Would you believe that I seek the best wooden spoons for my kitchen needs? I love the wooden spoon's versatility. It is my all-around handy utensil for me.
I make use of my wooden spoon for sautéing, stirring, mixing, and even for eating. Aside from being environmentally friendly, I like the tropical ambiance the wooden spoon gives in my kitchenette. It fits naturally amidst the modern atmosphere.
However, I do not just buy any type of wooden spoon out there. I prefer the product of the high quality of wood that withstands the test of time. Let me share with you how I choose the right wooden spoon that suits your kitchen collection, and a list of the best wooden spoons I recommend.
Wooden Spoons Every Kitchen Must Have – Top Picks
1. OXO Good Grips Wooden Spoon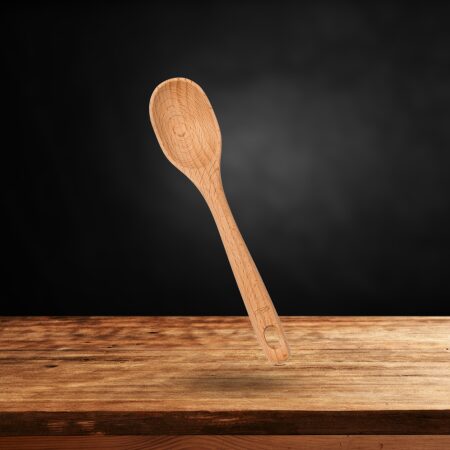 OXO chooses solid Beech wood for their wooden spoon collection. This product would surely withstand the entire scraping job you need to do with those stubborn sticky bits at the bottom of your pan.
No need to worry too, even though Beechwood is hard to be durable; it is soft enough to keep the non-stick coating safe. With a natural oil finish that coats and protects the wood, this set of three (large, medium, small) wooden spoons include one of each size and guarantees having comfortable handles for excellent grip and versatility.
Touch the deep spoon heads; they mean to scoop substantial servings of sauce and food. The straight-sided shape is so unique that lets you reach every corner of your cookware. OXO wooden spoons are of solid one-piece beech construction and are suitable for handwashing only.
Pros
Thick enough not to break
You can use it as a serving spoon for casseroles
Smooth and comfortable to the hand
Does not require seasoning
The handle is not slippery, and it is good for seniors
Cons
Need constant oiling and sanding to avoid being rough
Not recommended for dishwasher use
2. Neet Organic Bamboo Cooking and Serving Utensils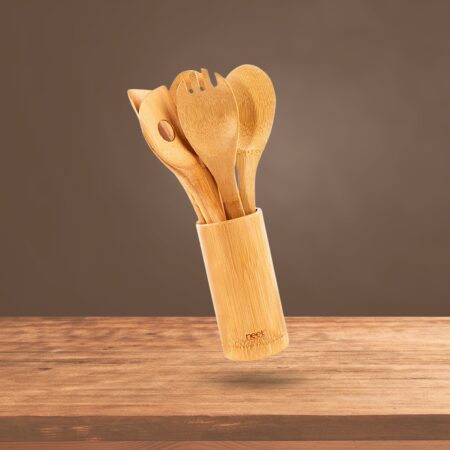 Neet has come up with a strategic design with these handcrafted 100% natural organic bamboo wooden spoons. Bamboo is one of the lightest, most reliable, and fastest-growing trees there are, and when utensils are made of this material, it lasts longer than other natural wooden products.
Neet wooden spoons are particularly sustainable, eco-friendly, and biodegradable. The complete set includes one spoon, spork, flat spatula, slotted spoon, slotted spatula, and utensil organizer.
Aside from bamboo being chemical-free, do you know that it has a unique antibacterial property? The wooden spoons are gentle on your expensive and delicate cookware, keeping it safe and scratch-free.
Use these utensils for sautéing, flipping, mixing, baking, and serving your recipes as well. You will not have any problem even when you expose it to high heat while cooking. In addition, NEET offers a 100% lifetime guarantee. What are you waiting for?
Pros
Natural organic material
Chemical-free
With antibacterial properties
Can withstand high heat
100% Money back guarantee
Comes with its own holder
Cons
Wood needs constant conditioning with oil
Mildew smell for the first few days of use
3. Eddington 50002 Italian Olive Wood Cooking Spoon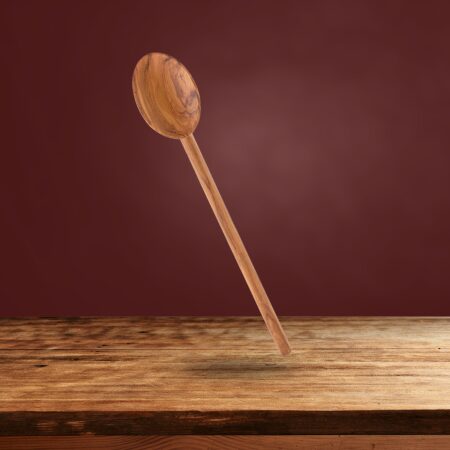 Eddington 50002 Italian Olive Wood Cooking Spoon is eco-friendly and safe to use with any kind of cookware. This durable wooden spoon is likewise made of olive wood.
Eddington also claims that the wooden spoon will not scratch surfaces and is safe for metal and nonstick cookware.
If you have non-stick or stainless steel cookware, this food-grade wooden spoon is a great match. It cleans and stores easily, but is better washing by hand rather than using a dishwasher.
Pros
Eco-friendly and safe
Stain and odor resistant
Reasonable price
4. ​​Roundsquare Kitchen Wooden Spoons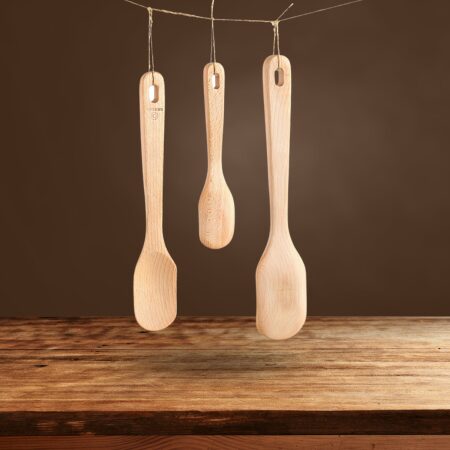 Each spoon from Roundsquare is of pure natural wood. All wooden spoons have a nice finish after careful polishing at production. Notice the smooth edges and sanded surfaces that ensure it is of high-quality product and suits any kitchen perfectly. If ever it is too fancy for you to use, it will serve as a classic decoration in your kitchen and an excellent gift for family and friends.
Schima is superb, durable, and lightweight to use. Hence, the wooden spoons are a guarantee to last long even when used daily. Since it is non-abrasive, the softly rounded shape of the wooden spoon is safe to use for your expensive and delicate non-stick pans, leaving a scratch-free and intact. The product may be soft, but the edges are firm enough to scrape any bits of food from the bottom of your cookware.
Wood is non-conductive, no need to worry about burns making it convenient and secure to use even with your little ones. Therefore, go ahead use it with a bowl of hot soup and the handle will stay cool to your touch. It also features a long handle for mixing, stirring, cooking, sautéing, serving, and taste testing. The purpose is also to keep you far enough not to burn yourself from the heat and to reach deep pots when cooking.
Pros
You can paint on them for decoration
Perfect for holiday gifts, prizes, and giveaways
Reasonable price
Long handles
Non-abrasive
Non-conductive
Cons
Not dishwasher safe
Handles are thin
5. ​​​Scanwood Olive Wood Utensils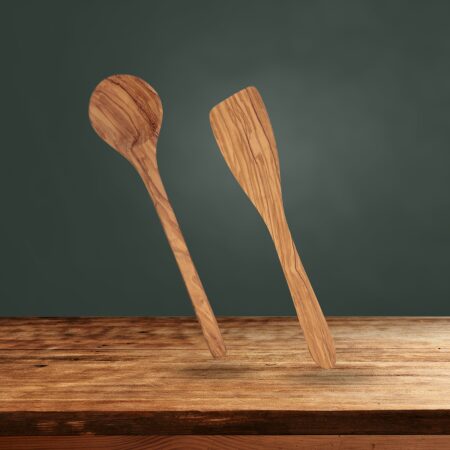 Amidst the Scandinavian charm, these Scanwood Olive Wood utensils display an array of wooden spoons that are handcraft made of the world's best Italian Olivewood. See the beautiful, natural pattern that brings warm colors and the allure of nature straight right to your homes.
Each wooden spoon is of durable hardwood that is safe to use with your delicate skillets and pots. It is gentle and soft enough not to scratch the surface of your cookware's coated surfaces. This eco-friendly product is ideal for scraping, stirring, tasting, and presentable enough for serving. Stanwood wooden spoons prove to be solid and durable.
Do not forget to wipe or rub each spoon with olive oil or any high-grade mineral oil to maintain its brand new look.
Pros
Lightweight
Virgin wood
No stains and chemicals
Carved from solid wood and is robust
Easy to clean
Comfortable to hold
6. ECOSALL Healthy Wooden Cooking Utensils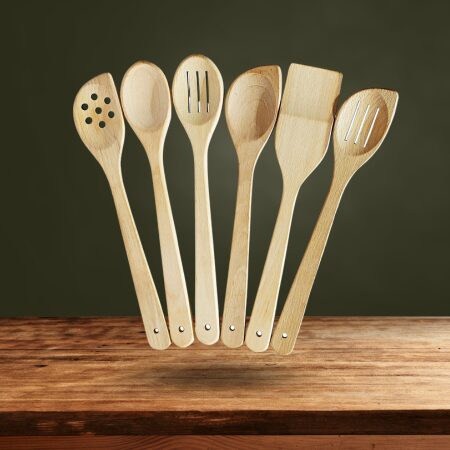 ECOSALL is proud to introduce their healthy wooden spoons that you can use for cooking. The offer is a 6-pc/set package, all made of natural nonstick hardwood that is uncoated and unglued. These durable, eco-friendly, and safe kitchen utensils are of high-quality cooking tools. Each piece comes slotted for hanging convenience.
These professional white wooden utensils have handles that are easy to grip, long, flat, and heat resistant. Guaranteed to be of pure natural hardwood, it features a thick and long handle, perfectly sanded, smooth, lightweight, and durable product. Try to use it at home and discover that it will not easily break like other kinds. Besides, like any other wooden spoon, it is non-conductive and never melts.
The whole utensil set includes mixing spoons, flat, angles, and slotted spatula with a thin tip that works well for serving, flipping, frying, and outdoor use. Safe for all cookware, these beechwood spoons are easy to clean even through hand wash. If you are into art like wood burning and decorative painting, the spoons are best for it too. Then, it is excellent for gifts, prizes, and giveaways as well.
Pros
Eco-friendly
Healthy, natural, and organics
High-quality wood
Safe, uncoated, unglued
Long comfortable handles
Easy to clean and store
Cons
You need to do constant rubbing using oil
Not recommendable for dishwasher
7. ​Crate Collective Original Bamboo Spurtle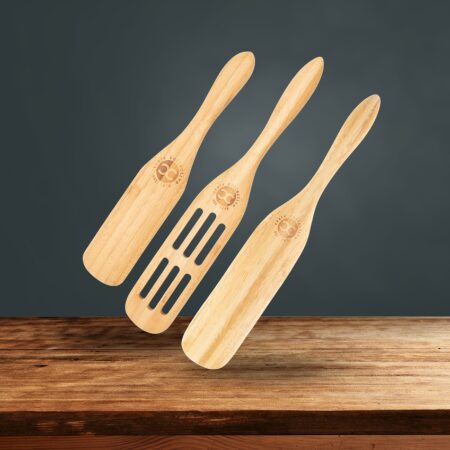 Do you know what a Spurtle is? It is not a spoon nor a spatula, but a utensil that is slightly both. Crate Collective offers a wooden set that consists of one 9" long and one 13" long spurtle. I say that for someone that loves to cook, the spurtles are a must-have in your kitchen. The product is not only sturdy and lightweight but very convenient as well.
As bamboo is naturally antimicrobial, wooden spurtles are excellent for cooking, stirring, or scraping the bottom of pots. Since it is soft to use with your delicate skillets and pot, it is scratch-free use. Originally, spurtles are for stirring oatmeal and scooping porridge in Scotland. Now that it is in our hands, I am sure it can do more than that.
The Bamboo wood spurtles have an elongated design and are easy to clean.
Pros
Has antimicrobial properties
Safe for delicate cookware
The elongated design makes the spurtles versatile
Durable and lightweight
Easy to clean and store
Comfortable to grip
Cons
Not advisable for dishwasher
Needs oil coating for maintenance
What are my reasons why I prefer wooden spoons?
Wooden spoons are necessary to have when cooking. Hence, I advise keeping one in the scullery that you can grab anytime. It is not just about the warm memories I have with wooden spoons, but the significant explanations why I need to use them. After knowing these, you might want to have a few in your kitchen as well.
Wooden spoons are safe to use while cooking. Wood is non-reactive (does not leach) with acidic food than metal utensils. Comparing to plastic, it does not leach harmful chemicals.
Wood is non-conductive. It does not get too hot when exposed to heat even during a long cooking time.
I recommend using wooden spoons to take care of your non-stick-coated skillets. Wood is a soft material that will not scratch the surfaces.
Using natural materials is friendly to the environment. Pick the type of wood that is the most eco-friendly. I have some spoons of quick-growing bamboo wood at home.
Soft to handle and easy to clean: Since wood is a soft material, it is smooth and comfortable upon your grip.
Can you use wooden spoons like metal utensils?
I do use my wooden spoons like any other metal utensil. In fact, I prefer to use it over the other. All my current wooden spoons are reliable and durable even after several cooking. Take note that with wooden spoons, the type of wood and the shape or design matter.
The main function of a wooden spin is for stirring. I pick the kind that is wide enough to be efficient to stir the food while cooking for a lesser effort. If you found one, consider choosing a spoon with a long, sturdy handle that feels comfortable in your hand.
Wooden spoons are best when used for scraping. Because it does not imply a risk of damaging the surface of your coated pan, you can scrape the food off without any worry.
I use my wooden spoons for tasting when cooking. Hence, I make sure that the size is wide but small enough to fit the end of my mouth.
The Best Wooden Spoons Buying Guide: Factors that You Need to Consider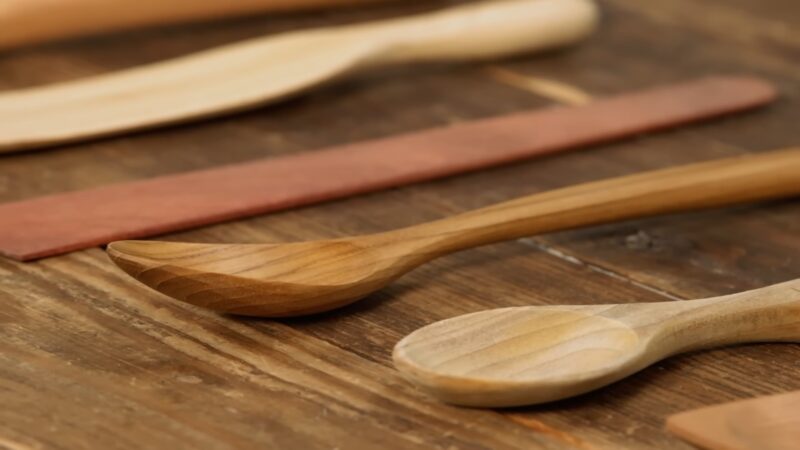 You may have a different preference when it comes to wooden spoons, but the significant factors that you need to look for when buying one are common. See below for considerations when the best wooden spoons are in your mind.
Type of Wood – Do you know that Pine is the most economical wood you can find for a wooden spoon? However, although they work fine, you cannot expect them to last for long. It may also bother you when you notice the piney taste that it imparts to your food during the first few days of use. Pines are good for me if there is no other choice, but if you have the chance, opt for other kinds like beech, maple, bamboo, or olive wood.
Design – You may observe that almost all wooden spoons are shallow, but still sufficient in holding a bit of food for you to taste. Other designs are deeper if you want one that can hold more serving. Nevertheless, if your primary purpose in acquiring a wooden spoon is to scrape bits of food from the bottom of your skillet, I suggest picking the type with a sharp angle and straight edges. You are free to select what you think is new and convenient. Conventional styles prove to be useful, but sometimes, you can find worthy products among the new arrivals. Keep an eye on slotted spoons, dippers, spatulas, and other varieties of wooden spoons. I have one at home that I use all around in cooking and is durable enough to last long.
Construction – An ideal wooden spoon should be made of pure wood that is hard enough to withstand stirring, scraping, and tasting without showing any signs of breaking or chipping. I cannot tolerate utensils that break when in contact with food. You do not know how hard it is to look at tiny bits from what I am cooking, or worse, throw away the food.
Other Materials – Plenty of wooden spoon designs out there have other materials with your wooden spoon. See those products that feature silicone handles for a softer and more comfortable grip. You might even observe that marble handles are available too. It does not enhance the spoon's efficiency to work since, for me, wood is soft enough for my hand. However, if you find the colorful designs fancy, it is a matter of your own preference really. After all, wooden spoons are a dramatic display no matter what style your kitchen is.
FAQ
What are the benefits of Wooden Spoons?
Here are some benefits when using wooden spoons:
Do not conduct heat
Won't alter the cooking temperature
Won't scratch
Won't leach harmful chemicals
Better for the environment
When should you use a wooden spoon?
Wooden spoon is commonly used in cooking and baking for various purposes. Here are some situations where you should consider using a wooden spoon:
Stirring hot liquids: Wooden spoons are great for stirring hot liquids such as soups, stews, and sauces as they don't conduct heat as much as metal spoons. This makes them safe to use without the risk of burning your hands.
Mixing ingredients: When mixing ingredients, especially those that are delicate or require a gentle touch, a wooden spoon is an excellent choice. It won't react with acidic ingredients, as some metals do, and won't scratch non-stick or delicate surfaces.
Making caramel or candy: Wooden spoons are also recommended for making caramel or candy, as they don't conduct heat as much as metal spoons. This allows you to mix the ingredients without the risk of the spoon getting too hot and potentially burning the mixture.
Preventing scratches: If you are using a non-stick pan, a wooden spoon will prevent scratching the surface of the pan. This will help to extend the life of your cookware and ensure it remains in good condition for longer.
When should you throw away your wooden spoons?
Wooden spoons are a great tool for cooking and baking, but they can become worn out or even unsafe to use over time. Here are some signs that it may be time to throw away your wooden spoons:
Cracks or splits: Wooden spoons can crack or split over time, especially if they have been exposed to heat or moisture. If you notice any cracks or splits in your wooden spoon, it's time to replace it. These can trap food particles and bacteria, making it difficult to clean properly and increasing the risk of contamination.
Discoloration or mold: If your wooden spoon has become discolored or has developed mold, it's time to throw it away. This can be a sign of bacterial growth and could contaminate your food.
Warping or bending: If your wooden spoon has warped or bent out of shape, it may not be safe to use. This can make it difficult to use and could break during use, causing injury.
Strong odors: If your wooden spoon has developed a strong odor that won't go away even after washing, it's time to replace it. This could be a sign of bacterial growth or contamination.
Age: Finally, if your wooden spoon is simply too old and has been used for many years, it may be time to replace it. Wooden spoons can become worn and less effective over time, and may no longer be up to the task of stirring, mixing, and scraping.
Conclusion
For me, wooden spoons are as useful and convenient as metal ones. In fact, I like the way it is safe and non-conductive to heat. The two qualities are significant when you love to cook. Preventing my hands from burns and taking good care of my delicate pots and skillets are my priority. The versatility of the utensil only comes next.
However, wooden spoons offer more than that. Aside from its versatility in the kitchen, it can be an object of your artistry and is perfect for gifts and prizes as well. Each of the wooden spoons I have mentioned is worthy of praise and has qualities that you would want in your kitchen. Tell me, have you made your pick?