I have never been enthusiastic about fishing. In fact, I fall asleep each time we go, that I deliberately bring along a mat and a makeshift pillow for convenience. What? It is a picnic-go-fishing after all!
I have been to bays and reefs, and my hubby always ends up with a bunch of Mangrove Snapper that makes him smile until we reach home. Then you know why I came up with a collection of recipes.
Almost every weekend, I need to decide a new recipe to try. There is no reason at all why I cannot master cooking it.
The Basics
Mangrove snappers are common as a game fish that you usually find in fresh and brackish waters. You can find plenty of it in the market and as an aquarium fish trade as well. What I often cook is the orange color, but in other times, we get bright red and copper shades too.
The biggest catch my hubby caught is about 16 inches in length.
The taste after cooking is light, flakey, and so tasty. Others claim that it tastes even better than the red snapper and there are plenty of recipes that you can choose from to prepare it.
Different Methods to Cook Mangrove Snapper and My Favorite Recipes that go well with it
You will be amazed the so many ways to cook your Mangrove Snapper. I encourage you to learn as much as you could especially when you often get abundant blessings of it. It will help you prevent getting tired of eating the same fish each time. Hence, it calls for various recipes to try!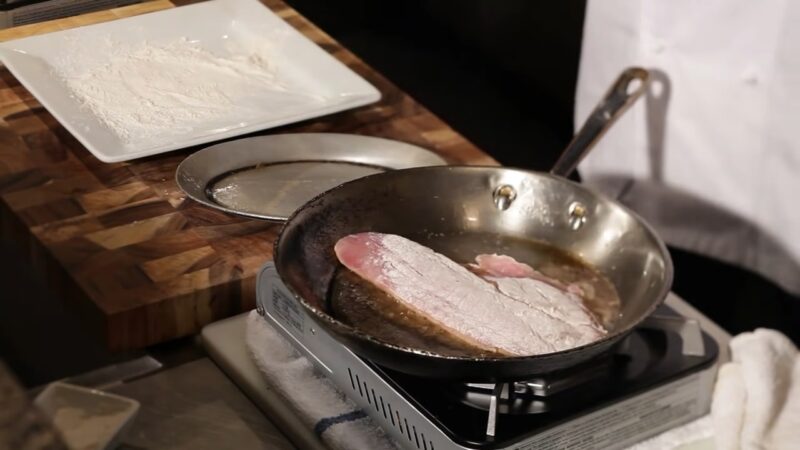 1. Fish Fillet
The main point is to clean and debone the fish before making fillets. Then the cutting will all be simple and quick. Showing you how to do it easier to understand and follow, so here is a video tutorial on how to it.
Fish Fillet Recipe (Cooktop method)
What is your favorite fish fillet dish? Mine is the sweet and sour fish fillet with sweet potato wedges as a side dish. Here is the recipe, if you want to try it.
Ingredients:
2 Mangrove Snapper Fillets deboned, and skin removed
3 tbsp. oil
Salt and ground black pepper
¼ cup pure lemon juice
¼ cup brown sugar
¼ cup white vinegar
¼ cup coconut milk
½ diced green bell pepper
½ diced red bell pepper
¼ diced onion
¼ diced pineapple
8 wedges of baked sweet potatoes
Directions:
Coat the fish fillets with oil and sprinkle both sides with salt and pepper. Set aside.
Mix the lemon juice, sugar, vinegar in a pan. Slightly cook in medium heat for 2 minutes.
Add in the coconut milk, diced peppers, onions, and pineapple. Stir until thick for 10 minutes.
In another pan, heat the rest of the oil and fry the fish fillet for 2 minutes each side. Arrange it in a baking dish and pour the pineapple sauce mixture on top.
Bake for 5 minutes.
Take note that you can use any recipe for your baked sweet potatoes. I just want to promote that this healthy carb is an excellent side dish for a sweet and sour meal. I do not know about you, but I prefer not to peel my potatoes when cooking.
2. Sushi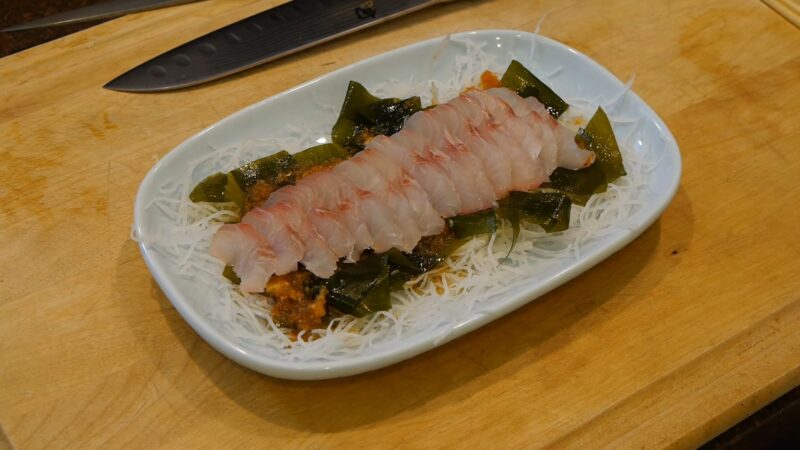 Yeah, you could cook the fish fillets on a stovetop or not. That is why I included this sushi recipe for a change. Do you know how to make sushi? Let us try this Japanese style of food preparation and see how Mangrove Snapper would fit in.
First, you need to learn how to prepare a fish for sushi making. Here is a short tutorial for you to watch.
Sushi Recipe
You may not often see mangrove snapper as a choice for sushi bars. The first in demand are tuna and salmons for that matter. The Mangrove snapper has great potentials to land as excellent sushi and may be one of the top picks in the future.
Soon there will be chefs experienced enough to accept this kind of fish for sushi preparation.
Ingredients:
6 sheets of sushi seaweed (nori)
Cooked sushi Rice
½ lbs. of sushi-grade Mangrove Snapper
4 ounces stripped sliced cheese
1 avocado, sliced
Soy sauce
Directions:
Place the sheet of seaweed on a bamboo mat, or a silicone mat if you have.
Spread the cooked sushi rice evenly to cover the seaweed sheet.
Place the avocado, fish, and cheese in layers on top of the rice before rolling it up tight.
Slice it to serve with soy sauce.
3. Mangrove Snapper in the Oven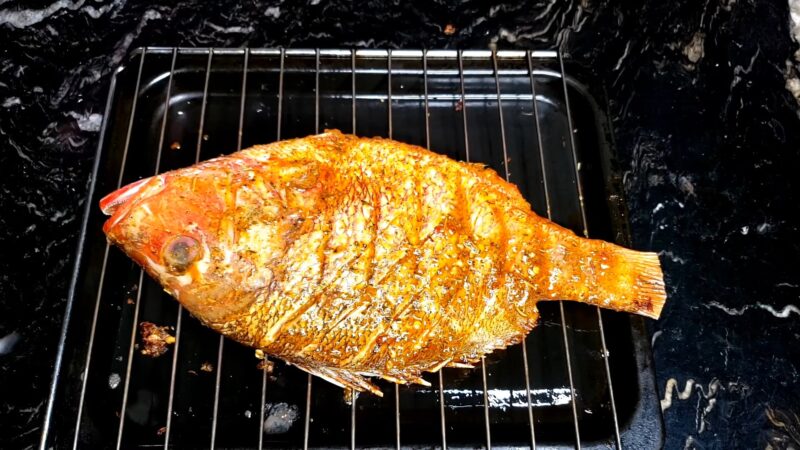 When I do not feel like doing a lot, and there is a huge Mangrove Snapper in my sink, the oven is the first choice that comes in my find on cooking it. There is no easier, faster, and less effort method in cooking than baking. Let me share with you a delicious recipe that made it as a favorite meal at home.
Baked Mangrove Snapper with Garlic and Herbs
Just a mixture of garlic, butter, breadcrumbs, and cheese makes this recipe a champion to my family always. This is a healthy meal and is easy to prepare for a bunch of hungry tummies as well.
Ingredients:
6 seven-ounce snapper fillets
4 tbsp. butter
1 clove of minced garlic
4 drops of Worcestershire sauce
½ tsp. of your own seasoning of choice
1/8 tsp. of ground black pepper
2 tsp. of minced parsley
1 tsp of snipped chives
4 tbsp. of seasoned breadcrumbs
Directions:
Preheat the oven to 200 deg. C, and then gather all the ingredients.
Spray your prepared baking dish with butter-flavored non-stick cooking spray. Arrange your fish fillets on it.
In a pan, melt the butter with garlic, Worcestershire sauce, seasoning, pepper, parsley, and chives. Cook in just 2 minutes enough to blend in their flavors.
Brush the fish fillets with the butter and herbs mixture thoroughly. With the leftover mix, toss the breadcrumbs and cheese to mix.
Sprinkle the breadcrumbs over the fish fillets. Bake for 12 minutes.
FAQ
What are the benefits of cooking Mangrove Snapper?
Cooking Mangrove Snapper can provide a variety of benefits. It is a healthy source of protein and omega-3 fatty acids, and it is also low in fat and calories. Additionally, it is a versatile fish that can be cooked in many different ways, making it a great choice for home chefs who want to experiment with new recipes.
How do I clean and fillet a Mangrove Snapper?
To clean and fillet a Mangrove Snapper, first, remove the scales and head of the fish. Then, use a fillet knife to make a cut behind the gills and down the backbone. Continue cutting until you reach the tail, and then remove the fillet. Repeat the process on the other side of the fish.
Is Mangrove Snapper sustainable?
Mangrove Snapper is considered a sustainable seafood choice by organizations such as the Monterey Bay Aquarium Seafood Watch. This is because it is a fast-growing species that is not overfished, and it is typically caught using environmentally friendly methods. It is always important to check with local sources to ensure that the fish is being harvested sustainably.
Are they safe to eat?
Yes, Mangrove snappers are safe to eat and are considered a popular game fish. It's important to ensure that the fish is fresh and properly cooked before consumption to avoid any foodborne illnesses.
Where can I buy Mangrove snappers?
Mangrove snappers can be found in most seafood markets or fish markets. They can also be caught in fresh and brackish waters, so if you have a fishing license, you may be able to catch your own.
What are some other recipes I can try?
There are many different recipes you can try with Mangrove snappers, such as grilled with mango salsa, ceviche, tacos, and curry. The possibilities are endless!
How do I clean and debone a Mangrove snapper?
Cleaning and deboning a Mangrove snapper is relatively simple. First, remove the scales with a scaler or the back of a knife. Then, make a cut behind the gills and remove the head. Use a filleting knife to remove the fillets from the fish, and then use pliers or tweezers to remove any remaining bones.
Can I use frozen Mangrove snapper for these recipes?
Yes, you can use frozen Mangrove snapper for these recipes, but it is important to thaw the fish properly before cooking. Thaw the fish in the refrigerator overnight or under running cold water for several hours before using it in a recipe.
The Bottom Line
Mangrove snapper recipes are unlimited as soon as you get the hang of cleaning and making fillets out of it. Sometimes, I bake or fry it completely depending on its size. With the rising demand of this type of fish as a game, or in a market, you will not be surprised to see one in your favorite restaurants.
If you are new to cooking Mangrove snappers, I hope you my insight useful. This is a way of welcoming a newbie of a lifetime in the adventure of cooking at home.