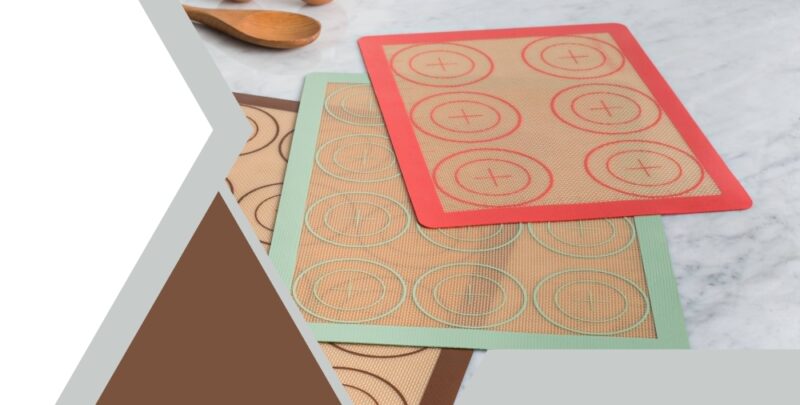 Have you ever wondered how professional bakers are able to bake perfectly shaped crispy cookies that are free of parchment paper at their bottom (Ugh. We all know how annoying that can be!)? Well, they have one secret—a silicone baking mat.
There is no denying the fact that the use of a silicone mat can make baking as hassle-free as possible. Aside from the fact that it can help you make paper-free cookies, these mats also promote faster and easier cleanup.
But what is the best silicone baking mat? Keep on reading this article to find out!
 Best Kitchen Essential Reviews
Below you can find the best silicone baking mats available in the market today. I also have included their pros, cons and features—everything to help you make the right decision:
1. Silicone Healthy Cooking Mat by Jollylife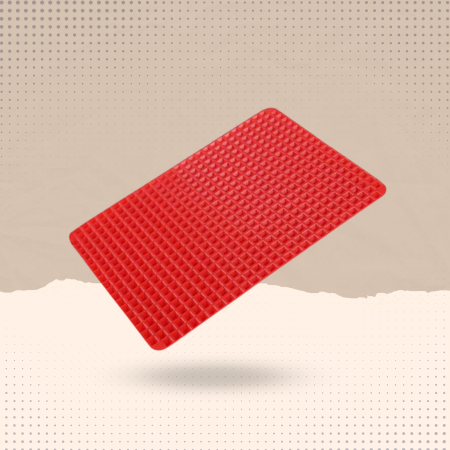 As compared to all the other products in this list, you will notice that the Silicone Healthy Cooking Mat by Jollylife features a much different design. Instead of a flat surface, this mat gives you a raised texture due to the addition of pyramid-like cones in its surface.
What are these structures for? According to the manufacturer, these structures allow the air to flow to and from the food item properly. It also helps in transferring heat and can also catch the oil and grease that may drip down your baked meat dishes making it an excellent choice when you want to cook healthy food for your kids.
That is why this is my go-to baking mat for roasting veggies and meats. Because of its unique design, this cooking mat from Jollylife can give your bacon, cookies, and biscuits a crispy and brown finish. One thing I like about this mat is that its reverse side gives you a flat surface which may serve as a food mold for cookies and waffles.
Just like most mats in the market, this one is made of food-grade silicone which can withstand the temperature range of -40 to 446 degrees Fahrenheit. It measures 11.5 x 16 inches which would fit most baking sheets. I have a simple hack to share.
I have a small oven at home and I found this mat to be too big for the baking sheet of that oven. What I did is I resized the mat to fit the sheet by cutting it using just scissors. Now, that's one feature that is nice to have, won't you agree?
Pros
Customizable size and shape
Reversible design
A unique pyramid-like structure at its surface can promote crispiness and browning
Non-smelling, anti-dust and impermeable
Dishwasher safe
Foldable to space save
Cons
Challenging to clean because of its small grooves
The patterns on the mat's surface may damage delicate batter or dough
No internal light
2. Silchef 3-Pc Nonstick Baking Mat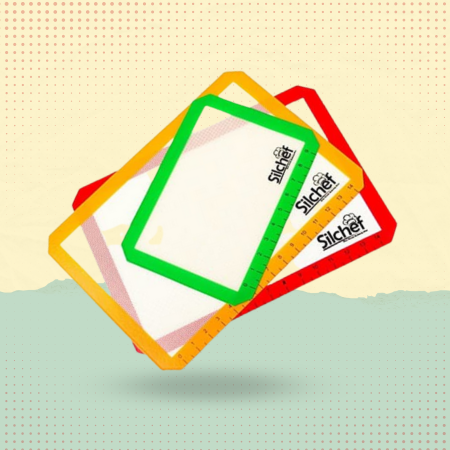 The 3-Pc Baking Mat Set from Silchef is composed of two half-sheet mats and one baking mat that measures only a quarter of a baking sheet. All sheets are made of fiberglass that is coated with non-toxic food-grade silicone material that is LFGB and FDA-approved. Aside from being toxic-free, the materials also do not absorb flavors and odor.
The mats are safe for microwave, oven, dishwasher, and freezer and can withstand temperatures of -40 to 482 degrees Fahrenheit. And if the mats have only minimal stains or dirt, you can wipe them off and use them again the next day.
What I like about these mats is they have colorful borders. But more than that, you can also find measurement markings at its borders which allows you to arrange the dough or batter on the mat carefully.
Pros
Contains three pieces of mats
Comes in different sizes
Stylish colored borders
Comes with measurement markings
Can simply be wiped down
Cons
Edges turn brown after a few weeks of use
Comes apart after being used a couple of times
3. Silpat Premium Nonstick Baking Mat
The first company to manufacture original nonstick baking items is Silpat. The Silpat Premium Nonstick Baking Mat is just one of them. The mat measures 11 5/8 inch x 16.5 inches and can withstand temperatures of -40 to 482 degrees Fahrenheit.
What makes this baking mat stand out is the quality of materials used in creating it. The company uses a proprietary fiberglass mesh that is coated with the highest quality food-grade silicone material. All of the materials that the company uses conform to US regulations and standards.
Aside from the mat's exceptional non-stick properties, another thing that I like about this mat is its durability. According to the company, the mat can last for up to 2000 to 3000 bakings and I can say that they lived up to their promise.
Another reason why I love using silicone baking mats from Silpat is that some of its variants have markings perfect for measuring different types of baked goodies such as pretzels, cookies, macarons, and many more.
Pros
Can last for up to 3000 bakings
Available in different sizes and variants
Deliver unparalleled nonstick features
FDA, Kosher and NSF certified
Wipeable surface
Cons
A bit expensive
Hard to clean
4. Vremi 3-Pc Silicone Baking Mat Set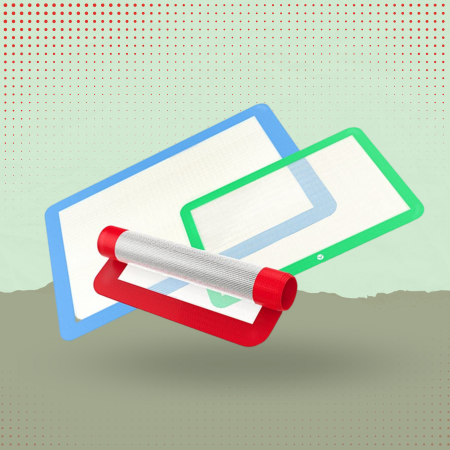 Another baking mat set available in the market is the 3-Pc Vremi Silicone Baking Mat.
This one is a cut above the rest because of its eye-catching, attractive design. The mat features a nonstick food-grade silicone material woven with transparent fiberglass weave.
This is my go-to baking mat set when it comes to making different types of baked goodies as it includes three pieces of baking mats that are of functional sizes. It contains two pieces of 11.5 x 6.5-inch baking mats and one piece of 8 x 13-inch baking mat.
All of these can withstand a temperature range of -40 to 480 degrees Fahrenheit.
When I don't have the time to wash it, I just simply wipe it with a damp cloth and dry it afterward. Once it is already properly dried, I roll the three mats together and stash them in my kitchen cabinet.
Pros
Eye-catching design
Easy to store
Three mats in just one pack
Flexible mats that can be rolled
Tear-resistant mats
Cons
Not dishwasher safe
Stains easily
5. Artisan 2-Pc Silicone Baking Mat Set

The Artisan Silicone Baking Mat Set features two pieces of baking mats, both of which have dimensions of 16.5 x 11 inches. The simple design of the mat features a highly flexible woven fiberglass core that is coated with BPA-, PFOA- free non-stick and reusable silicon material. The look of mat is finished off with a red border to make it look more aesthetically pleasing.
The silicone material used in creating this mat is approved by LFGB and FDA and has high heat tolerance. In fact, the mat is designed to withstand temperatures ranging from -4 to 480 degrees Fahrenheit.
What I like about this mat is its ease of storage. I can place it flat on the counter for easy access or I can roll it and place it in a drawer when I need the counter to be free of items. I can put it anywhere as it is flexible enough to fit even the smallest storage space in my home.
Pros
Stains in the surface can be wiped down
Made of materials that are approved by FDA and LFGB
Comes in a standard size
Easy to clean with soap and water
Includes two pieces of baking mats with identical sizes
Cons
Not suitable for baking greasy and oily food items
Not recommended to be placed in a dishwasher
Silicone Baking Mat Vs Parchment Paper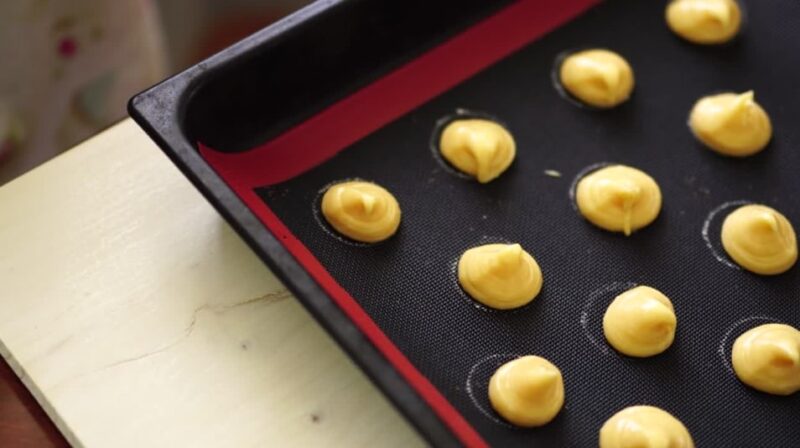 When it comes to cutting down on cleaning time after baking, you can make use of two items—parchment paper and a silicone baking mat. You may be wondering which of the two should you use.
While these items have the same functions, you will be surprised to know that they have a lot of differences. To know which of these two would best suit your needs, here are some of the information that you need to know.
Parchment paper is a paper made of cellulose that contains an ultra-thin layer of silicone coating. These are available in rolls or packs of sheets. On the other hand, silicone baking mats are made of a combination of food-grade silicone and fiberglass and are available in different shapes and sizes
So what are the differences between the two? Here are a few points:
Parchment paper
This is more versatile to use because it is highly customizable. You can cut it to fit your pan, muffin tins and baking trays. Compared to a baking mat, this paper is more absorbent. Because of this, it promotes a better way of crisping and browning cookies and cheese crisps.
However, this paper creates more waste since it is not reusable. It is also not as nonstick as a baking mat.
Silicone baking mat
Of the two, it is the baking mat that offers the best nonstick features. You can use it to create lollipops, candies and chocolates without having to worry that the ingredients will stick to the sheet.
In addition to that, this is a greener option between the two since you can wash and reuse it as many times as you want.
However, it is not as effective as parchment paper when it comes to making crispy, browned cookies.
The Ultimate Guide on How to Choose a Silicone Baking Mat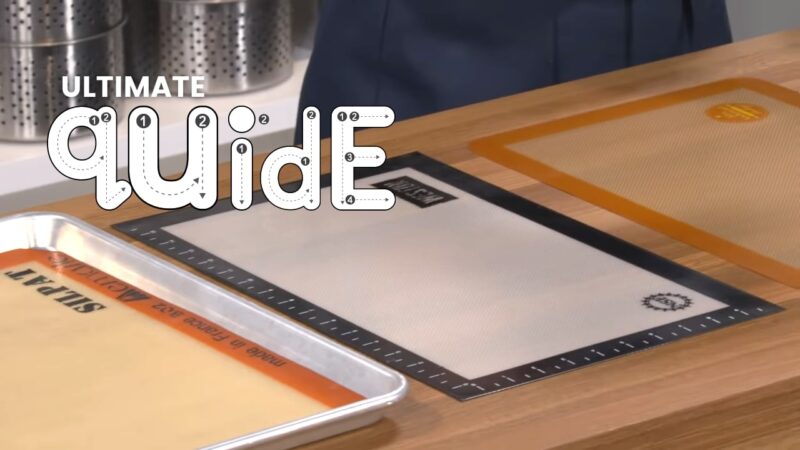 When you start your search for a silicone baking mat, you will realize that choosing the best one is not a walk in the park. This is because silicone mats come in different designs, sizes and features.
If you wish to find the best one for your needs, here are some of the considerations that you should keep in mind:
Material
Many people shy away from using silicone bakeware and baking accessories because they believe that it contains chemicals that are not safe for our health.
To ensure your health and safety, choose a food-grade silicone material. The label, food-grade, indicates that the material is free of harmful chemicals. Other labels that you should look for include BPA-free and PFOA-free.
​Temperature Limit
In general, silicone baking mats are designed to be freezer-safe and oven-safe. Despite that fact, you should understand that the heat tolerance of the mats may vary from one another.
To make the most out of your purchase, I recommend that you go for a mat that has the highest heat tolerance so you can bake anything you want without the fear that the mat will melt while it is inside the oven.
​Ease of Maintenance
I know that baking can be a lot of work and as much as possible, you would want to make the cleanup as simple and fast as possible, am I right?
Most baking mats can be placed at the top rack of the dishwasher for easy cleaning but please keep in mind that some mats do not have this feature so you should make sure that the one that you would choose is dishwasher safe.
To know how to take good care of your mat, please watch this video:
Size
Baking mats come in different sizes. When choosing the right size, it is a must that you consider the size of your baking sheet. Because of this, it is recommended that you measure your baking sheet first and then choose a mat that is slightly smaller.
Cost
You will be surprised to know that baking mats are available in a wide price range. A cheap mat does not always mean it has low quality. To ensure that you can purchase an affordable yet high-quality mat, always check out its features and user reviews.
Moneyback guarantee
The guarantee is one good evidence that the manufacturer is confident that the product that they offer is of high quality.
Just like most products that you can buy in the market, some baking mats are covered by a money-back guarantee too.
FAQ
How do you clean a silicone baking mat?

Cleaning a silicone baking mat is relatively easy. Here are the steps you can follow:
Remove any food or debris: Use a soft sponge or a paper towel to remove any food or debris from the mat.
Wash with warm soapy water: Use mild dish soap and warm water to wash the mat. Make sure to clean both sides of the mat.
Rinse thoroughly: Rinse the mat with warm water to remove any soap residue.
Dry the mat: Use a clean towel or air-dry the mat. Avoid using any sharp objects to dry the mat as this may damage the surface.
Store the mat: Once the mat is completely dry, roll it up and store it in a dry place.
Note: Do not use abrasive cleaners, scrubbers, or sharp objects on the silicone baking mat as this may damage the surface. Additionally, do not expose the mat to extreme temperatures or direct flames.
What are the benefits of silicone baking mats?

Silicone baking mats are a popular alternative to traditional baking paper or greasing baking sheets. Some of the benefits of silicone baking mats include:
Non-stick surface: The non-stick surface of silicone mats eliminates the need for greasing baking sheets, reducing the amount of oil and butter needed in your recipes.
Even baking: Silicone baking mats provide even heat distribution, ensuring that your baked goods are evenly cooked.
Reusable: Unlike baking paper or aluminum foil, silicone baking mats can be reused multiple times. They are also more environmentally friendly, reducing waste in your kitchen.
Easy to clean: Silicone baking mats are easy to clean and are dishwasher-safe. They can also be washed by hand with warm soapy water.
Versatile: Silicone baking mats can be used for a variety of tasks, such as rolling out dough or making candy. They can also be used in the freezer or microwave.
Overall, silicone baking mats are a convenient and cost-effective option for any home baker looking to improve their baking experience.
Are silicone baking mats safe to use?

Yes, silicone baking mats are generally considered safe to use in the kitchen. Here are a few reasons why:
Heat resistance: Silicone baking mats are heat-resistant up to a certain temperature, which means they won't melt or emit harmful fumes during baking. However, it's important to check the manufacturer's instructions to ensure that the mat can withstand the temperature you plan to use it.
Non-toxic: Silicone is a non-toxic material, so it won't release harmful chemicals or toxins into your food. However, it's important to note that not all silicone products are created equal, so be sure to purchase mats that are made from food-grade silicone.
FDA-approved: Silicone is approved by the FDA for use in food contact surfaces, so it's considered safe for use in the kitchen.
Reusability: Because silicone baking mats are reusable, they can help reduce waste and the need for single-use baking papers or aluminum foil.
Final Verdict
As you may have noticed, most baking mats have almost the same features which makes it difficult for many of us to determine which baking mat we should choose.
So what is the best silicone baking mat in this list? For me, it is no other than the Silicone Healthy Cooking Mat by Jollylife. As mentioned, this mat is made of high-quality food-grade silicone. It is also dishwasher safe and has high heat tolerance.
But most of all, it has other unique features that you can't find in other mats. You can customize its size and shape by merely cutting it. Moreover, it has a unique textured surface which can create perfectly crispy and browned baked goodies that no other mats can do.
See Also: Best Edible Printers that a Food Fanatic Should Know