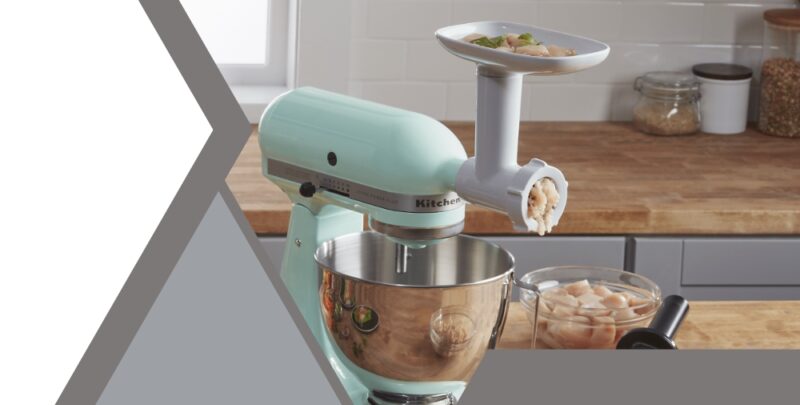 Meat is still definitely one of the most popular food around even though there have been many food trends going around.
With the high demand for meat, it makes more sense to grind it yourself so that you know exactly what's going on inside of your mouth.
That way, it's healthier and safer! With all the grinders here, you would be able to make fresh meat for different kinds of meals with fresh ingredients that will make everything pure and healthy!
If you go further down below, you will discover a list of one of the best meat grinders in the market in no particular order whatsoever. Read on and take your pick!
Product Review: The Most Awaited KitchenAid Meat Grinders Top List
1. KitchenAid KSMMGA Metal Food Grinder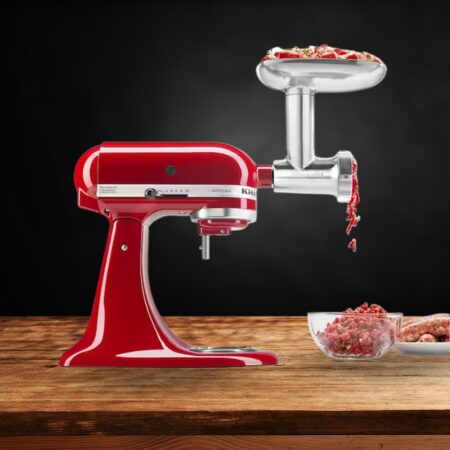 When getting a grinder, the better choice will always be using the metal one instead of the usual manual plastic grinder. After all, it is fast and easy when attached to your mixer, and since it has made with different materials, it is more durable. Now keep in mind, everyone, that this is just an attachment.
The rest of the machine does not come with the package, and the only thing provided will be the KitchenAid KSMMGA.
Stuff like this makes it very convenient because you would not have to buy an entire meat grinder machine, and with that, you would be able to save a lot of money. You might say that it leaves metallic streaks on the meat when it finishes processing; however, there is a way to prevent that from happening.
If you have some cooking spray nearby, you can have the drill, plate, and blade spayed with it. With that, you would be able to prevent the metal from having contact with each other once turned on.
If you notice, the material is made out of aluminum, meaning that you would not be able to use it in dishwater, and nor would you be able to use hot water on it, otherwise the aluminum will fade away.
Of course, the next option would be the old-fashioned way where you use regular soap and water to clean it, and thankfully, it comes with its own cleaning brush. A small tip for you: dry it immediately the moment you finish washing if you do not want it to rust.
Pros
Easy cleanup
Efficient use
Comes with a storage box to keep it all in one place
Metal material comes with durability
Cons
Not dishwasher safe due to its aluminum material
2. KitchenAid FVSFGA Fruit & Vegetable Strainer Set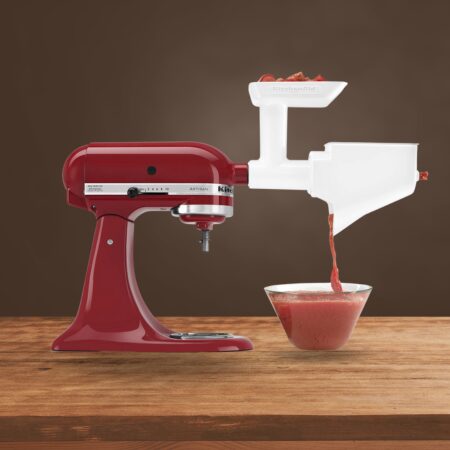 From the title itself, you can already tell that this grinder specializes in fruits and vegetables. When you add it all, you will have no trouble getting rid of peels and cleaning them up after mixing with the finished product. The strainer cone will help prevent any of it from getting in. This will result in excellent ground vegetables being clean and ready for use.
Although the strainer cone is an absolute blessing, there are specific cases where you must not be too overly reliant on it. For example, do not add oranges with thick skins immediately. I recommend you remove the thick skin before you start the process. For others that have big pits like peaches, you must remove them as well. Lastly, remove the stems and hulls in case you want to add in cherries or grapes.
With the filter, you would be able to make sauces right after it finishes processing the food. If you were a mom, this would be a blast because making baby foods would be efficient and quick. However, because it has a particular focus on fruits and vegetables, it does not mean that it cannot take care of your meat as well. After all, this grinder is quite versatile.
Pros
Versatile grinder
Has a filter for sauces
Easy peel clean up
Most parts are dishwasher safe
Cons
Take care of things like seeds, pits, and stems manually
3. KitchenAid FGA Food/Nut Meat Grinder Stand Mixer Attachment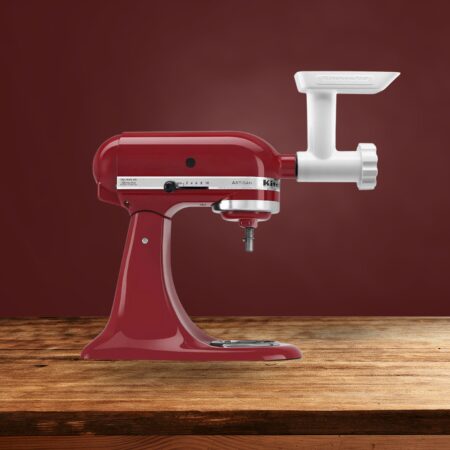 I am sure that you have noticed that the construction material for this one is plastic, and it may give you second thoughts when buying the product. However, when it comes to plastic, the price will be noticeably lower. Therefore, if you are short on money, and are looking for ways to save a few bucks, then buying this would be the right option. The bonus?
It works just as high as a metal one would! Like all the KitchenAid attachments, this would be able to attach well onto any of your standard KitchenAid mixers to increase efficiency as well as save any space. The coarse grinding plate enables you to make wonderfully ground meats when you want to make patties for burgers or maybe even a meatloaf.
If you are going to add an added punch to the grinding, you can add in a garlic clove or other special spices that would really put in a punch when it comes to taste!
When you add in the beautiful grinding plate, you will find that it very quickly turns hard cheeses into beautiful pieces after grating. No need to go through an hour of cheese grinding when you can just put it in and have it done in only a few minutes.
You can even use this to make breadcrumbs when needed. With just this one attachment, you would be able to grind meat, cheese, and breadcrumbs!
With that, an endless amount of recipes will be able to come to you. Get one and find out the different meals you would be able to make so quickly.
Pros
Saves space
Efficient
Versatile
4. KitchenAid 80127 KGSSA Stand Mixer Attachment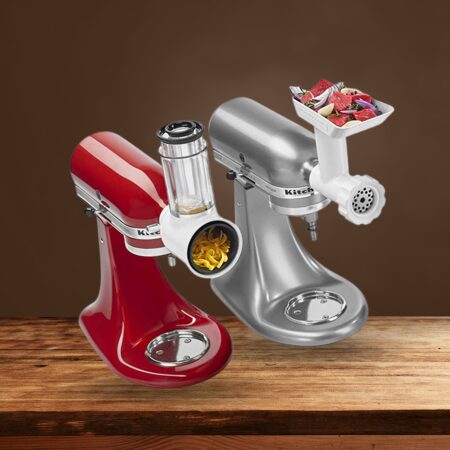 A good thing about this attachment grinder is that it comes with a variety of parts. This has the standard food grinder and rotor slicer, as well as a shredder for all the different kinds of cheese you will plan on shredding in the future and a sausage stuffer to make things easier for you after you finish processing the meat.
This kind of grinder will work the best when it comes to your sausages and cheese, so try it and make an endless amount of the combo. However, the fun does not stop there. It comes with different kinds of parts so you would be able to put in so much more.
It has two different pairs of slicing cones. One pair of cones work when you want to shred something into thick or thin pieces and another pair for something fine or coarse. You would be able to use the beautiful plate for different kinds of meat, but if you want to shred some vegetables and cheese, you would need to switch to the coarse plate to increase the efficiency.
If you have an older model for a KitchenAid mixer and if you are anxious if this attachment meat grinder would still be able to fit onto it, no worries.
Pros
Comes with a cheese shredder
Has a sausage stuffer
Lower price
5. KitchenAid FGA Food Grinder Attachment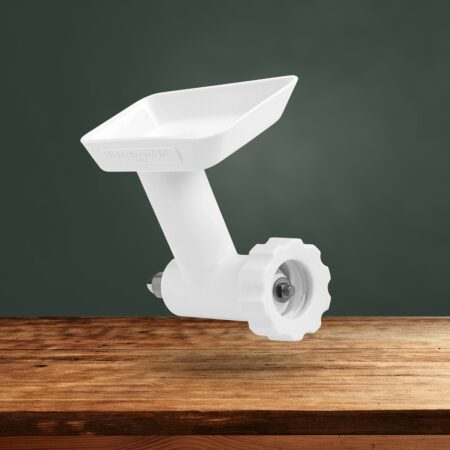 We are now right here at the bottom of the list with the last produce but not the least! You would probably think that it looks familiar, but that is because it is the plastic version of the first meat grinder at the very time. Now, another question: does it work just as high as the metal counterpart does? The answer is yes!
Although the construction is out of plastic, it does not stop from doing its job just as well. The only difference will be the fact that it is cheaper so you would not have to spend more money than usual. Since this attachment grinder works well with everything like fruits, vegetables, cheeses, and meat, you would not need to worry about getting another grinder that can handle things separately. This grinder has two plates that can do just that!
You have the excellent plate option that you can use to grind all kinds of meat and even dried bread when you want to make sprinkles of breadcrumbs, and then you have the course plate that will allow you to grind the cheese, vegetables, and fruits!
Other than that, you can even use this when you want to combine different kinds of dips to create your own new recipe, or when you want to make salsas to add some spice to your snacks, and even your own spreads! Fun tip: When you use this to ground peanuts, you would be able to make some super find peanut butter.
Unlike its metal version, you would not have to worry about the metal rusting or fading away because its material is of plastic, and the best part. This time it will be dishwater friendly! If you do not have dishwater, you can use the conventional method using a scrub, water, and some soap to get it cleaned, and even then, it is still comfortable and clean.
Pros
Plastic material makes it cheaper
Works just as well as the metal counterpart
Doesn't rust or fade away unlike the metal version
Cons
Has difficulty processing fat
Why would you need to get a KitchenAid Meat Grinder?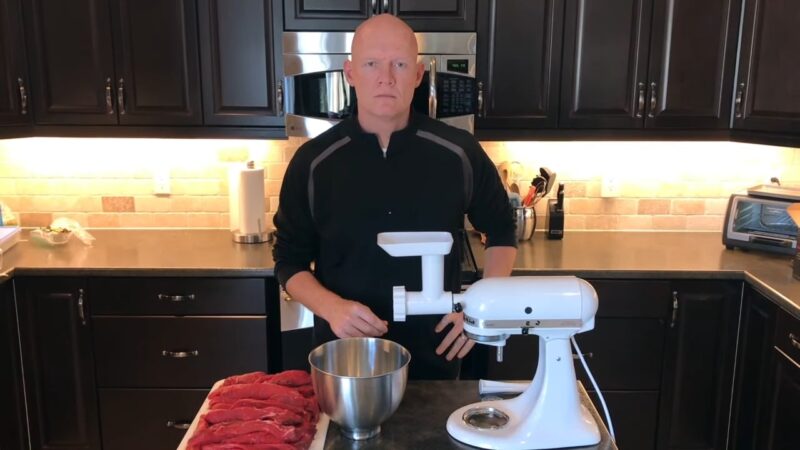 If you have yet to try the wonders of a meat grinder attachment, then you must be curious as to why you would actually need to buy one. Well, let your curiosity be piqued by the list of reasons I am about to present to you!
1. It comes at a lower price
One of the reasons would be the fact that you will not have to spend as much money as you would when buying an entire behemoth grinder separately. These are usually much cheaper; so, if you are on a tight budget and are looking for some ways to save some good bucks then buying one would be the right idea.
2. It saves space
Instead of buying an entire meat grinder, which is usually bulky, you can save some space by just buying the meat grinder attachment. All you need to do is attach it to your mixer, and it will go straight to work. It is small and easy to store, as it is quick in grinding your food.
3. Efficiency
You might think something along the lines of "Maybe it doesn't work as well as a regular meat grinder," but it is quite the contrary. Attachment meat grinders will work just as well as their counterparts, and the fact that all you have to do is to attach it to get working is a bonus in almost every way.
4. The meat purity
When you buy this, you would know exactly what goes into your meat because you will be the one handling it yourself. No need to go through the expensive processed meat you will find at the local supermarket, especially since we do not know where it has been. The handling of food is safe. You would have your own little processing shop at the comfort of your own home.
This way, it is cleaner, safer, and cheaper.
5. More options
You would think that it would only be used for meat; but actually, this is not exclusively restricted to just that. With one attachment meat grinder, you would be able to have so many options. From grating cheese to grounding nuts, making salsas, and even food purees, just buying one small attachment would give you access to an endless amount of recipes.
Below will be a list of KitchenAid meat grinder attachments that will fit in all the standard KitchenAid mixers, so if you have one and are now planning on getting an attachment, look through the list and find the one just for you!
A short video on how to assemble the KitchenAid Meat Grinders
Not all of us are whizzes when it comes to joining things, and if you're like me, even the most simple mechanisms are hard for me to make sense of. So, in times of difficulty, one doesn't need to go as far as finding someone else to do it when you are well capable of doing it! All it takes is a few tutorial videos, and you'll be ready to go.
If you've already got a KitchenAid meat grinder or are still in the process of getting one but are unsure of how to assemble it, here is a short video on how to get the job done!
Personal Favorite!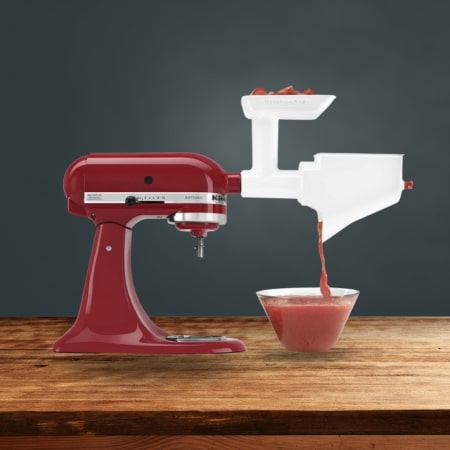 If you had to ask me which one of the meat grinders I am most fond of, I would say the KitchenAid FVSFGA Fruit & Vegetable Strainer Set.
Personally, it fits my cooking style quite well. I like to handle as many fruits and vegetables as possible to make for a healthier meal, and the fact that it's able to make purees is something that makes me excited to get cooking.
It's only natural that you would want to make things as easy as possible when you're working in the kitchen because easy is quick and fast means dinner is served in lesser time! With this, I wouldn't have to spend an endless amount of time peeling and doing everything by hand, because it takes care of it for me.
The fact that it also does meat is a bonus since, like any other person, I do eat meat from time to time.
FAQ
Is it cheaper to grind your own meat?
Grinding your own meat can be more cost-effective in the long run, as purchasing whole cuts of meat and grinding them yourself is often less expensive than buying pre-ground meat. Additionally, grinding your own meat allows for better quality control and customization of the meat blend.
Can you clean a meat grinder in the dishwasher?
Some meat grinder parts are dishwasher-safe, while others are not. Always consult the manufacturer's instructions for proper cleaning methods. In general, it is best to hand wash the metal components (such as the cutting blade, grinding plates, and auger) using warm soapy water to prevent damage and maintain their sharpness.
Which is better: An electric or manual meat grinder?
The choice between an electric or manual meat grinder depends on personal preferences, budget, and how frequently you plan to use it. Electric meat grinders are faster, more powerful, and convenient for large batches, but they are more expensive and can be noisier. Manual meat grinders are more affordable, quieter, and portable, but they require more physical effort and are best suited for smaller quantities.
Are meat grinders worth it?
Meat grinders can be worth the investment if you frequently grind meat, want better control over the quality and texture of your ground meat, or wish to make homemade sausages. They allow for the customization of meat blends, improve freshness, and can save you money in the long run.
Can you run potatoes through a meat grinder?
Yes, you can run potatoes through a meat grinder to create finely grated or mashed potatoes. However, be aware that the texture may be different from traditional mashed potatoes due to the grinding process. Additionally, make sure to clean the grinder thoroughly before and after processing potatoes to avoid cross-contamination.
Do you need to lubricate your meat grinder?
Lubricating your meat grinder is essential to ensure its smooth operation and prolong its lifespan. Use a food-safe lubricant, such as food-grade silicone grease, to lubricate the moving parts and gears of your grinder. Follow the manufacturer's instructions regarding lubrication frequency and application method.
Conclusion
All the attachment meat grinders on the list so far are quite different from each other, but still efficient in their own way! They have their specialties, so all that's left is for you to choose which one you think will fit your style the most.
Did you find it? I'm sure that it would be hard to choose among all the products, after all, they are all of the high quality! You can't go wrong with any of these products, as any would be able to do splendidly in their job! If you've found the right one for you, go ahead and get it! A world of smooth, efficient, and fast grinding is proper in the store.
Take a look at these meat grinders that are available on Amazon: