Do you know that broiling is a healthy method of cooking? The vitamins, nutrients, and minerals we get from food are still intact after broiling. If you are fond of cooking your own food, it is not yet too late to start shifting to broiling for the best results. Let us eat healthy, the right way.
To begin with, you need to buy the best broiler pan to match the meal plans. You would be interested to know that using broiler pans will minimize the use of oil and let you cook the meat evenly with less effort, time, and supervision. Let me guide you through how to choose the right broiler pan for your oven. I have prepared the best broiler pans that you can find in the market today to save you from doing the research.
List of Best Broiler Pans – For Your Next Oven Roast
I found broiler pans that are worth the recommendation for every household that is into broiling. Each product is bearing reliable brands and is the leading broiler pan in the market. All deserve high rates and positive customer reviews that made them land as one of the top ranks.
1. Granite Ware Bake Broil and Grill Pan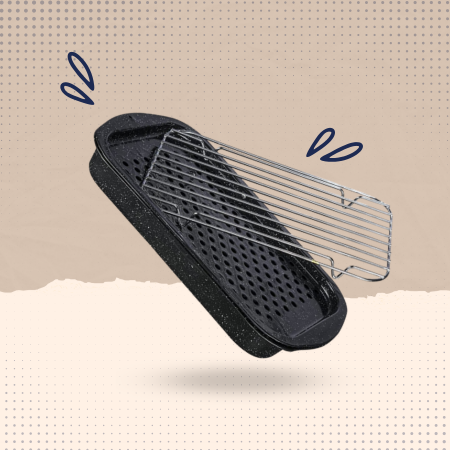 This USA-made graniteware bake broil and grill pan has a core of carbon steel material. Carbon steel material is stronger and safer than any foil-type pan. It is more energy-efficient, browns the meat evenly, and cooks much better. The surface, on the other hand, is of porcelain enamel that is inert, non-porous, and naturally non-stick for cooking.
This 9"x 14" x 2" broiler pan has no harmful chemicals and is dishwasher-safe. This product is a 3-piece bake, broil, and grill set that features a perforated tray that is excellent for a small meal of veggies or fish. You can use the grill pan for your outdoor barbecue and the grill rack to broil meat in the oven. Remember to use the pan bottom to catch the drippings and maintain the cleanliness of your oven.
The package includes a roasting pan, broil/grill pan, and a grill rack.
Pros
The pan is lightweight
It fits into a countertop convection oven
Dishwasher safe
Easy to clean
Non-stick
Easy to use
Perfect for personal use or for starters
Cons
Small size, not suitable for turkeys
Thin metal and sharp edges
Easily cracks when dropped
2. GE Range Broil Pan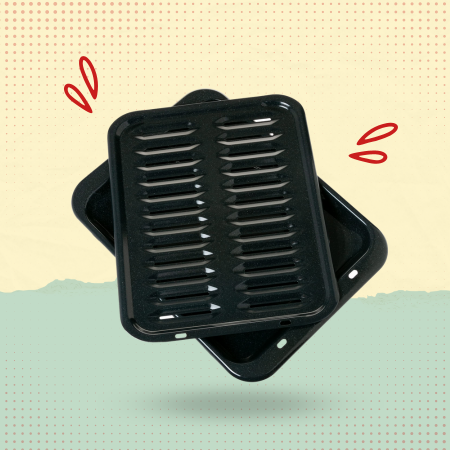 Who does not trust GE? The brand itself indicates the quality of the broiler pan. No wonder the product has gained numerous positive reviews. The construction of this GE pan is of very solid black ceramic. As you can see, the grooves and slots indicate excellent broiling all the time.
The product is suitable for cooking all types of food and broils them fast and well. Being dishwasher safe, you do not need to spend a long time manually cleaning the pans.
It is an advantage though because, with its design, it will be hard for you to clean the food sticking on certain areas of the pan. With its non-stick coating, you cannot even use rough cleaners.
Pros
Dishwasher safe
A generic broiler pan will work on all oven
Can be used to stoves and ovens
High-quality
Lightweight
Reasonable price
Cons
Challenging to clean manually
Food sticks to the surface
3. Norpo Broil/Roast Pan Set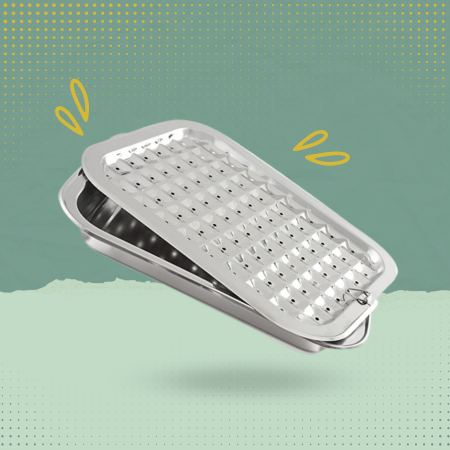 This Norpo Broil/Roast pan set measures 12"x 9" x 1.5" and is made of stainless steel material. The two-piece broiler pan with a perforated top permits grease to drain off while cooking for healthier results. Stainless steel construction is best for its strength and is easy to clean.
The product size is excellent for new couples or personal servings. The broiler pan is capable of cooking meat, fish, and even vegetables, with the bottom tray to collect all the drippings. However, I recommend that you hand wash this carefully since it's not dishwasher-friendly.
You may find it hard to do so though since the food will stick on its surface. You can avoid it though by using plenty of oil while cooking. The good thing is that stainless steel can withstand heavy scrubbing.
Pros
Rust-free
Easy to clean
100% Stainless steel
Lightweight
Durable
Can cook any kind of food
Cons
No handles
No non-stick coating
Small size
4. Range Kleen 2-Piece Porcelain Broil and Bake Pan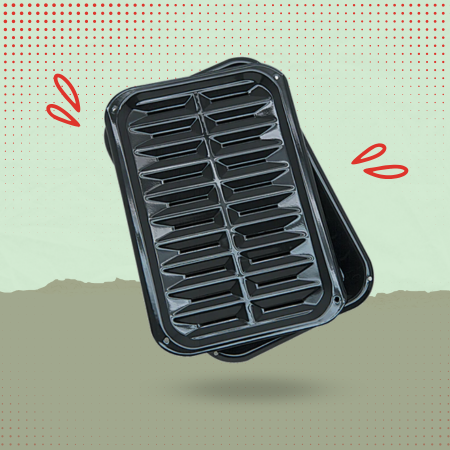 If you want to do the cooking right and make the perfect meals, the Range Kleen Broil and Bake pan is also the best choice for you. This two-piece heavy-duty porcelain pan is excellent for both broiling and baking with superior results.
The high-quality OEM porcelain material on the steel grill and the base is safe for use up to 1025 deg. F and has good features for cooking. The grate of the grills permits fat drippings to drain away from your meat.
This USA-made product is suitable for both outdoor grill and broiling inside the oven. It is convenient to know that you can cook in this pan any food like meat and vegetables.
Besides, this pan is easy to clean and is dishwasher safe. It is indeed a great addition to your kitchen utensils. Range Kleen features a stick-free porcelain finish.
Pros
Durable
Will fit in toaster/convection oven
High-quality material
Dishwasher safe
Durable
Suitable for meat, fish, and veggies
Cons
Too small for a big family
Has the tendency that the coating will wear off
Challenging to clean
5. Frigidaire Range/Stove and Broiler Pan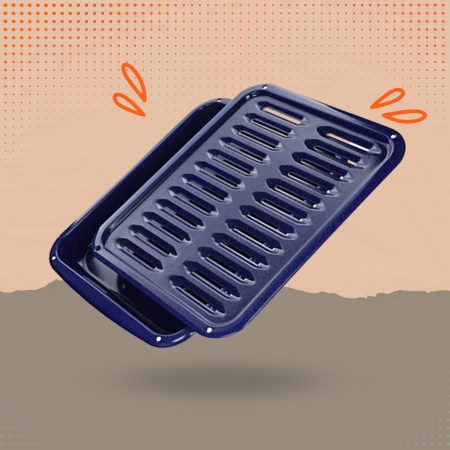 Frigidaire is another brand that has a reputation for high-quality products. It may be a French manufacturer, but it has gained the trust of the people for so many years. The broiler pan has a non-stick surface that works just fine during cooking.
I tell you, the food really slides off even without using oil. I found out also that with just a little bit of soaking with soap, the pan cleans easily. If you do not have time to clean it manually, you can place it inside the dishwasher after soaking.
However, like any other porcelain, it is prone to chipping when hit or drop it. Hence, you need to take extra care during handling. This broiler pan comes in two pieces namely the top tray and a scraper. This middle-size pan can cook almost anything on it.
Pros
The 15" size fits standard size ovens
Porcelain-coated
Easy to clean
Has a non-stick surface
Nice color and design
Can cook meat, fish, and veggies
Cons
Prone to discoloration
Expensive
Prone to chipping
What is a broiler pan?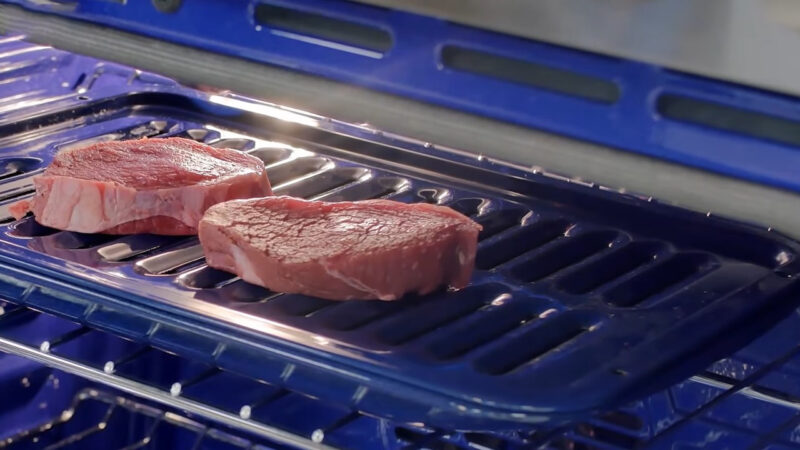 I call it broiler pan but others name it as broiler roaster or oven roaster. The first time I saw this cookware, I thought it is a cookie sheet since it has the same shape and size. You can use broiler pans in cooking meat and vegetables in the oven.
Usually, the pan construction is of stainless steel material with black porcelain enamel. It has two parts, the bottom pan section that catches the drippings and the grate on top where you place the food while cooking. These pans are available in various sizes to fit different types of ovens.
Here are some important features and benefits:
Serrated edges are to keep the food from being stuck into the slots.
The slits are for proper ventilation
Here is a short video giving instructions on how to use a broiler pan. Just in case, you have already chosen what to buy. These instructions will come in handy if it is your first time broiling food.
What are the advantages of using a broiler pan?
Broiler pans are always associated with health and yummy food. That is because broiling does produce not only delicious meals but also promotes healthy eating. Therefore, broiler pans are a cooking tool that helps realize these diet goals.
Here are the reasons why:
​Minimal use of oil – Broiling is a healthy alternative for frying. You will be happy to know that you do not need much oil when using broiler pans. Most of the time, depending on what you cook, brushing the grate with a bit of oil is sufficient already. When the meat is fatty, then the oil is no longer necessary.​
Saves Time – The design of the broiler pan lets the heat distribute evenly through the top and the bottom portion for a quicker cooking period. It enables cooking with high heat in a short time.
Best for Fragile Meat Cuts – Thinly sliced meat like chicken strips, thinly sliced steaks, and salmon cuts are also delicious when broiled. However, they are delicate to cook and have the tendency to break every time you flip them when grilled. In broiling, it will eliminate the worry of tearing the meat since it can cook both sides fast.
See Also: The Best Frying Pan for Steak
Factors that you need to consider when buying the best broiler pan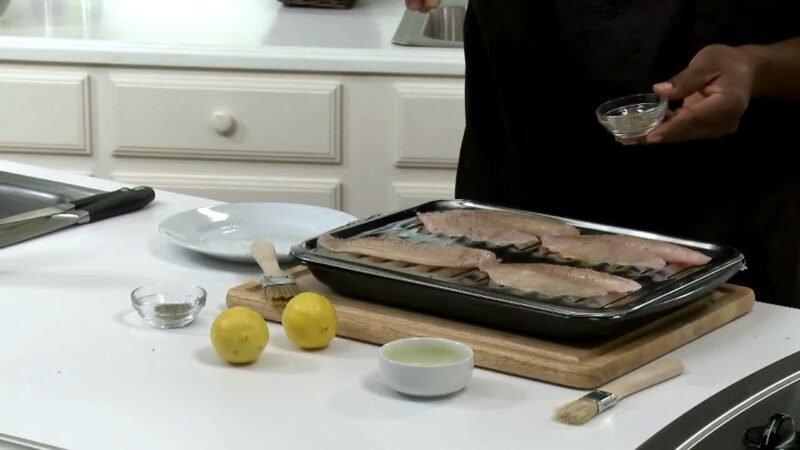 If you think buying cookware is as simple as it gets, you might want to consider it more a little bit. It is always proper to know the essential aspects when buying any product for your kitchen. Today, you are going to learn extra information about the best broiler pans.
1. Material
Broiler pans could be made of various types of material when you try to look around. However, the most reliable ones should be of stainless steel, carbon steel, ceramic, and cast iron. Although they all prove to be excellent for broiling purposes, they display dissimilar advantages.
Cast iron may be the cheapest among the current materials, but it has the reputation that is best in even heat distribution. It also functions as a naturally non-stick when seasoned well. However, this material is heavy and is prone to rust.
Stainless steel is the most durable of all. High-quality stainless steel has a hard surface and is scratch-resistant. This material is less expensive and low in maintenance. Besides the attractive appearance, it is also easy to clean. However, it is very poor in heat distribution and food sticks during cooking.
Carbon steel is naturally non-stick and is one of the toughest and most durable pieces of cookware. A well-seasoned carbon steel broiler pan is smooth and dark that gets better every after use. It is more responsive to heat than cast iron and cools even faster.
Ceramic is non-reactive and non-toxic making it the healthiest cookware nowadays. Although it takes longer to heat up than the other materials, it retains the heat longer and is more efficient. Besides, ceramic can be used in the oven and can be placed directly into the fridge and freezer without the feat of cracking.
2. Maintenance
Who wants to stand all day cleaning stubborn dirty cookware? It is just practical to choose a broiler pan that is already dishwasher safe to avoid the dirty work. You may not be open to this idea, but you could use the time this option saved for you on other most relevant activities.
3. The Type of Food for Broiling
Certain broiler pans have designs that are suitable for either meat or vegetables. If you are more of a meat person, I suggest buying the kind of pan with wide slit grills so the drippings can pass through right away. Nevertheless, if you love vegetables, I recommend the opposite. Otherwise, you can just buy both.
4. The Size of the Pan
Sometimes, when you are looking into a variety of products, you get so overwhelmed that you tend to forget the vital factors. Before picking one, remember the space and size of your oven and ensure that the broiler pan you want will fit in. It is better to measure your oven space first before hitting the appliance store.
5. Versatility
Be aware that there are varieties of broiler pans out there. There are pans that you can only use for meat preparation, others good solely for snack recipes, and the type that you can use for all kinds of food. Hence, make sure that you buy the kind that you want.
6. Breakage and Corrosion Resistant
As much as possible, choose the type of pan that does not easily break or corrode. It could save big time if you knew how to pick the type of material that is durable enough to last long, but also offers comfort and ease for you when cooking.
7. Price
The price is always an issue when choosing the best product. I say that the price goes with the quality and design of the broiler pans. Never choose one that is out of your budget. Try to evaluate each broiler pan and decide which one has a reasonable price.
A short video on how to clean a broiler pan
It is a reality that after broiling, you will always end up cleaning the broiler pans. Whatever brand you may have, there is no escaping from the truth of it. Here is a short video with tips on how to make cleaning broiler pans easy.
FAQ
What are the disadvantages of pan broiling?
Pan broiling is a cooking method that involves cooking food on a hot pan without any additional fat or oil.
While this method has some advantages, it also has several disadvantages. One of the main disadvantages of pan broiling is that it can result in food that is unevenly cooked.
This is because the pan may not heat evenly, or the food may not be placed in the pan properly.
Another disadvantage is that food can stick to the pan during the cooking process, which can make it difficult to flip and can result in a less-than-perfect presentation.
Additionally, pan broiling can produce a lot of smoke, which can be a problem for people with sensitive smoke detectors or for those who are cooking in a small, poorly ventilated-kitchen.
Finally, pan broiling may not be suitable for all types of food.
Some foods, such as fish or delicate vegetables, may require a more gentle cooking method to prevent them from falling apart or becoming overcooked.
Is pan broiling healthy?
Pan broiling can be a healthy cooking method when done properly. It allows for cooking food without added fat or oil, which can help reduce the overall calorie and fat content of the dish. However, there are some potential health concerns associated with pan broiling that should be considered.
One concern is the potential for the formation of harmful compounds called heterocyclic amines (HCAs) and polycyclic aromatic hydrocarbons (PAHs) when cooking meat at high temperatures. These compounds can form when meat is cooked over an open flame or on a hot surface such as a pan. To minimize the formation of HCAs and PAHs, it's important to cook meat at a lower temperature and avoid charring or burning it.
Is broiling better than baking?
Both broiling and baking can be healthy cooking methods, depending on the ingredients and preparation methods used. Broiling can be a good choice for lean meats, fish, and vegetables, while baking can be a good choice for dishes that require longer cooking times or that need to be cooked evenly throughout.
What are three dishes that are traditionally broiled?
Steak: Broiled steak is a classic dish that is popular in many parts of the world. A good broiled steak is tender and juicy with a crispy, caramelized crust. Broiling allows the heat to be applied directly to the meat, which helps to seal in the juices and create that delicious crust.
Fish: Broiled fish is a quick and easy way to prepare seafood. The high heat of the broiler can help to cook the fish quickly, while also giving it a crispy exterior. Broiled fish can be seasoned with herbs, spices, or a simple lemon-butter sauce for added flavor.
Vegetables: Broiled vegetables are a healthy and flavorful side dish that can be prepared quickly and easily. Vegetables such as asparagus, peppers, and mushrooms can be tossed with olive oil, salt, and pepper, and then broiled until tender and slightly charred. The broiler helps to intensify the natural sweetness of the vegetables and give them a delicious smoky flavor.
These are just a few examples of dishes that are traditionally broiled, but there are many other options to choose from. The broiler is a versatile cooking tool that can be used to create a wide range of delicious meals.
Conclusion
Have you made up your mind? Which do you think fits the best broiler pan amongst all for you? I get you; it is not that easy to choose when you are overwhelmed with the high-quality products presented to you. However, if you just stick to the factors that determine the right product, I am sure you already know what you need to pick.
Remember that each has its own preference, and yours may be different from the others. One thing is for sure, the five on my list are already winners. Whichever you choose to bring home would still be worth it. Try going through with both the advantages and disadvantages of each product to help you decide. Good luck!
Take a look at the list below, there are more broiler pans available on Amazon:

As a mom of two angels, I credit myself in making meals with high concentration yet the balance of nutrition. I pay good care about the health of my family and everyone. Thus, you will find most of my recipes focus on healthy ingredients.