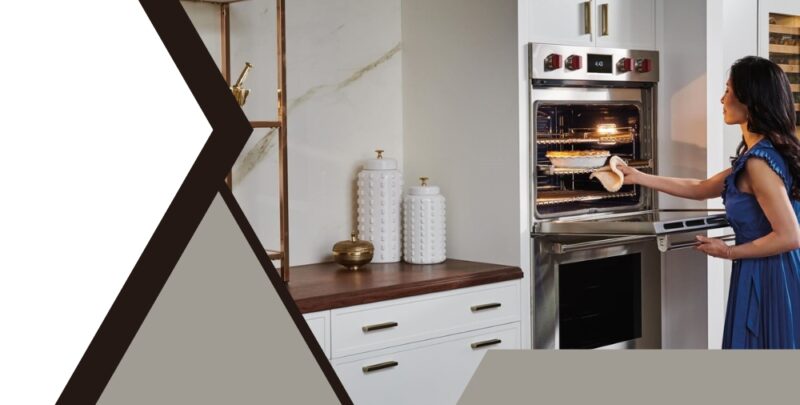 At SmokinJoesRibRanch, we believe that integrating a wall or built-in oven into your kitchen not only elevates its style but also offers a modern touch. I've noticed a rising trend where many are gravitating towards these ovens for their baking, grilling, and roasting needs.
There's no fuss about finding a specific spot in your kitchen for them. While the market is flooded with various oven types, it's crucial to select one that aligns with your needs.
By adding one of these appliances, I've personally experienced the joy of whipping up delectable dishes while giving my kitchen a contemporary makeover. Today, I'll be sharing insights on the top built-in ovens and essential factors to keep in mind when you're on the hunt. Trust me, investing in the right product can transform your culinary journey.
List of the Best Wall Ovens on the Market
1. Gasland ES609DS 24-inch Single Wall Electric Oven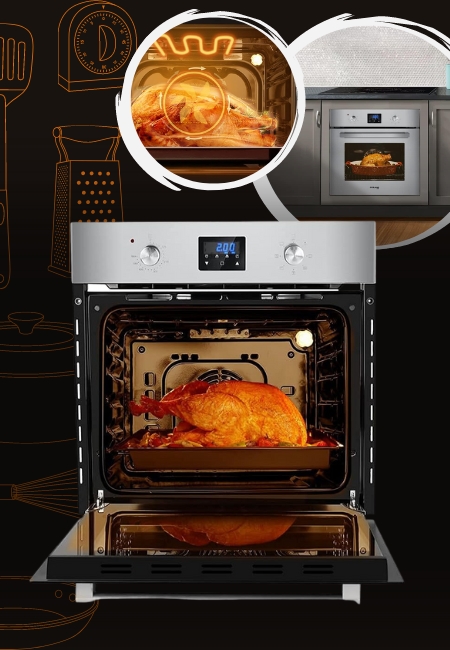 It is a perfect 24-inch electric wall oven by Gasland, which is big enough to prepare food for 5 to 10 people. It is easy for you to prepare food in less time.
It supports around nine cooking styles like baking, broiling, warming, proofing, etc. Its body is made of stainless steel with three glass layers. Consider its other detailed features.
Features:
The door of this oven is made with upgraded tempered glass in three black layers. The glass is transparent, and the food inside is visible. It is easy for you to manage the heat when you observe how your food is baking inside.
The aluminum-made handle is easy to remove for easy maintenance.
There are nine multi-functional modes of cooking that are operable on 240V. The maximum output is 2800W. The nine modes are grilling, defrosting, heating, conventional, bottom heating, convection, cooling fan, and light.
You can control the temperature and set the timer as per your needs.
The shelves are available in five layers with a capacity of 65L. It is easy to place the baking tray and grill grate.
In the package, you will also find a glove, a grill grate, and a baking tray.
The 24-inch wall oven will look perfect in your kitchen. You can cook for at least five to ten people.
2. Cosmo Electric C51EIX Built-In 24-inch Wall Oven

It is another 24-inch built-in oven that looks stylish in your kitchen. The Cosmo company manufactures high-quality ovens for its customers. If you are remodeling your old home and installing devices with low energy consumption, you must prefer this device.
It involves many safety features, like automatic shut-off, a cavity cooling system for dissipating heat, and a door with three layers of cool glass for preventing burns. The stainless-steel finish with an enamel coating on the inside makes this device attractive. Other features are as follows:
Features:
Within less time, you can cook delicious food evenly at a lower temperature than other standard ovens.
There are five functions available in the oven: baking, Broiling, defrosting, convection baking, and broiling.
It involves safety features like automatic shut-off, a cavity cooling system, child safety, and a door with triple-layer cool glass.
The design of this device is quite different and more durable than other oven modes. It looks modern due to its stainless-steel finish, which is easy to clean. You can monitor the cooking progress by looking at the oven window and dual lights.
There is an electronic knob that helps in controlling the timer of the device.
There is a limited warranty of one year on this product.
3. Empava 24-Inch EMPV-24WOB17 Single Electric Wall Oven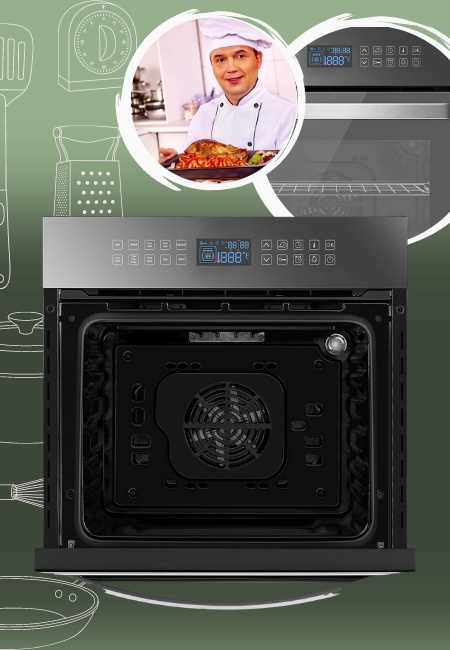 The model EMPV-24WOB17 by Empava is one of the best built-in ovens on the list. You can get many features at an affordable price. It is durable and stylish. The tempered glass in two layers gives a modern and sleek appearance to this device.
There are nine cooking settings with a perfect cooling exhaust system. It is easy to install the device if you go through the manual thoroughly. Let us discuss its other features in detail.
Features:
It is an ETL-certified electronic appliance that operates on 240 volts and 60 Hz. The UL-certified hard wiring is also included in the package.
You can cook meals for a big family as it has a capacity of 2.3 cubic feet.
The heavy-duty racks are durable and look stylish due to the black interior ceramic coating.
Its look and feel attract the attention of many users.
It is easy to clean the oven without much hassle.
You can keep your food warm by using the warm feature.
It supports convection cooking, which means that the food will cook faster by distributing hot air evenly.
While baking, you can preheat the device as per your needs.
You can set the timer for controlling the temperature.
You can place the baking tray or grill grate in any of the five layers of the oven. The halogen lighting gives a bright and clear view to monitor the progress.
4. GE 30-Inch JTS3000SNSS Single Electric Wall Oven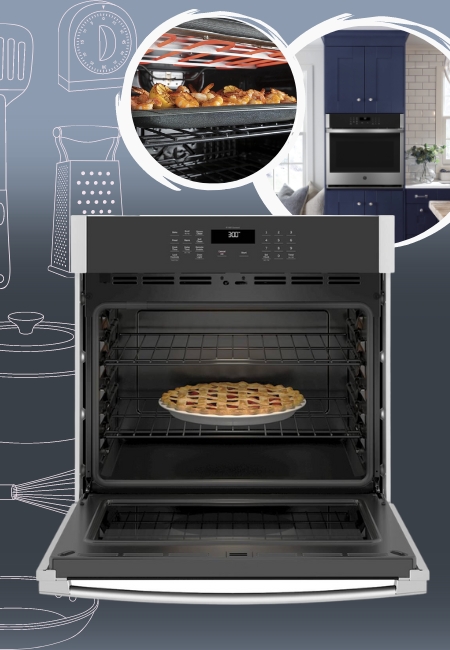 If you want to buy a single wall oven, you can also prefer this model by GE. It is a popular product because of its amazing features. The unique thing about this oven is that you do not have to clean it.
The feature of self-cleaning will automatically clean the oven. There are many other unique features that you should not miss at all. Check out those features.
Features:
There is no need to scrub the walls of the oven or racks for intense cleaning.
The self-cleaning feature will clean the oven by using steam.
It is easy to control the temperature, timer, and other features using your smartphone or voice commands. You can connect this appliance wirelessly with your smart devices.
There is an 8-pass broil element for effective cooking.
5. Cafe 27-inch CSB912P2NS1 Electric Smart Wall Oven
It is another perfect wall oven model, which is available in the size of 30 inches. You can cook food in large quantities because of its high storage capacity.
Its stainless-steel body is highly durable and perfect for your kitchen. It is equipped with advanced technologies. Let us go through some of its unique features:
Features:
Advantium technology is used for versatile cooking, which involves different cooking functions like convection, microwave, and broiling.
It has an ample amount of space, in which you can bake your favorite food within less time.
There are more than 175 pre-programmed menu options that you can cook in this oven.
It is easy to view and modify the settings using the touch control panel and dial to manage the timer and temperature.
It is four times faster than other conventional ovens.
6. FORNO 24″ Inch. Built-In Microwave Oven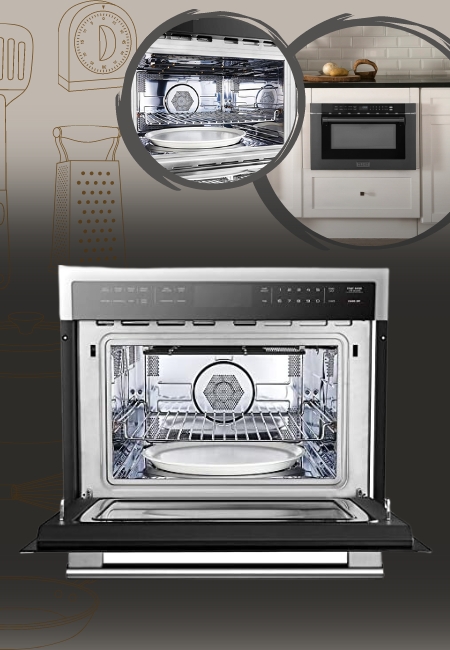 This FORNO 24″ Inch. Built-In Microwave Oven is a game-changer for modern kitchens. With a generous 1.6 Cubic Feet Electric Oven Capacity, it's perfect for those who love to cook in large batches or entertain guests. The stainless steel construction ensures durability and adds a sleek touch to any kitchen decor.
Features:
This microwave offers multiple power levels, including regular heat, broil, and convection cooking elements. The auto menu provides quick cooking options for dishes like meatloaf, fish, chicken, beef roast, and more.
The built-in convection fan ensures even heating, eliminating cold spots in your food.
Smart Sensor Cooking: This feature automatically determines the required cooking time for various dishes, allowing for a hassle-free cooking experience.
The microwave comes with a child safety lock, ensuring peace of mind for families with young children. Additionally, features like auto defrost mode, delay start, and rapid preheat add to its convenience.
2-Year Warranty
Buying Guide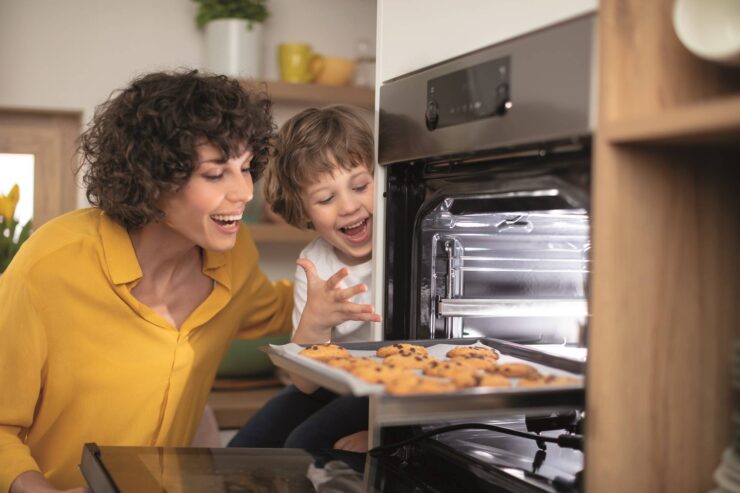 Size
There are two types of wall ovens available in different sizes, i.e., single and double. You have to check the available space in your kitchen. You may have a different preference, and you can go with anyone that suits your needs. Let us explore these options:
Single
You can fit these ovens under the bench. But if you have a model with drawers, it will be tall, and you need to fit it into the wall. You can also get wider devices that may need more than usual space. Instead of placing one heavy tray, you can place two trays on one shelf.
Double
On the other hand, double ovens are used whenever you need to cook different items simultaneously. In a single one, you can cook many of the same things at once. Here, two ovens are stacked with different doors and control panels. You can do the baking and grilling at the same time. In this way, you can save time and energy.
Interior
The interior involves a ceramic coating that can be in any color. It is necessary to check whether there are bulbs or other interior lights. Make sure that it should be easily replaceable. Check for the safety stops on the shelves to avoid pulling the door accidentally.
If the shelves are sloping down, then the food can spill. You should go for the detachable runners instead of the molded ones. They are comparatively easy to clean. You should check the number of shelves if you need to bake more time simultaneously.
Accessories
You should check whether you are getting accessories with the oven or not. In the package, you should check electric cables, baking or grilling trays. Ensure that the trays must be enough to fulfill your cooking requirements.
You should check for the telescopic runners because these oven shelves can slide easily in any direction. In some ovens, you will not get accessories, like gloves, trays, cables, etc. You need to spend additional money on these accessories.
Check Different Functions in the Oven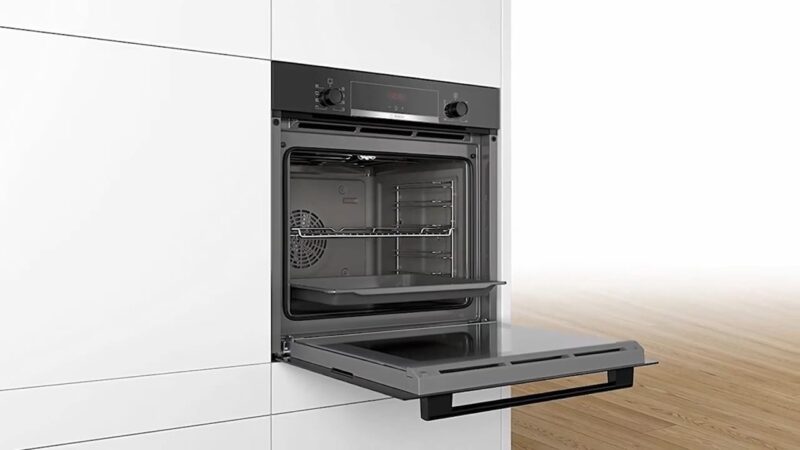 Different functions are available in ovens, and you need to consider what you want.
Fan Baking: These ovens distribute the heat evenly, and it is perfect if you want to bake anything on different racks. The food will cook faster, even at low temperatures. Delicate items like puddings cannot be baked in hot air by a fan.
Fan Forced: In these ovens, the air is used for cooking the food. There is an element around the fan that generates heat. It is distributed throughout the compartment of the oven. You can cook at low temperatures.
Fan-assisted: There are two elements in these ovens, i.e., on the top and bottom. Most of the heat comes from the bottom element.
Fan Grilling: A grill element helps produce the heat, and the fan inside helps move the heat all around. Close the door whenever you are grilling the food. Make sure that you keep the tray at level 2 for better grilling.
Defrosting: The only fan is used in this setting without releasing any heat or operating at low temperatures. The food will defrost slowly, but when it comes to safety, it is not at all recommended.
Self-Cleaning Ovens
If you want to eliminate the hassle of cleaning the oven from time to time, you must prefer the self-cleaning ones. The best function is pyrolytic or catalytic for better and easy cleaning.
In the pyrolytic self-cleaning function, you need to heat the oven at 500°C and wipe the food residues that turned into ash. It will take 1 to 2 hours to clean your oven. The door will lock automatically to ensure safety.
The catalytic self-cleaning function involves the microporous coating that helps absorb the fat splatters while cooking food. But, you need to clean the doors, floors, and racks. The process of cleaning will be easy. Heat the oven when it is empty for at least 30 minutes to clean it regularly.
Frequently Asked Questions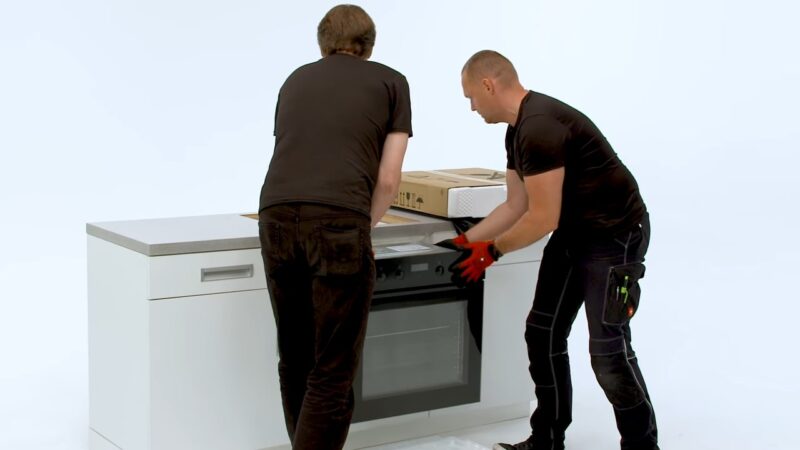 How is a Conventional Oven Different from a Convection Oven?
A conventional oven and a convection oven differ in how they circulate heat inside the oven. In a conventional oven, heat is produced by a heating element at the bottom of the oven, and the hot air rises to cook the food. This creates hot spots and uneven cooking, which can be a problem for some types of dishes.
In contrast, a convection oven uses a fan to circulate hot air evenly throughout the oven, which allows for more efficient and uniform cooking. The fan helps to distribute heat evenly, ensuring that food is cooked more evenly and quickly. Additionally, a convection oven typically has a third heating element, which is located at the back of the oven and helps to further distribute heat evenly.
As a result of these differences, convection ovens are generally considered to be more efficient and effective than conventional ovens, especially when it comes to baking and roasting. However, they may also be more expensive and require more energy to run due to the additional heating element and fan. Ultimately, the choice between a conventional oven and a convection oven depends on individual needs and preferences.
Which Option is Cheaper: Electric Oven or Electric Stove?
The cost of an electric oven and an electric stove can vary depending on factors such as brand, size, and features. However, in general, an electric stove tends to be cheaper than an electric oven. This is because an electric stove is a simpler appliance with fewer components compared to an electric oven, which requires more complex heating elements and additional features such as fans for even heat distribution.
Additionally, an electric stove can be paired with a less expensive countertop oven for baking and roasting, whereas an electric oven cannot be substituted for stovetop cooking. Overall, the cost difference between an electric stove and an electric oven may not be significant, and it ultimately depends on individual preferences and cooking needs.
Do Ovens Consume Too Much Electricity?
Ovens can consume a significant amount of electricity, especially if they are used frequently or for extended periods. However, the amount of electricity used by an oven depends on several factors, including the size of the oven, the cooking temperature, and the cooking duration.
Some ovens are designed to be more energy-efficient than others, and there are also steps that can be taken to reduce energy consumption, such as using the oven's self-cleaning function sparingly and cooking multiple dishes at once to take advantage of residual heat.
In general, though, ovens can be a significant contributor to household energy bills, so it's important to consider energy efficiency when purchasing an oven and to use it judiciously to
Should You Prefer Higher Wattage Oven?
When it comes to a higher wattage, then it means that an oven releases more heat. It means that the oven size is also significant, and the element can increase the temperature at different settings. It depends on your choice whether you should go for the high-wattage oven.
How Much Electricity Oven Consumes Every Hour?
The amount of electricity an oven consumes every hour varies depending on several factors such as the type of oven, its age, energy rating, and temperature settings. Generally, electric ovens consume between 2 to 5 kilowatts per hour, while gas ovens consume between 1 to 1.5 kilowatts per hour.
It is important to check the energy rating of the oven before purchasing it, as higher-rated ovens are more energy-efficient and will consume less electricity. Additionally, using the oven at lower temperatures and for shorter durations can help reduce its electricity consumption.
Conclusion
At SmokinJoesRibRanch, we've curated a list of top-notch built-in ovens just for you. With our handy buying guide, finding the perfect fit becomes a breeze. Remember, I always emphasize understanding your cooking or baking needs before making a choice.
After all, it's a significant investment, and we want you to make the most informed decision. Think wisely and cook deliciously!
Read also: Best Electric Oven for Baking