Grilling is one of my favorite methods of cooking especially during these summer days. If we talk about grilling, it will send my imagination into a refreshing day in the sand.
Hence, it is essential to bring the best grill pan to cook our meals. Preparing a meal outdoors could be fun but at the same time tiring when you lack the proper tools.
I have the five leading brands for grill pans for you. All that ended up on my list are highly recommended by customers, sellers, and reviewers. See if you will fancy one to use on a perfect grilling activity during the family bonding at the beach.
Top Rated Grill Pans Perfect for Outdoors
Each product that I am about to review has garnered the favor of many users and customers all over. They landed at the top items that prove to gain the trust and likes of the grilling fanatics. Read the review one by one and find out the best grill pan for you. Each grill pan has a different feature to offer to satisfy your needs.
1. Cuisinart CIPS30-23 Cast Iron Grill Pan

What are the features that made Cuisinart the number one choice of customers? It is no secret that this brand hit the most significant favorable reviews this year. Model CIPS30-23 cast iron grill pan is a black square pan that measures 9.25". Its cast-iron construction proves to provide the best heat retention and distribution for ideal high-temperature cooking.
This product will amaze you with its versatility. You can use the pan not only for grilling but also for frying, braising, baking, searing, and sautéing all the recipes that you like. The said pan is so easy to use and does not need a lot of effort during cooking. Notice that it has a smooth surface from the inside and outside for extended easy release.
The cookware is ready to use and comes pre-seasoned. It stays pre-seasoned by just putting a little bit of oil when using. A guarantee to last with extended use, this cast iron pan has construction durable enough to last a long time. Check the handle and find out that it is indeed sturdy that will withstand any pressure during lifting.
The perfectly balanced grill pan matches all stovetops, induction, oven, grill, and broiler. Lastly, Cuisinart offers a lifetime product warranty.
Pros
Versatile
Optimal heat retention and distribution
Comes pre-seasoned
Sturdy handle
Perfect balance
Suitable for various cooking equipment
Has a lifetime warranty
Easy to clean
Cons
Not guaranteed to be rust-free
The enamel coating has a tendency to chip after several uses.
2. Lodge LPG13 Pro Grid Cast Iron Grill Pan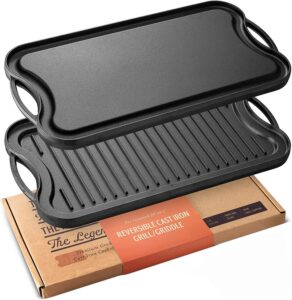 The Lodge cast iron grill pan is reversible. You can use it as a grill pan and reverse it to transform it into a griddle. This pro grid pan measures 20" x 10" including the easy-grip handles, and it easily fits into a stovetop with two burners. The product provides excellent heat retention and distribution that is ideal for high-temperature cooking.
The two easy-grip handles allow you to lift and flip the pan easily. You can also hang the pan during storage. Hence, I am sure that you will be comfortable using it when making pancakes, eggs, grilled chicken, and steaks. Lodge has 120 years experience of in making cast iron cookware thus marking them with high-quality design, durability, and versatility.
You do not even need to worry about seasoning because Lodge seasons their cookware with 100% vegetable oil. You will see that the more you use your pan, the better the seasoning will get to be. Know that the product is ready to use for the easy-release finish, unparalleled heat retention, and even heating. Even cleaning is never a problem.
Pros
Dual function/reversible (grill pan and griddle)
Excellent heat retention and distribution
Easy-grip handles
Easy to store
Easy to clean
Pre-seasoned
Cons
Only limited to the two-burner stove
It is not rust-resistant
3. Cuisinart 630-30 Chef Classic Nonstick Round Grill Pan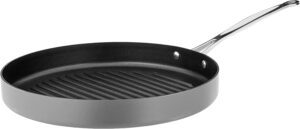 I do not need to emphasize that Cuisinart products always stand. This 12" hard-anodized round grill pan has a Quantanium nonstick interior and durable exterior. Try to feel the cool grip handle that is gentle to your hands and notice the drip-free rim that will make cooking convenient. It must be because the edge is narrow for healthy cooking, clean and easy pouring.
I use this grill pan for one-dish meals especially when I am up for beef, chicken, and fish fillets. The tempered glass cover is perfect for keeping the heat well-distributed inside and protecting me from the mess. Do you know that hard-anodized material is even harder than stainless steel? It is a dense, non-porous, highly wear-resistant, and smooth finish for easy cleaning.
This product is also 100% aluminum-free cooking surface and metal utensil safe. The full grill pan dimension is 19" x 12" x 1" and weighs approximately 3.45 pounds. The flat bottom measures 14" and the pan can hold approximately 2 quarts when leaving ½" headspace. The product is oven safe provided a maximum of 500 deg. F temperature and must only be hand-washed.
Pros
Quantanium nonstick interior
Durable exterior
Cool grip handle
Tempered glass cover (with a hole for ventilation)
Hard-anodized construction
100% aluminum free cooking surface
PFOA free
Cons
Not suitable for induction cooktops
Not dishwasher safe
4. Calphalon Contemporary Square Grill Pan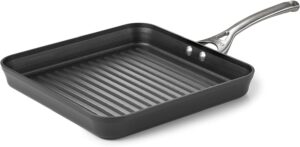 Calphalon Contemporary 11" grill pans construction is of hard-anodized aluminum (98.7% pure) non-stick cookware with a classic black color. The heavy-gauged material guarantees even heating and durability. This makes the pan dishwasher safe as well. Check the interior and find out that it includes three layers of non-stick coating in which the two layers ensure durability and the third layer offers easy release performance.
I love the long brushed stainless steel handle that surprisingly stays cool over the stovetop. Both the pan and the cover are oven-safe too thus enabling me to make my favorite gourmet recipes. The deep ridges of the pan add unique grill flavor to meats and result in to even brown color to the meal with enough juices lock-in. If you have a big family, the size of this grill pan is enough to accommodate extra servings.
For all the health-conscious out there, the nonstick feature (PFOE-free coating) of this product uses less fat when cooking which makes the cookware easy to clean as well. Not only it is safe to use with stovetops and ovens, but it is suitable for broilers too. The purchase covers Calphalon's full lifetime warranty.
Pros
Hard-anodized aluminum
Even heating
Durable
Nonstick (PFOA free coating)
Dishwasher-safe
Stainless steel handles stay cool
Oven and broiler safe
Large enough for an extra serving
Healthy cooking
Easy to clean
Full lifetime warranty
Cons
Some might find the handle too long for their arm
5. Lodge Square Cast Iron Grill Pan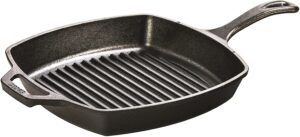 This Lodge 10.5" square cast iron grill pan is perfect for grilling bacon, steaks, and other meats. You will like the grill ribs that elevate the meat while cooking and collects the drips. This product uses 100% vegetable oil to pre-season the surface of the pan. Hence, the longer you use it, the better the seasoning will get.
The model has easy grease draining, an advantage compared to other available products. Lodge guarantees high-quality design, lifetime durability, even heating (from bottom to the sidewalls), easy-release finish, and cooking versatility with its 120 years of experience in manufacturing cookware.
It offers a nearly non-stick surface with no harmful fumes from harmful chemicals. It is suitable for use on the stovetop, in the oven, on the grill, in slow-cooks, and even on the campfire.
However, you need to follow cleaning instructions to help the pan last for a long time. Therefore, it is best to clean your grill pan manually and not in the dishwasher. Then, you can hang the pan for easy storage.
Pros
Features grill ribs to elevate meat during cooking.
Pre-seasoned
Easy grease draining
Durable
Even distribution of heat
High-quality design
Easy release finish
Versatile
Suitable for multiple heat source
Easy cleaning
Easy storage
Do you have a grill pan?
Other names for a grill pan are griddle and broiler pans. A grill pan looks like an ordinary frying pan but with additional grids or parallel ridges in the bottom. This particular cookware is best for cooking food with radiant heat most specifically on a stovetop. Grilling is usually outdoors, but with the grill pans, you can grill meat even inside your kitchen.
Using grill pans is healthier than cooking food with your ordinary frying pans. With grill pans, you do not need to add in more oil when cooking. Many even say that grill pans bring a unique taste to your food that no other cookware can imitate.
What you need to know about grill pans before buying one
Size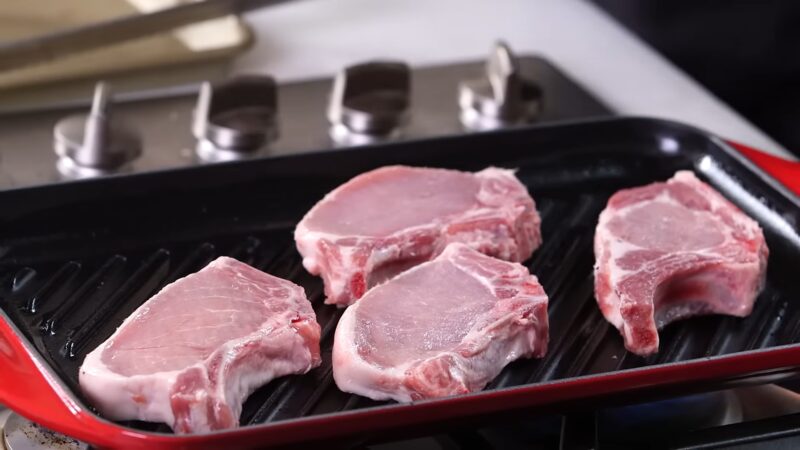 One factor that you need to consider when purchasing a grill pan is the size. The size is dependent on how much you need to cook. If you are only planning to cook for a small group, then a small size will do. However, if you intend to serve a large crowd, a much larger dimension that can accommodate extra servings is a need. Understand your need first before deciding.
Construction Material
The most common material for a grill pan is cast iron. It represents durability and quick, even heat distribution. Stainless steel and aluminum are other material options, but they are not as versatile and durable as cast irons. Understand the impact of every material used for the grill pan.
Stainless steel demands more maintenance while aluminum is not great for heat distribution. It will matter when you are particular about the price, long-time service, comfort, and the effect it has on your cooking environment. Ask assistance from the salesperson if you are in doubt.
Special Features
Watch out for special features that a manufacturer may offer. Although some are truly helpful and add convenience in the kitchen, most of it is not important at all. Hence, learn about it first before getting excited. The drip-free rim, for example, is a special feature that I really love.
Shape
The shape is not a big issue for me when it comes to the grill pan, but it might be for you. There are round, and square grill pans that you will find in the market. I find the square shape bigger in size and is suitable for cooking in large portions. However, the round type is a bit smaller. The shape is perfect to fit stoves in your small kitchen better.
While the square shape is bulky and needs space in storage, the round ones come in handy and may fit in your cabinet drawers.
Practicality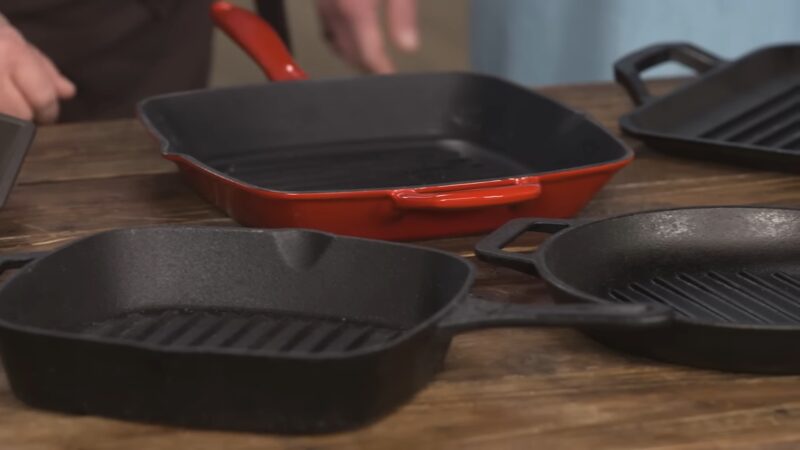 I am practical when choosing the cookware. I make it a point that I pick the best grill pan that I can clean easily. With my hectic schedule, I need a pan that I can wash fast and safely. Hence, the first feature I look for is the "dishwasher-safe" type or the material that does not need a lot of effort when cleaning.
Another big issue for me is the nonstick feature. Who does not like cooking without having the trouble of scraping out bits of food at the bottom of your pan? Dishwasher-safe and nonstick features are a combination of features that offers comfort and convenience to me.
Versatility
It would be a delight to know that what you bought is versatile. I want my cookware to be suitable for any heat source. Just like the grill pans in my reviews, they are not only suitable on your stovetop but are also useful in the oven, broiler, conduction, and even on the campfire.
Try to think of some other uses that you need for a grill pan and I bet that with the new models that abound, one will fit mostly to what you have on your list.
The proper way to clean your grill pan
If you only follow the manufacturer's instructions on how to clean your grill pan, it helps in keeping your cookware in the best condition to last longer even with frequent use. Here is a video showing you how to clean your grill pan the right way.
Other benefits of using a grill pan
Why do you need to buy a grill pan? The benefits of a grill pan may not be obvious to you at first, but after knowing it, you will understand that it is necessary to have one.
Grill marks – The grill marks are not just there for the presentation, although I admit that the meat with those marks really looks inviting. The brown grill marks of the meat are exceptionally crunchy. That is why it is the first to disappear after.
Saves time With grilling, you can put all the meat in one go. All will cook at the same time. No more waiting!
Ridges collect the fats – One function of the ridges is to collect the fats that ooze from the meat. This prevents the meat from broiling with its own juice. Besides, it is easy to collect juice afterward.
Do you know how to use a grill pan?
Now that you have seen the top choices for the best grill pan there is, have you thought of using one at home? In this case, are you familiar with how to cook food by grilling? Have you used grill pans before? Here is how to use grill pans if ever you plan to cook outdoors. Watch this video.
FAQ
Do you need a grill pan?
While a grill pan is certainly not a kitchen necessity, it's great for getting those gorgeous grill marks and turning any random weekday into a summer barbecue. If you're not quite ready to make the purchase, our pros note that you can get pretty similar results using a regular cast iron pan if you don't want to buy both and are willing to forgo those classic grill marks.
How to clean a grill pan?
Cleaning a grill pan can be a bit challenging, but here are some steps you can follow:
Allow the pan to cool down completely before cleaning it. Trying to clean a hot pan can be dangerous and can damage the pan's surface.
Use a paper towel or a brush to remove any loose food particles or debris from the pan.
Fill the pan with hot water and add a few drops of dish soap. Let it soak for 10-15 minutes.
Use a soft-bristled brush or sponge to scrub the pan's surface gently. Be careful not to use anything abrasive that could scratch the pan's non-stick coating.
Rinse the pan with hot water to remove any soap residue.
If there are still stubborn stains or burnt-on food, you can sprinkle baking soda over the pan's surface and add a few drops of water to make a paste. Let it sit for a few minutes before scrubbing with a brush and rinsing thoroughly.
Dry the pan with a clean towel or let it air dry.
With regular cleaning and proper maintenance, your grill pan can last for many years and help you prepare delicious grilled food indoors.
How to use a grill pan?
Using a grill pan is relatively simple, but here are some steps to help you get started:
Preheat your grill pan over medium-high heat for a few minutes. This will ensure that the pan is hot enough to create grill-like marks on your food.
Brush a thin layer of oil over the grill pan's surface. This will help prevent your food from sticking to the pan.
Place your food on the grill pan's surface. For meats and vegetables, you can brush them with a marinade or seasoning of your choice before placing them on the pan.
Let your food cook for a few minutes on one side before flipping it over to cook on the other side. You can use tongs or a spatula to flip the food over.
Cook your food to the desired doneness. This will vary depending on the type of food you are cooking, but generally, meats should reach an internal temperature of 165°F (74°C), while vegetables should be tender and slightly charred.
Once your food is cooked, remove it from the pan using tongs or a spatula.
Clean your grill pan thoroughly after each use to ensure its longevity and optimal performance.
Remember, a grill pan is a great tool for creating grill-like marks and textures on your food without having to use an outdoor grill. With a little practice, you can use it to prepare delicious and healthy meals indoors.
Conclusion
Although grilling has always been a part of me since I was young, it is helpful to point out that grilling is a fun activity for the family. Before we grill when there is a special occasion, or we have an outdoor family bonding.
I remember that it usually happens at night when the stars are bright and magical. Hence, if you already decided on your best grill pan, you might want to try cooking some time outdoors.
My personal pick for this review is the Calphalon Contemporary Square Grill Pan. I find this product as the most durable and comfortable to use than the others. I love the length of the stainless steel handle that is just right for me to use with ease.
Besides, Calphalon is already cookware that is tested in time within my kitchen. I consider this brand as the most reliable when it comes to quality and service because of experience.
No matter what you choose from the top five on my list, each has something different to offer that may fall on the specs that you need. Good luck!

As a mom of two angels, I credit myself in making meals with high concentration yet the balance of nutrition. I pay good care about the health of my family and everyone. Thus, you will find most of my recipes focus on healthy ingredients.