While food experimentation is fascinating, it can also be daunting, mainly when time is not on your side.
With the introduction of meat injectors in the market, I feel better at ease knowing we can now get rid of lengthy marinating and bland meat.
Do you plan to purchase a meat injector for your meat recipes? We compiled the 10 best meat injectors for 2023 to give you an overview of the product before buying one.
Our Choices for Meat Injectors – Top Rated
There are currently a lot of meat injectors available in the market and online.
However, choosing the best ones can be quite challenging. So, in this article, we gathered ten of the most preferred meat injectors by consumers.
​1. The SpitJack Magnum Meat Injector Gun (Rating: 4.9)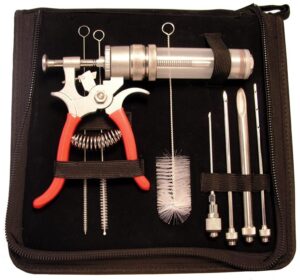 At times, a simple marinating and rubbing don't deliver the kind of flavor you want on your meat, and it is only in such instances that SpitJack Magnum Meat Injector Gun is needed. With a meat penetration of 5.5 inches, this injector device will bring your sauce deep into your meat so that you never have to consume bland meals again.
The SpitJack Magnum Meat Injector Gun has four commercial-grade needles – the first needle has a sloping tip for chunkier marinades while the other needle has side drills for liquid marinades. The product is durable and safe because it is made of die-cast zinc, nickel-plated brass,  as well as food-quality rubber.
Pros
Value for Money – SpitJack Magnum is undoubtedly pricey, but with the ebook guide and seamless instrument that comes with this product, you will most likely feel you get precisely what you paid for. It has a heavy grip handle and three cleaning brushes. Moreover, SpitJack Magnum has a product warranty that entitles you to a free repair and replacement of parts.
Easy to Use – Roasting or marinating the entire meat is not an easy task. But SpitJack Magnum has a handle grip that allows you to hold the meat on one hand while you hold the device on the other hand to inject the juices. It has an accurate adjustable trigger
Easy to Clean – SpitJack Magnum has four cleaning brushes that allow you to clean the device in a more precise way. Moreover, this meat injector is easy to disassemble, thus, making cleaning more convenient.
Cons
Short Warranty Period – SpitJack Magnum has only a 1-year warranty.
2. Bioexcel Stainless Steel Meat Injector (Rating: 4.8)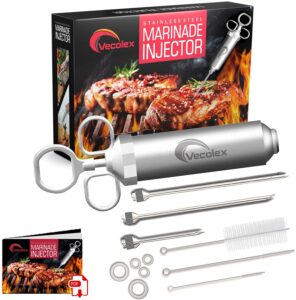 Do you want a secure injector that can be used at home on several events without having to worry about jeopardizing your family's health? This might be the meat injector suited for you. The Bioexcel Stainless Steel is equipped with a strong-quality, clean, and aesthetically pleasing stainless steel product. It also features three sharp needles with supreme durability.
The injector has a comfortable layout, where assembly and disassembly are straightforward. Thus the detachable sections can readily be cleaned to ensure your family's safety. This item comes with three distinct size pads for washing purposes to guarantee quick cleaning.
Pros
Comfortable Layout – The injection unit for the marinated meat can be mounted and dismantled immediately. It has three variable-sized cleaning brushes for fast cleaning. The injector flavor device is safe to clean in the dishwasher.
Safe Injector – The marinade injector set is an extremely compliant food-quality stainless steel. The solid, strong needles enable simple penetration to any kind of meat to ensure that the dense sections are reached.
Product Warranty – This injector is furnished with a 100% cashback guarantee, with the ten by ten quality and freedom of return.
Savor Every Bite – The meat injector is perfectly crafted to guarantee that every part of the food has its flavorful taste.
All-around Meat Injector – Bioexcel Stainless Steel Meat Injector can be fitted with three distinct needles.
Cons
Hard Plunger – Pushing in the plunger can sometimes be very difficult.
Small Pieces Everywhere – There are many small pieces to deal with.
3. Ofargo Stainless Steel Meat Injector (Rating: 4.8)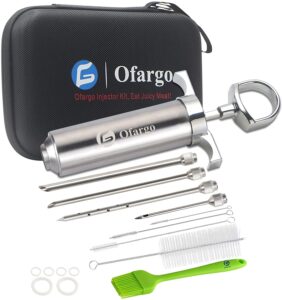 The Ofargo Stainless Steel Injection Meat Injector Syringe has a 2-oz barrel of flavor injector. The package contains three multi-hole meat needles, five silicone or rings for extra syringe, two brushes for cleaning, and 1 BBQ silicone basting brush. Customers recorded durable and lasting pins.
The barrels and needles of syringes are made of 304 stainless steel, the top of the injector, and they are made of zinc alloy, and the grilled pastry brush and screens are silicone-free and conform to the requirements of FDA. The handle and pressure control offers a great overall experience with their convenient and easy-to-use plunger.
Pros
Cost-effective – For those on a budget, the Ofargo Stainless Steel Injection Meat Injector might be your best option. It is very affordable and has the components you need.
Dishwasher-safe – This device can be washed in the dishwasher safely.
Easy to Clean – With the three cleaning brushes that are included in the package, you have various options to use in cleaning the meat injector.
Easy to Assemble and Disassemble – It is easy to assemble the syringe for use. The components match snugly together. It is also simple to disassemble for cleaning.
Cons
Partly Stainless – Since this meat injector comes at a cheaper cost compared to other meat injectors available in the market, the downside to this is that the device is not entirely stainless. There are parts that are made of plastic.
Difficult to operate single-handedly – The injection of the marinade into the meat requires a certain amount of effort when done with just one hand.
4. Premiala Awesome Meat Injector (Rating: 4.7)
The Premiala Meat Injector doesn't just look great; it functions exceptionally well. This meat injector kit is stored in an attractive case which maintains all the accessories, ready to help you bring your food up to a higher level. Three needles that operate with all sorts of sauces are included.
The Premiala Meat Injector can be maintained for years because of the additional cleaning brush and O-rings included in the package. The prize consists of an eBook to assist you in exploring the meat injection world. Guides, troubleshooting, and suggested dishes are included in the eBook. For beginners, this meat might be your life-saver.
Pros
Value for Money – The Premiala Meat Injector is not only affordable; it also comes with various other components, including a well-designed eBook that gives you unlimited recipes that make use of meat injectors.
Easy to Use – The package comes with three needles that allow you to have greater options when marinating different dishes.
Organized and Durable – The Premiala Meat Injector is stored in a sleek-looking box where all components are neatly arranged. This meat injector can last for a long time because of its durability.
Cons
Short Warranty Period – The Premiala Meat Injector has only a 1-year warranty.
5. GrillHogs Marinade Injector (Rating: 4.5)
GrillHogs Injector enables you to introduce an intensifying aroma to your chicken, pork belly, and chicken. The 2-unit plunger lets you inject your marinade easily.
The GrillHogs Marinade Injector is ideal for those who are starting to explore meat flavors. The three needles are perfect for either chunkier or thicker marinades. The meat injector consists of stainless steel that enables durability.
This meat injector is extremely simple to use. The large needles are big enough to inject seasonings on a turkey or other poultry. You can also easily clean it–use warm soapy water and rinse it thoroughly.
Pros
Value for Money – Made of stainless metal of the best standard of food to guarantee 100% safe meals. Includes a free eBook bonus with excellent food injector recipes for delicious tasty meals through the addition of flavorful marinades, brines, or broths.
Easy and Quick Marination – Fully equipped with 3 dedicated marinade injection needles intended for the accuracy of marinade injection into any cut-sized meat. The needles readily inject any food or meat, enhance taste, and ensure that the food oozes with flavor.
Durable – Constructed in heavy steel 304 grade for all food components including, barrels, plungers, barrel nose, and needles.
Cons
Flimsy Rings – The silicone rings of this meat injector can sometimes appear sluggish and flimsy.
How to Choose the Best Meat Injector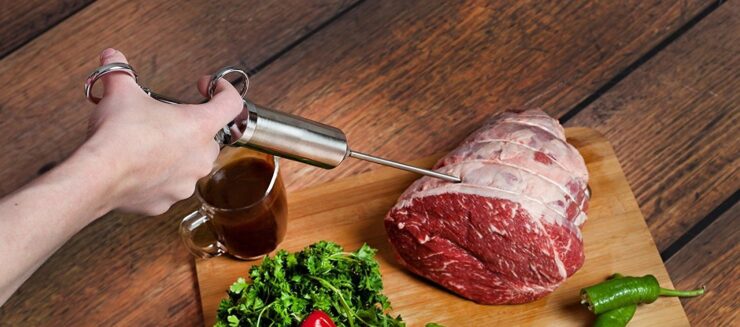 Meat injectors are great instruments to enhance the meat's moisture and flavor. Generally, they appear like a huge sterile syringe, and before cooking, they are utilized for injecting saltwater, sauces, or marinade into the meat.
Usually, when marinating, you place the meat in the marinade and allow it to soak in the mixture a few centimeters into it. With injectors, the moisture and flavor penetrate the whole meat section.
But how do we choose the best meat injector? Here are the attributes you might want to take into consideration:
1. Metal or Plastic?
Plastic injectors usually only cost about $7, which makes them very inexpensive. They are great for occasional use on tiny meat cuts, but customer reports about the plastic barrel split under injection pressure or about broken plastic threads where the needle twists on it are quite commonly read.
Some injectors have a plastic barrel with a skin of stainless steel around it. These injectors appear better than plain plastic injectors, but below the stainless steel skin, they are still plastic injector. Hence, in this case, you pay extra cash for the beautiful cover.
A far more robust proposition is injectors wholly made of metal, and since the price usually ranges between $12 and $30,  it's challenging to recommend plastic ones versus entry-level metal. In this relatively broad cost spectrum, there are some significant variations. Some of them are evident–some emerge with stronger storage alternatives and more parts, but the metal remains to be the secret variable.
2. The Capacity of the Meat Injector
Size usually begins at approximately 30ml/1 oz.  30ml units are suitable for stuff like some steaks, but the cutoff point to most people is about 60 ml / 2 oz— they are still simple to use, but they are sufficiently able to inject a turkey or chicken size with only a single refill or two refills.
There are several 120 mL/4 oz syringes on the market and large multi-needle units that are attached via a bottle tube but are usually more complicated to manage and only make perfect sense when used in large volumes.
3. The Needles
Plastic injectors often include only one narrow needle, since they're not specifically designed to inject whole birds.  Most metal injectors will have two needles–a needle with a multi-hole for liquids, and a needle with an open-end designed for thicker marinades. Some metal injectors come with a tiny needle used for releasing marinade into the meat.
4. The Packaging
This varies significantly, from the affordable packing of plastic blisters, to the professional carton boxes that have foam cut-outs, and to full leather pouches.  Products with only two needles and nothing else can be packaged with basic products and only keep their needles in their cutlery drawer; however, if other spares or smaller components are provided, consider one of the best options for everything to stay together.
Benefits of Meat Injectors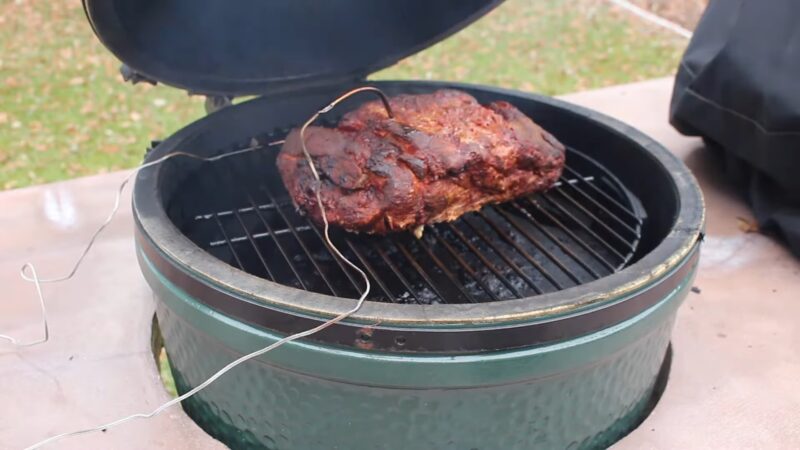 You should consider using the meat injector if you wish to insert a fresh aroma in dishes that you make, including cuts and sausages. There are many reasons why having one of these is a brilliant idea, including the fact that you can put added flavors inside. It also simplifies the work, thus, getting the cooking done quickly. Here are the main reasons and advantages that this device offers.
1. Faster work
The job can be performed quickly because the flavor can be injected into the meat at once by many needles.
2. Time-saver
When the bigger meat injectors are used, the job can be performed rapidly, and the bigger chunks can be inserted simultaneously.
3. Cost-effective
This is the simplest and cheapest way for you to provide stronger flavors to the products you will be selling without investing much cash.
4. Convenient
You have to add the flavor into the device so that the needles are pressed into the meat. This implies that every single needle does not need to be loaded and inject the flavors simultaneously.
5. Tidy
This process can be messy sometimes, especially when you're trying to do this alone, but it doesn't have to be messy when you use a bigger device.
The Best Way to Use Meat Injectors
A meat injector is a tool that can inject marinade, broth, and brine into the meat. The concept of injecting marinade is that it helps to improve the maintenance of moisture and enhances the flavor of the meat as the marinade mixture is kept inside. With a meat injector, you will no longer have to soak meat for an extended time.
To use the meat injector, tap the tip of the injector into the marinade completely to make sure all openings are filled and slowly draw back into the nozzle of the injector to fill the hole with liquid. Take the injector tip and insert it entirely into your protein, again make sure all openings are not shown. To squeeze in the marinade, press the plunger down slowly.
Here is a video that shows how to use the meat injector.
FAQs
What's the difference between marinating and injecting meat? 
Marinating and injecting are two common techniques used to enhance the flavor and tenderness of meat.
Marinating involves soaking meat in a liquid mixture (usually containing acid, oil, herbs, and spices) for a period of time before cooking. The purpose of marinating is to add flavor and tenderize the meat by breaking down its proteins. The liquid mixture penetrates the meat, infusing it with flavor and making it more tender.
Injecting, on the other hand, involves injecting a marinade directly into the meat using a syringe. The marinade is typically a liquid mixture similar to the one used for marinating, but the difference is that it is injected directly into the meat. This method is often used for large cuts of meat or poultry, such as a whole turkey or a pork shoulder.
The main difference between marinating and injecting is the way the marinade is applied to the meat. Marinating is a surface treatment, while injecting is more of an internal treatment.
Marinating works well for thinner cuts of meat or those with a lot of surface area, such as steaks, chicken breasts, and fish fillets. Injecting is better for larger cuts of meat, where marinating may not be able to penetrate the meat deeply enough.
How do I clean a meat injector?
Cleaning a meat injector is essential to ensure that it functions properly and remains hygienic. Here are some steps you can follow to clean a meat injector:
Disassemble the injector: Begin by removing the needle and the plunger from the body of the injector. You can do this by unscrewing the needle from the end of the injector and then pulling the plunger out from the back.
Rinse with hot water: Rinse all parts of the injector with hot water to remove any leftover meat or marinade.
Clean with soap: After rinsing, use a mild soap or dish detergent to clean the parts of the injector. Scrub the inside of the needle and the plunger with a brush to remove any debris.
Sanitize with vinegar: Once you have washed the injector, sanitize it with a solution of one part white vinegar and four parts water. Submerge the parts of the injector in the solution for 15-20 minutes.
Rinse and dry: After sanitizing, rinse the injector with hot water again and dry it thoroughly with a clean towel. Reassemble the injector and store it in a clean, dry place until you need to use it again.
How do you use a meat injector?
Using a meat injector is a simple process that can greatly enhance the flavor and juiciness of your meats. Here are the steps to follow when using a meat injector:
Prepare your marinade or injection sauce: Mix your desired ingredients for your marinade or injection sauce. Make sure it is well-blended and free of any lumps or solids that could clog the injector needle.
Assemble the meat injector: Remove the plunger from the injector barrel and fill the barrel with the marinade or injection sauce. Replace the plunger and make sure it is securely in place.
Choose the injection point: Determine where you want to inject the meat. This will depend on the type of meat and the desired outcome. For example, if you want to inject a chicken breast, choose the thickest part of the meat.
Insert the needle: Insert the needle into the meat at a 45-degree angle until it reaches the desired depth.
Inject the marinade or sauce: Slowly press the plunger down to inject the marinade or injection sauce into the meat. As you do this, slowly withdraw the needle from the meat. Repeat the process at several points to ensure even distribution of the marinade or sauce.
Clean the meat injector: After use, disassemble the meat injector and clean it thoroughly with warm, soapy water. Rinse it well and let it air dry before storing it.
Conclusion
Meat injectors are likely one of the best products you can find in the market today. They do not only make marinating time faster, but they also intensify the flavor of any meat. The top ten best meat injectors compiled in this article come with unique characteristics.
If you are searching for a meat injector that allows you to inject marinades with one hand, the SpitJack Magnum Meat Injector might be perfect for you. If you aim to purchase a meat injector that has a simple design yet can be used for any meat, the Bioexcel Stainless Steel Meat is likely your ideal match.
If your choice is a cost-effective and dishwasher-safe meat injector, consider Ofargo Stainless Steel Meat Injector. If your purpose is to have a meat injector with all components neatly organized in a single attractive box, Premiala Awesome Meat Injector is likely the best choice.
If you are a beginner chef and adding more flavors to your meat recipe is your ultimate goal, then the GrillHogs Marinade Injector is likely the best option.
No matter what meat injector you decide to purchase, remember the essential features you need to take into account including the needles, materials, packaging, and capacity.
Read more: Best Offset Smoker Under $1000 for Smart Shoppers 2023