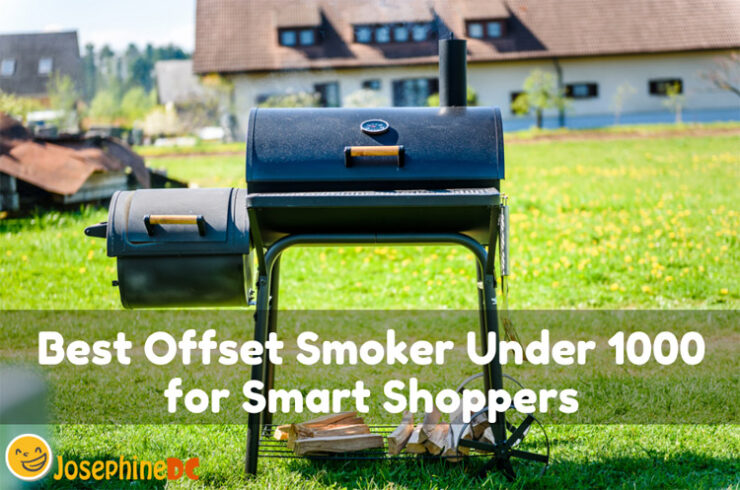 You can't beat the taste of juicy meat when it's cooked using an offset smoker. Smoking is one of the indirect cooking methods that I prefer. I love the meat's old-fashioned flavor that brings memories back. Nowadays, the best offset smoker under $1000 is the most practical choice that you can pick.
Are you interested in buying one? If you are tight on finances but still want to get the best, check out this review for the best offset smoker under $1000. I am sure you'll get one that suits your priorities.
The Best Offset Smokers for Unforgettable BBQ in 2023
Now, you must have set your mind to find an offset smoker that holds all the characteristics and factors that my buying guide informed you. Let us see what you would decide to pick then. Remember that choosing a pick will depend on your need, fancy, and budget.
1# Dyna-Glo DGO1176BDC-D Charcoal Offset Smoker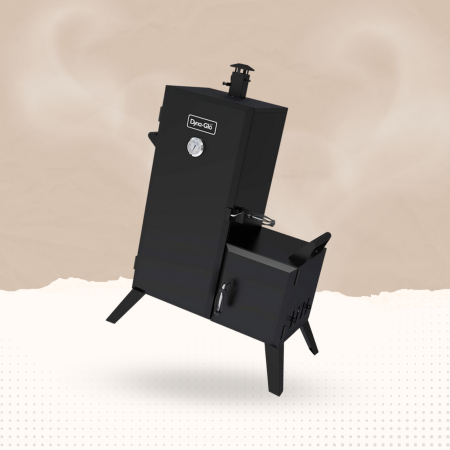 This heavy-duty steel smoker with dual doors is effective in containing heat inside and saves smoking time. It features a porcelain-enameled wood chip box that is popular for its robustness. With the compact and latest design, its electronic pulse ignition system facilitates faster and reliable igniting to save time. Compared to other offset smokers, it is user-friendly and is easy to arrange.
If you are okay with the size of 784" of the smoking area and a capacity of 100 lbs. of meat to smoke at one time, then this type could be for you. You will find it convenient knowing that it has six height-adjustable cooking grates. Besides, you can choose any woodchip you prefer for the meat flavor that suits your taste.
Features:
Vertical design for greater efficiency and improved smoke flavor
Has a charcoal and ash management system that handles a large amount of ash for hours.
Easy to clean and maintenance-free cooking.
Has an adjustable flue to control temperature.
With built-in, easy-to-read gauge stainless steel thermometer
Pros
The metal is easy to drill through
A good starter
Has a reasonable price
Allows refueling without opening the cooker side.
Very easy to set up
The taste after smoking will never disappoint you.
Grates are adjustable
Easy to move it around by yourself
The metal is thick with 14-16 gauge
Can cold smoke, a small fire and closed draft
Cons
There is no water tray
It does not keep the heat high enough at the firebox.
The temperature gauge is not that accurate.
Does not seal tight when installed with another gasket.
2# Royal Gourmet CC1830F Charcoal Grill with Offset Smoker, Black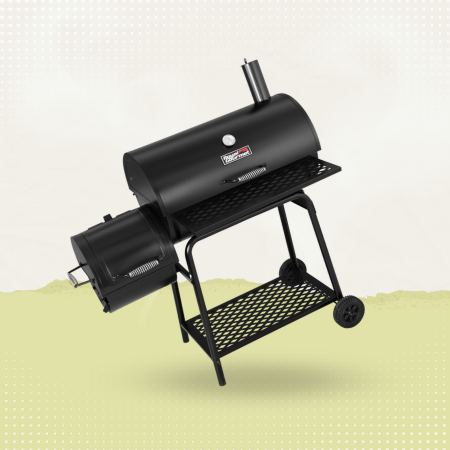 I always look for a smoker that I can assemble all by myself. The Royal Gourmet is easy to set up and adapt. The 800 square inches cooking surface and 438 square inches main chamber is a big room enough for the sizes of meat that I usually smoke. In fact, it provides an extra 183 square inches of cooking area with porcelain steel grates and 173 square inches of chrome warming rack.
I like the idea of a combination offset smoker since I can be flexible on how I cook my dishes. This smoker does not give me a hard time adding charcoal when needed, and the air vent provides better airflow.
Features:
Heavy-duty lid with professional thermometer
Big stack and cool touch spring handle
Adjustable damper
Big-capacity charcoal pan
Lifting handles to adjust the height of the charcoal
Steel mesh at the front table and bottom shelf
Pros
Easy to clean
Very thick
Easy to assemble
Can be both a smoker and grill
Heats up quick and even
Easy to read thermometer
Portable with wheels
The storage rack is convenient.
Cons
Smoker box does not have a cooking grate
Very heavy
With little heat, the outside paint wears out
Provide your own water pan
3# Char-Broil American Gourmet Offset Smoker, Deluxe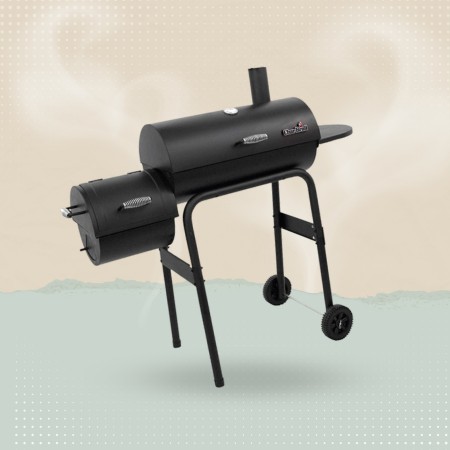 I consider the durability of my smoker a priority. I pay for it, so it must last a long time! Char-Boil American Gourmet met my specs when it comes to reliability and strength. The Landmann vertical class smoker is just what I need. This heavy-duty smoker has easy-access drawers to make it simple for me to add water and fuel.
I love the strong and durable square legs that support the all over steel construction of the smoker. It does not make me worry that it would collapse anytime. See the welded cooking chamber that keeps the smoke inside and know that it gives a flavorful result to my meat. The adjustable heat control and the adjustable top chimney vent also play a big part of it well.
Features:
Steel box that holds the chips
Porcelain enamel pan to hold the water
Attached cool-touch side handles and wheels for easy mobility
All black steel construction
Porcelain coated grates
Lid-mounted temperature
Pros
Also works as a grill
It only needs few coals when grilling.
Easy to clean
The price is reasonable.
The smoke does not leak
Equipped with a thermostat
Cons
The exhaust chimney doesn't have a fan
The charcoal and grill height is not adjustable
Not big enough for a 10 lbs. turkey
4# Landmann 560202 Vista Barbecue Grill with Offset Smoker Box, Black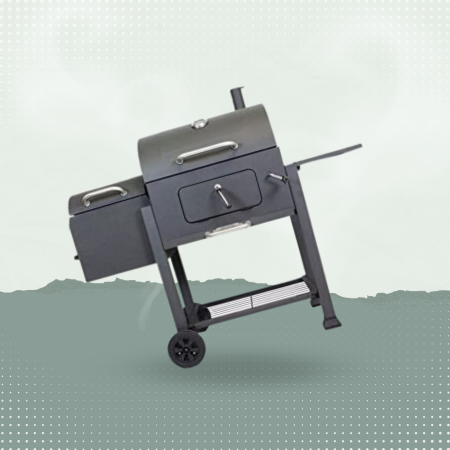 The Landmann grill and offset smoker is excellent for my limited outdoor space at home. It fits fine in my small patio and serves well during special gatherings. I like the way I can transport or move it around because of the large wheels that support the body.
It is easy to use even for beginners like me. The charcoal pan adjusts to multiple positions by crank handle. The chimney too has an adjustable damper that allows better heat control. I find it easy to access the charcoal because of the big front panel.
I'm happy that it has an easy way to clean due to its large removable ashtray that covers the entire bottom of the grill. The approximate cooking area is 363 square inches for offset smoking and additional 169 square inches for grilling that can happen at the same time.
Features:
Large grilling capacity porcelain coated cast iron grates
Chrome plated steel warming rack for additional space
Large stainless steel handles
Equipped with temperature gauge
Pros
Does not leak smoke
Has a side door for tending the smoke
Easy to set up
The smoker box is roomy.
Price is reasonable.
Cons
Thin metal construction
Awful assembly instructions
5# 48″ Backyard Charcoal Grill with Wheels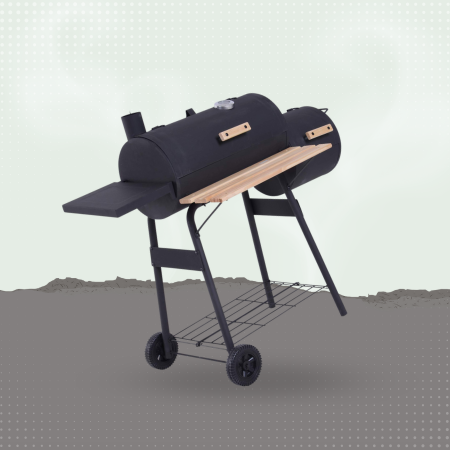 I am just a newbie when it comes to smoking, but with this BBQ grill and smoker combo, I feel like a pro! It has a separate opening for grill and smoking purposes that allows me to do the cooking the stress-free way. The attached thermometer on the main lid is easy to read, so I do not worry about opening it to check.
As if Outsunny knows I love extra space, I love the wooden shelves found in front and at the side for convenient cooking. The equipment itself is lightweight for me to move it from one location to another. If you have someone who loves outdoors, this offset smoker is a perfect gift.
Features:
Chimney for increase airflow
Smoker firebox attached for offset heat and slow smoke flavor
Vent on the sides of the smoker for better air flow
Wooden handles to prevent accidents when opening lids
Pros
The bottom is strong enough to support burning charcoals.
Decent for the price
Very portable
Cons
There is no cover for the grill.
Directions are not clear.
Has thin metal
What is an Offset Smoker?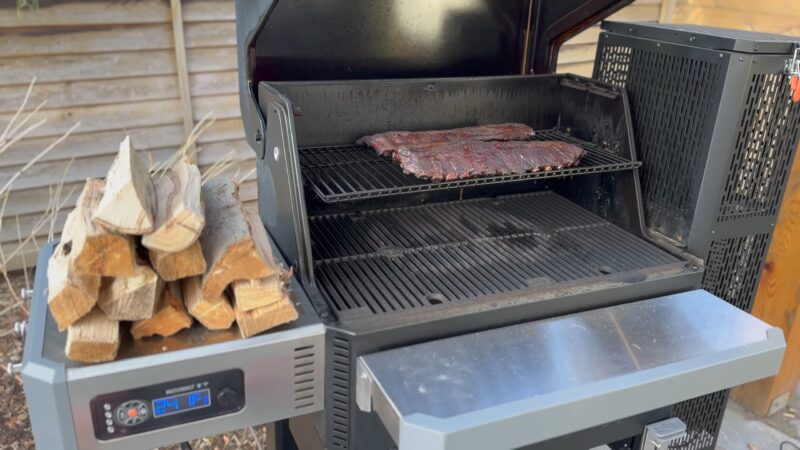 An offset smoker is classic cooking equipment used for smoking meat. Offset smokers or horizontal smokers has two chambers. The main chamber, which is the cooking chamber, is a huge elongated metal barrel.
It has a lengthy door that opens upwards so you can easily access the vent. You'll find shelves inside the cooking chamber where you place the briskets, pork shoulders, and other meat that you like to smoke.
At the other end of the cooking chamber, you'll find an attached firebox. Firebox has a side door (or a top opening) and adjustable exhaust. How does it work? The smoke and heat travel from the firebox to the cooking chamber and are distributed evenly all throughout to cook the meat.
This kind of smoker must have an air damper with a lever for you to be able to fine-tune the air. The air passageway in the firebox controls the extent of oxygen that flows into the fire. The process makes it possible to control the heat just like how a stove works.
How to Choose the Best Offset Smoker?
It could be mental pressure when it comes to buying a new offset smoker. Considering there are tons of choices everywhere, you need to find one that does not only suits your fancy but must also agree to your budget. The fear there is to end up with the kind that doesn't really work as you expected.
However, offset smokers are one of the best smokers because of its speed and ease in producing the best-smoked dishes. Hence, it is one of the favorite cooking equipment for most households.
Buyer's Guide:
1. The Size of Your Smoker
To what extent are you going to use your smoker? Are you a beginner? I only have a smoker big enough to cater my interest in smoking meat during special occasions at home. However, it's large enough to accommodate full chunk of ribs and a whole packer brisket.
If your smoker is small, then you need to cut the meat and settle to smoking brisket flats instead. Decide on the size before buying. Changing your mind after buying one could be so frustrating.
2. Price
Plan what type of smoker you need. Don't hesitate to invest in high-quality equipment. Know your specs. The amount of money you pay for a good one is worth the savings you get from buying a cheaper version that won't last for long or difficult to operate.
Our review will focus on the price of $1000 and below. Therefore, it's important to stick to your own budget. Remember to consider offered warranties too!
3. Easy to Clean
Of course, the easier to clean the smoker, the lesser effort and stress it would be. Smokers that are easy to clean must have the following features:
Removable cooking plates
Removable ash pan that is designed to handle large amount of ash, for better access when cleaning.
Porcelain wire cooking grates
Check front panel to easy access the inside when cleaning
Sadly, to know exactly if the offset smoker is a good one is to use it. That means you have already paid for it. A bad offset smoker will leak smoke through the doors and at the portion where the firebox and the smoking chamber connects. Supposedly, smokes only comes out at the smokestack.
Characteristics of a Better Offset Smoker: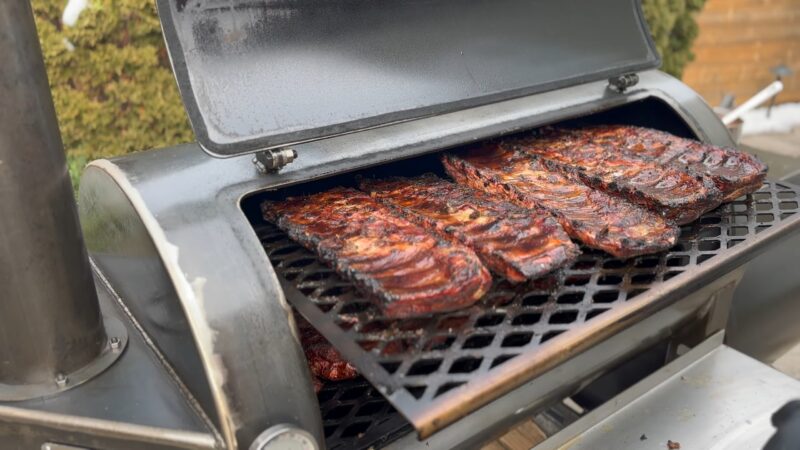 Compact: If you can find a way to know ahead, a better offset smoker must have doors and joints that seals compactly. Being so keeps the smoke and heat inside thus improving the airflow and making the smoker highly effective.
Reverse Flow: Offset smokers must have a reverse flow to eliminate the problem of uneven cooking and infrared heat from the firebox. Reverse flow indirectly heats the cooking chamber thus allowing a cooler smoke to relish the meat. Better, look for an offset smoker that has a smokestack near the firebox.
Metal thickness: Apparently, offset smokers that has a thick metal material can hold heat more than thin ones. Thick metal is the primary factor of a good smoker. To give you an idea, take note that ¼-inch thickness is already high standard.
Temperature gauge: As an added feature, the temperature gauge is equally important for a smoker so that you can monitor the temperature while cooking. It is convenient to know the heating temperature without opening the lid.
Durable stands: It is vital that your smoker must have sturdy stands to support the entire body of the equipment. Check it properly and evaluate its strength. Smokers are heavy, and if the stands can't hold it, then it would be a plain disaster.
It is also an advantage in placing the smoker on a wheeler for easy maneuvering. Find one with wheelers.
FAQ
How Does an Offset Smoker Work?
An offset smoker works by using indirect heat and smoke to cook meat. It consists of two chambers, a main cooking chamber, and an attached firebox. The firebox is where the wood or charcoal is burned, and the smoke and heat travel from the firebox into the main cooking chamber, where the meat is placed.
The meat is cooked using indirect heat, which means that the heat source is not directly below the meat. This allows for a slower, more even cooking process that produces tender, flavorful meat.
The smoke from the firebox also enters the main cooking chamber and adds flavor to the meat. The smoke is controlled using vents and dampers, which regulate the amount of oxygen that enters the firebox and cooking chamber.
Is a Vertical or Horizontal Smoker Better?
Both vertical and horizontal smokers have their own advantages and disadvantages, and which one is better depends on personal preference and the specific use case.
Vertical smokers, also known as bullet smokers or cabinet smokers, have a smaller footprint and take up less space than horizontal smokers. They are also typically more fuel efficient and easier to use, as the heat and smoke rise from the firebox and circulate around the food, cooking it evenly. However, vertical smokers may have limited capacity and may not be ideal for larger cuts of meat or cooking for a large group of people.
Horizontal smokers, also known as offset smokers or barrel smokers, offer more cooking space and can handle larger cuts of meat. They also allow for more control over the temperature and smoke levels, as the firebox is separate from the cooking chamber and the smoke and heat flow horizontally through the chamber before exiting through the chimney. However, horizontal smokers can be more difficult to use and require more skill to maintain a consistent temperature throughout the cooking process.
How Do You Clean and Maintain Offset Smokers?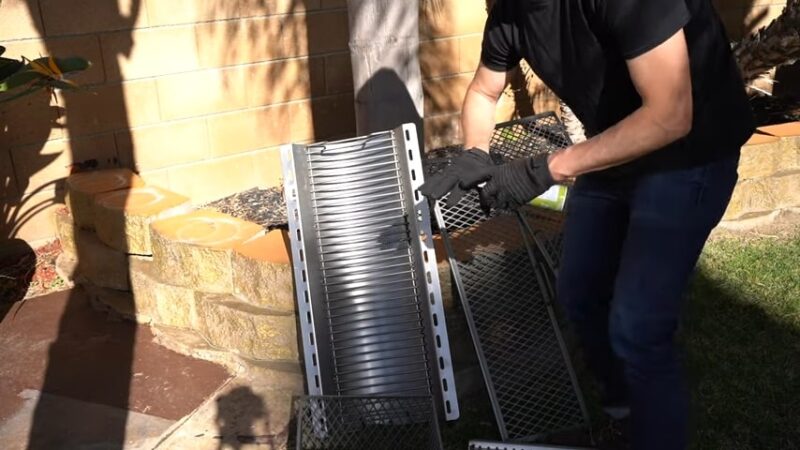 Cleaning and maintaining your offset smoker is important to keep it functioning properly and to prolong its lifespan. Here are some steps you can take to clean and maintain your offset smoker:
Clean the cooking grates: After every use, remove the cooking grates and scrub them clean with a wire brush. If there is stubborn residue, you can soak the grates in hot, soapy water for a few hours before scrubbing.
Clean the interior: Use a scraper or putty knife to scrape off any large chunks of buildup on the interior walls of the smoker. Then, use a wire brush or a stiff-bristled brush to scrub the walls clean. Be sure to remove any ash or debris from the bottom of the smoker.
Check the firebox: Remove any ash or charcoal debris from the firebox. Check the condition of the fire grate and replace it if it is damaged.
Check the seals: Inspect the seals around the smoker door and make sure they are tight and not cracked. Replace any worn or damaged seals.
Maintain the finish: Keep the exterior of the smoker clean by wiping it down with a damp cloth. If your smoker has a painted finish, touch up any scratches or chips with high-temperature paint.
Cover the smoker: When your smoker is not in use, cover it with a high-quality cover to protect it from the elements.
My personal Pick
I am not an expert on smoking, that's why I want an offset smoker that is stress-free for my fresh start. I need equipment that is worthy of my savings and gives me an all over experience with smoking meat. My personal pick is the Dyna-Glo DGO1176BDC-D Charcoal Offset Smoker! The smoker guarantees a high-quality construction and is large enough to hold a feast with my family.
Though with its size, I can easily move it around to find a nice spot for it to stand. In fact, I found a perfect place for it in my backyard. Dominating the positive reviews from buyers, I don't think I'm alone in choosing this type of offset smoker!
If you're in the market for an affordable offset smoker and want to up your barbecue game, be sure to check out our top picks in our latest review article. We even included a detailed review of the MEATER thermometer for accurate temperature monitoring, which you can find on our website.