Every Sunday, my folks and I would go out to the yard and enjoy a nice picnic under the sun. We'd bring lots of food and some beverage along and get the barbecue ready for grilling.
I love grilling meat while drinking beer with my brothers. All seems perfect except that I sometimes get distracted and over-cook the meat. Sometimes the meat is under-cooked, and the kids lose appetite.
That was my problem. But all of that changed when my buddy Eric introduced me to the meater thermometer. I immediately bought an expensive one, and it was amazing. The device monitors the temperature and it helped me a lot to grill the meat right.
I can't put this any more simply – if you cook or grill meat, you need a meat thermometer. The thermometer removes the guesswork – you will know exactly what is going on with your meat so you'll get better results.
Using the best meater thermometer can work wonders in your daily cooking. But finding the best thermometer for your hard-earned money is challenging; it isn't impossible, especially when you have a reliable source to put you in the direction of the brands you trust.
Let this article be that source…
The Right Tool to Make Sure Your Meal Is a Cut Above – Meat Thermometer
1. Digital Meat Thermometer, Wireless Remote Cooking Food BBQ Grill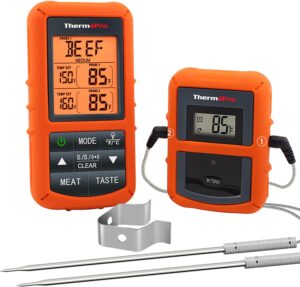 The product features dual probes where you can monitor and measure the temperatures of two meat pieces, or two sections of one large price of meat; or measure the grill, smoker, or oven at the same time, approximately up to 230 feet away, thus allowing you to revel in your personal time or gathering.
Do not worry about forgetting to flip the meat. The receiver will beep once the set temperature is reached or the time is up.
Features
Hands-Free Monitor and Remote Meat Thermometer
USDA Preset Temp and Timer Setting
Hassle-Free Setup and Instant Read
Long-lasting, Accurate Dual Probes and Wide Temp Range
Year Warranty and Extended Warranty
Pros
Synch is not required. Insert the batteries, and the digital thermometer units are all set to use.
Large LCD Display and instant readout, allowing you to get temperature fast and accurately.
Chefmos grill thermometer features preset temperatures for a variety of meats of different doneness levels – Program, Lamb, Beef, Pork, Turkey, Chick, Fish, Hamburger, and Veal.
You can reset all preset temp to suit your taste.
Cons
You cannot stick it into the meat while it is inside an oven. You have to open the oven to get the meat's temperature.
Slight problems with probes
2. Inkbird IBT-4XS, Bluetooth Wireless Grill Thermometer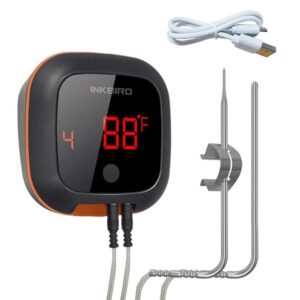 This product can monitor the oven temp and your meat temp via connecting it with a smartphone. The application offers 11 various types of cooking meat. The 4 probes can connect to numerous pieces of meat when cooking.
The 2 clips can hold the probe in the smoker or oven to avoid direct contact with fire. The product features a timer and a temperature alarm that get you notified when your food is ready. It is also good for grilling, cooking, oven, meat, BBQ, boiling and loads more!
Features
User-friendly
High-temperature accuracy: ±2℉/±1℃
Up to 150 feet or 50 meters signal outdoor
Wire and probe temperature range is 32°F to 572 °F for short-time measurement; 32° F to 482 °F for continuous monitoring
Shows Fahrenheit or Centigrade
Preset values are saved when turned off
Alarm, power off, and so on when the temperature reaches
Pros
You can monitor the oven and meat temp using your smartphone when you play with your friends and family.
The magnet can attach the base unit to the oven or grill. You could absorb heat on the oven or grill. You can easily read the temp reading.
The USB rechargeable battery is environment-friendly and also practical and convenient.
The much bigger LED screen which is efficient and manageable. You can see more clearly even from afar
Cons
The plastic is weak
Not waterproof
Probes only applicable to meat
3. ThermoPro TP-08S, Wireless Remote Digital Cooking Meat Thermometer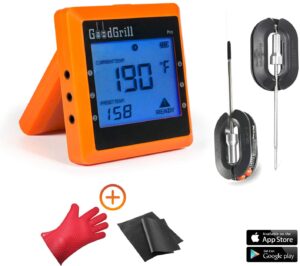 This product allows you to cook accurately by monitoring both your oven and meat temp even from a 300-foot distance. You can now stop to constantly get up and sit back down just to check on your food. Just wait for its alarm once your meat is cooked, or when the BBQ, smoker, or oven reaches the set temp range.
Features
Uses: BBQ, Smoker, Oven, Meat, Food, Candy
Manually set your own temp settings
Countdown as well as count up timer
Wire and Probe can withstand 716°F (380°C) max
Remote Range: 300 feet max
Set BBQ and smoker team range, alerts you it reaches set temperature range
Lost link alert
Rubber sleeve case
Pros
Cook anything easily and with accurate and wide temp range: 32°F to 572°F
The receiver will beep and flash when the temperature reaches the preset temperature.
8.5-inch food grade, stainless steel, food probe, and 3-inch oven-BBQ probe both can measure the temperature precisely and fast.
It enables you to attend to more important things while still checking up on your meat and oven temperature.
Cons
Not waterproof
Probes may be too short depending on the meat's size
4. ThermoPro TP03A Digital Instant Read Meat Thermometer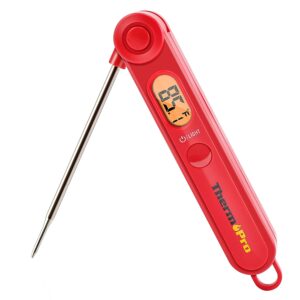 This product is one effective way to get the most accurate temp in just a matter of seconds. This digital kitchen thermometer features a simple and practical design, as well as a button that opens the foldaway probe for a fast and easy temp reading. When you are done taking the measurement, you can fold back the probe to guarantee the probe is safe and sanitary.
You don't even have to turn off the thermometer because it is made to conserve battery after ten minutes of no use. Stop undercooking or overcooking your food, and perfect your meat temps. The product ensures this each time you are cooking or grilling. The thermometer features an LCD, where you can read temps in Celsius or Fahrenheit.
Features
The unique Fast-Reading system gets an accurate temp reading within 4 to 7 seconds
Ultra-clear LCD
The foldaway probe is made for cleanliness and safety
Step-Down probe tip thermometer gets temperature faster and more precisely
Remote Range: 300 feet max
Celsius-Fahrenheit selector
Battery power saving design
Pros
Features a 3.8-inch food grade stainless steel probe along with a Step-down Tip design to show temperature faster
Cooking Thermometer with a temp range of -58°F to 572°F (-50°C to 300°C), accurate to ±0.9°F; Celsius-Fahrenheit switchable; Ideal for indoor-outdoor BBQ, grilling, cooking and many more
Kitchen Thermometer with a probe design that folds away very easily and locks into the base for storage and portability
Smile1-Year Warranty; Register the product after buying and get an extended 3-year warranty
Cons
Some customers claim that the magnet weak
Display is not backlit
Not waterproof
5. Digital Meat Thermometer, Puredazz Water-proof Instant Read Cooking thermometer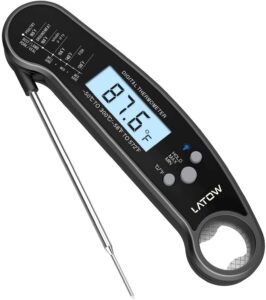 This product will make your cooking easier and more enjoyable! The product's new Waterproof Instant Read feature will aid you to become an actual expert in the world of cooking. The biggest advantage of this thermometer is versatility. You can take temperature measurement of steaks; smoked, BBQ and grilled meat; fish; chicken and turkey; pastries and bread; side dishes; chocolate and candies; beverages such as water, milk, beer, wine, and many more.
Features
LED night function
Measuring range: -58 F to 572 F; High accuracy ± 1°
Ultra-fast temperature sensor-response time of 2 to 4 seconds
Auto shut off upon closing the probe
Auto shut off-standby period: 10 minutes
Celsius-Fahrenheit selector
Waterproof
Pros
Fast heat transfer. You can finish reading in 2 to 4 seconds, greatly reducing measurement time. Most thermometers available take 5 to 8 seconds to read.
Built-in, high-sensitivity probe, which makes the error control in ±0.9 ° F; wide temperature range of 58°F to572°F (-50°C to 300°C).
The body of the product is made of durable ABS plastic. Thus it will not break after dropping.
Cons
The plastic isn't made too strong
Some customers find the instructions are more on text, not images, which makes it a bit confusing to some.
Why You Should Buy a Meat Thermometer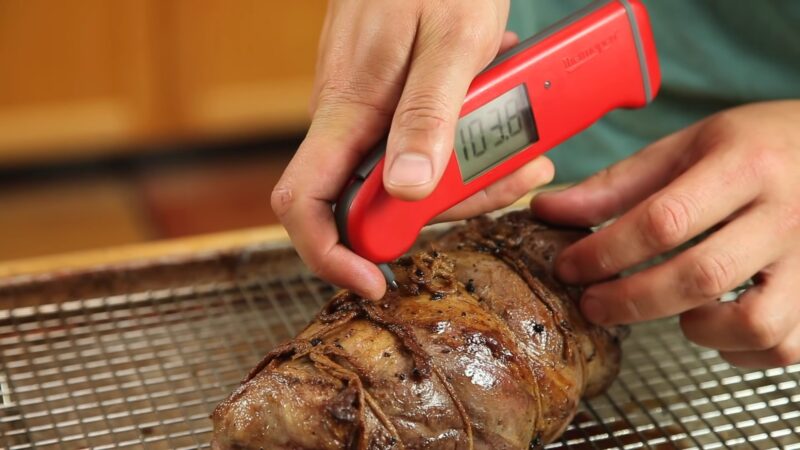 There are several reasons why you should buy a meat thermometer. First, it makes cooking or grilling meat much easier and more convenient for you. Second, it helps ensure that you get to eat food that is delicious because it was cooked right.
Eating undercooked food can make you sick. And that is why you can't leave this task to guesswork. That's where a meat thermometer comes in. Even a cheap one can help although the best ones can give you the ideal results.
More expensive models add more speed and features. Models like the u>ThermoPop<, for instance, can rotate the readout. By pushing 1 of 2 buttons on the back, you can switch temperature readings to either Celsius or Fahrenheit.
It is also water resistant, so there's no need for you to worry about the device breaking off after getting wet.
Expensive models similar to the u>Thermapen< has the most features. It has an auto-rotating screen, automatic backlight, and two buttons in the battery compartment that can switch between Celcius and Fahrenheit as well as whole or tenths of a degree.
Criteria for Selecting the Best Meat Thermometer
Accuracy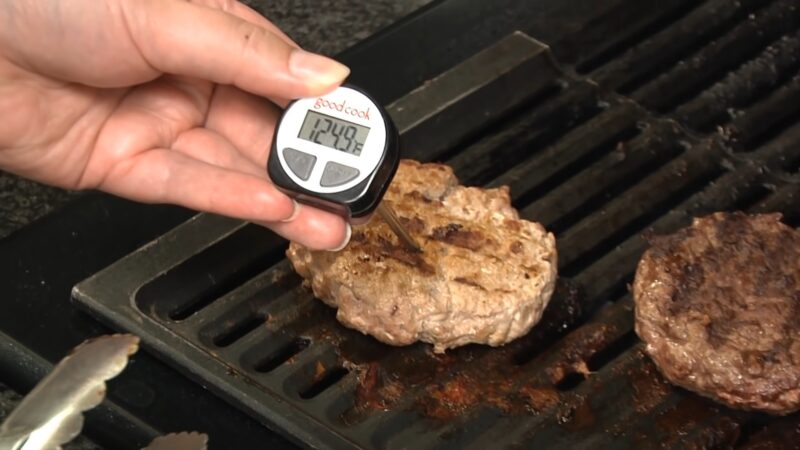 A digital kitchen thermometer must primarily be accurate. To achieve the perfect temperature whenever you cook food, you need accuracy. The best models should be the most accurate.
Speed
Speed is another crucial factor of a thermometer that avers to be fast, but it is less of a mater with oven thermometers. Seek an instant-read thermometer that directly stabilizes in just 3 to 10 seconds.
You will require the speed whenever you are reaching into a hot oven, into a pot, or over a grill to measure the temperature. The best models should be the fastest.
Functionality
The functionality of a thermometer can improve your cooking experience. You should know what you are seeking before starting shopping.
Whether you are a chef, who wants a simple, easy thermometer design or one who is amazed at new technology, there is a perfect thermometer for your needs.
A thermometer's ability to change from Fahrenheit to Celsius can be very useful for someone who ventures into international recipes.
Several thermometers show temperatures to the tenth of a degree. Other digital displays also rotate depending on how you are holding them such as ThermoWorks Thermapen Mk4.
Thermometers can contain pre-programmed features with minimum meat cooking temperature and alert whenever they have reached such temperature. Other even beep once they have stabilized, and some can even function as a timer if you are checking temperature and time.
Temperature range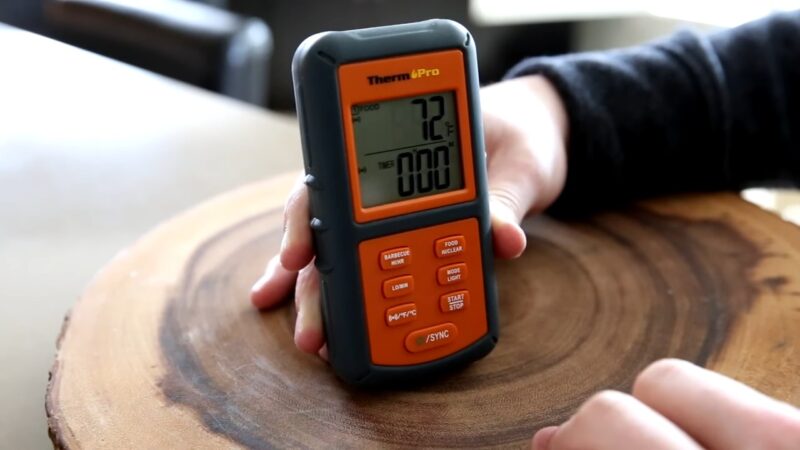 A thermometer's wide range of temperature is better if you wish to use one for not just meat. Meat thermometers may run from approximately 32°F to 392°F, but an all-in-one thermometer should have a wide range of temperature, particularly on the low end.
Accessories
The top nine thermometers we reviewed in this article came with various accessories such as detachable probes, magnets, storage cases, and many more.
Manufacturer's warranty
Examine the product's warranty, particularly if you plan to use it numerous times. The Lavatools Javelin features the longest warranty among our top nine – lifetime warranty. However, the rest have warranties ranging from 1 to 5 years.
Verdict
The brands we reviewed in this post all possess the characteristics of the best meat thermometer. But among the five brands, the Puredazz Water-proof Instant Read Cooking thermometer is my first choice.
I like the fact that it starts reading immediately and powers off when you flip it back. The magnet on the back can also be calibrated. I also like the fact that it's waterproof. That way, I don't have to worry about the device breaking down if ever it accidentally falls on water – even one that is boiling.
I've been using the Puredazz in a while and it has work out so well in my grilling activities. All I do is push a few buttons, attach the device to the meat, and the rest is easy. Though I've been trying out other brands, it remains my favorite because cooking meat has never been very convenient for me.
FAQ
Can I leave the meat thermometer in the oven while cooking?
It depends on the type of meat thermometer. Some thermometers, such as instant-read thermometers, are not designed to be left in the oven during cooking. However, there are oven-safe thermometers that can be inserted into the meat and remain in the oven throughout the cooking process. Always check the manufacturer's instructions for proper usage.
Are meat thermometers dishwasher safe?
Not all meat thermometers are dishwasher safe. Some models have detachable probes that can be washed separately, while others may have a waterproof design that allows for easy cleaning. Check the product specifications or the manufacturer's instructions to determine if a meat thermometer is dishwasher safe.
How do I calibrate a meat thermometer?
Calibration methods may vary depending on the type and model of the thermometer. However, a common method for calibration is the ice water method. Fill a glass with ice and add water until it is full. Insert the thermometer probe into the ice water, making sure it does not touch the sides or bottom of the glass. The thermometer should read 32°F (0°C) in the ice water. If it doesn't, adjust the calibration according to the manufacturer's instructions.
Can I use a meat thermometer for other cooking purposes?
While meat thermometers are primarily designed for measuring the temperature of meat, they can also be used for other cooking purposes. For example, you can use a meat thermometer to check the doneness of baked goods, casseroles, or even to monitor the temperature of oil when deep-frying.
How long should I leave the meat thermometer in the meat after cooking?
It is recommended to leave the meat thermometer in the meat for a few seconds to ensure an accurate reading. Once the temperature stabilizes, you can remove the thermometer and serve the meat.
Final Words
We hope you learned from this post. If you did, please share it with your friends – especially those who love to grill meat like you.
Which among the five brands is your favorite? Feel free to share your choice in the comments – we would love to hear from you.
Happy cooking!
Here are some other interesting models that you might like:

As a mom of two angels, I credit myself in making meals with high concentration yet the balance of nutrition. I pay good care about the health of my family and everyone. Thus, you will find most of my recipes focus on healthy ingredients.