Using the same knives over and over can lead to the loss of their sharpness and make cutting frustrating. Even worse, you can hurt yourself with dull and chipped edges.
If you want your knives to stay sharp and have that nice finish like the first time you used them, you should sharpen them every once in a while.
However, finding the right knife sharpener is not an easy job. I've tried dozens of them and while most of them got the job done, I wasn't satisfied with the longevity of both sharpness and the sharpener itself.
Sometimes it is best to get back to basics and try something that's been used for many centuries as the way to sharpen cutting tools with a whetstone.
Finding the right whetstone is not easy. Different stones have different features and purpose so you need to have at least some knowledge about them if you want to get the best results. If not, there is a high chance that the one you're using is not adequate for your knives and you'll ruin them.
That's why today I'm going to talk about whetstones, what to consider when buying them as well as my list of best whetstones currently available on the market in my opinion.
1. Premium Knife Sharpening Stone 2 Side Grit 1000/6000 Waterstone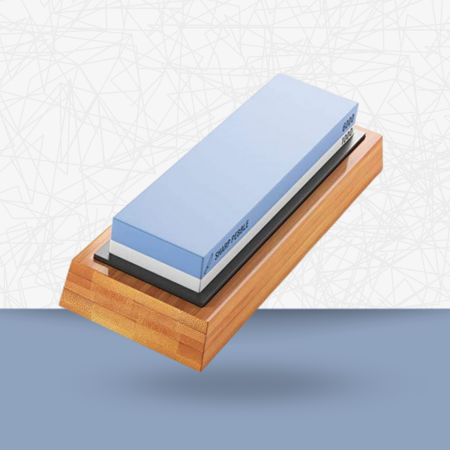 This product by Sharp Pebble is a complete knife sharpening kit that includes not only a premium quality whetstone but also a bamboo base for holding the stone, knife sharpening angle guide and a simple instruction manual with tips and tricks that appeal to every skill level.
It is a two-sided sharpening stone with the 1000 grit side for removing chips and nicks of the blade and the 6000 grit for a nice, smooth and polished finish. You don't need to buy two separate products, you can have them all-in-one.
Unfortunately, the 6000 grit side is too soft and is unexpectedly more difficult to get a nice polish. Moreover, I've also noticed that some of my knives would cut through the whetstone and make dents on it.
The bamboo case along with a rubber base holds the stone in place, providing sharpening that is free of accidents and frustrations. There won't be any sliding while you sharpen your cutting tools.
Because it is a water stone, the water will also get in touch with a wooden base so there is always a chance that the wood will start tearing apart after a while. If you want your bamboo base to last longer, make sure you wipe and dry after you've done with usage.
Pros
Double-sided whetstone with both grittier and finer side.
The bamboo base with rubber holds the stone in place while sharpening, preventing any injuries and frustrations.
Suitable for various types of knives and other cutting tools like scissors, razors etc.
Cons
The finer side is too soft making it harder to get a nice polish.
It needs to be soaked in water for 10 to 15 minutes before using.
The wooden base can tear apart because of the water.
2. BearMoo Whetstone Premium 2-IN-1 Sharpening Stone 3000/8000 Grit Waterstone Kit
If you've liked the previous product, but you're not sure about the quality of a finer side, maybe you should consider getting this product.
This double-sided knife sharpening stone set made by Chefic is similar to the previous one but with different grit level.
The whetstone is a double-sided grade white corundum stone that has a 3000 grit side for dullness removal and a 8000 level grit side for additional sharpening and finishing touches. It can be used with almost any type of knives as well as other cutting tools.
This is a water stone so it doesn't need oil before using. Just soak it in the water for a couple of minutes and you're ready to go. If you're not sure about the angle in which you need to hold the knife while sharpening, this set also included a guide that will help you.
Pros
Double-sided whetstone with 3000 level and 8000 level grit for best results.
Comes with a non-slip silicone base for safe usage.
Can be used for different types of cutting tools.
Angle guide makes sharpening easier for beginners,
There are a full 1-year warranty and a 30-day money back guarantee
Cons
It is on the bulkier side.
Can not use to sharpen serrated blades and ceramic knife.
3. DMT W6EFC Three 6-Inch Diamond Whetstone Models in Hard Wood Box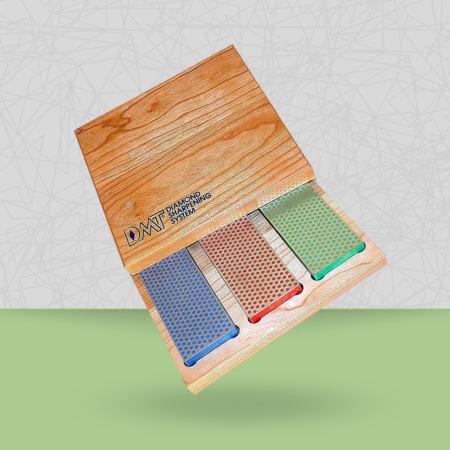 If you've perfected the skill of sharpening using a whetstone and two grit levels are not enough, this model by DMT can be a good choice for you but it comes with a much higher price.
The set comes with 3 one-sided diamond whetstones that have different grit levels- extra fine to polish and refine the edge, fine for a razor-sharp edge and coarse to transform a dull edge. This way you will use just one product to repair dull knives, sharpen and refine them as well as give them that nice polished finish.
The whetstones have the appropriate size to accommodate regular-sized knives and cutting tools. Moreover, you can use it for almost any type of tools. It can also be used to sharpen both straight and convex blade edges.
As with all diamond whetstones, no oil is required before using. You can just use it dry or with water.
The manufacturer claims that it has created a durable and long lasting whetstone by using superior mono-crystalline diamonds that can sharpen the edges faster than other diamond and conventional whetstones. Actually, they are so confident in their product that they offer a 100% replacement guarantee if you find it to be defective.
Pros
3 single-sided diamond whetstones with three different grit levels for best results.
It can be used dry or with water.
It can be used for most types of knives and cutting tools.
Easy to clean.
100% replacement guarantee.
Whetstones come in a nice wooden box.
Cons
More expensive than other products from the list.
The wooden box has questionable quality and longevity.
The surface may be too small for larger knives.
Angle guide is not included.
4. Fallkniven CC4 Ceramic Whetstone Sharpener W/Leather Pouch, White/Gray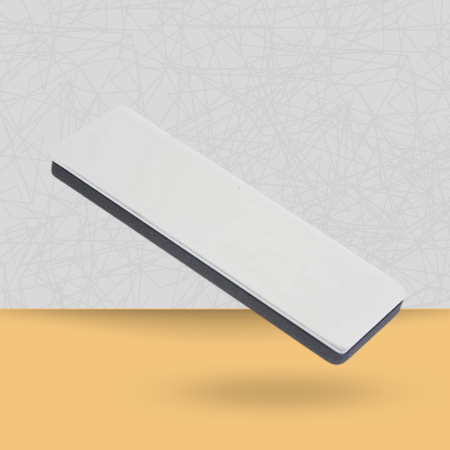 Looking for a double-sided ceramic whetstone that has lower grit levels? Look no further because this whetstone by Fallkniven has all you're looking for.
The manufacturer claims that this whetstone will handle even your finest sharpening needs. As I've previously mentioned, this product has two sides with different grit levels- the white side made of superfine ceramic stone and a grit of 800/120 and the dark gray side with a grit of 1400-2000 made of synthetic sapphires.
As with all ceramic whetstones, you don't need to add any water or oil, you use it dry. The white side will sharpen the edges while the dark grey side will give you a polished finish.
Maintenance is also really easy. Just wash it with water and soap after you finish and store in a leather pouch that is included. This way you will protect it from damage and breaking.
Pros
Made of durable, long-lasting ceramic.
Dual-sided whetstone with both grittier and finer sides.
Doesn't require any water or oil.
Easy to maintain.
Comes with a leather pouch for protection.
Cons
The grittier side is not coarse enough to repair dull and damaged knives.
Doesn't come with a holder to prevent moving while sharpening.
5. Lansky Puck – Dual Grit Multi-Purpose Sharpener – Blade & Tool Sharpener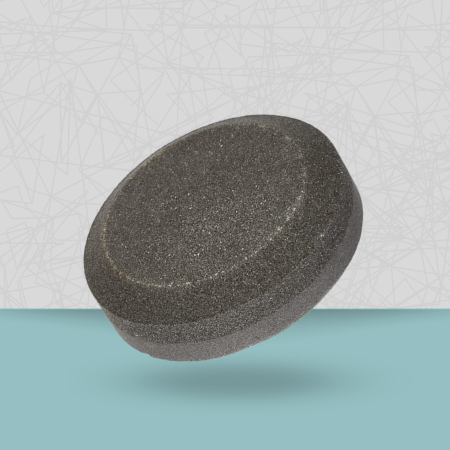 Sometimes you're out in the wild camping and you didn't get a chance to sharpen your knife. Thankfully, there are small pocketable sharpening stones that can come in handy and the Lansky Puck can be a great choice.
It has the right size for everyone that need to sharpen their knife outside of their home. It is suitable for various kinds of tools, even axes so if you're into camping, you should bring this whetstone with yourself.
This pocket-sized whetstone is double-sided with a grit of 120 on one side and 280 on the other. Because both sides are coarse, it is better for repairing damaged and dulled knives and transforming their edges than sharpening or putting finishing touches.
Unfortunately, the size of this whetstone is also its downside. I've always had a feeling that I'm going to hurt myself since my fingers are so close to the knife's edges.
Pros
It is so small that you can put it in your pocket.
It is so small that you can put it in your pocket.
Two sides with different grit levels.
Affordable
Cons
Both sides are too coarse so it isn't good for finer sharpening.
Can be unsafe.
The finer side is not that durable as the grittier side.
What Is a Whetstone and How To Use it?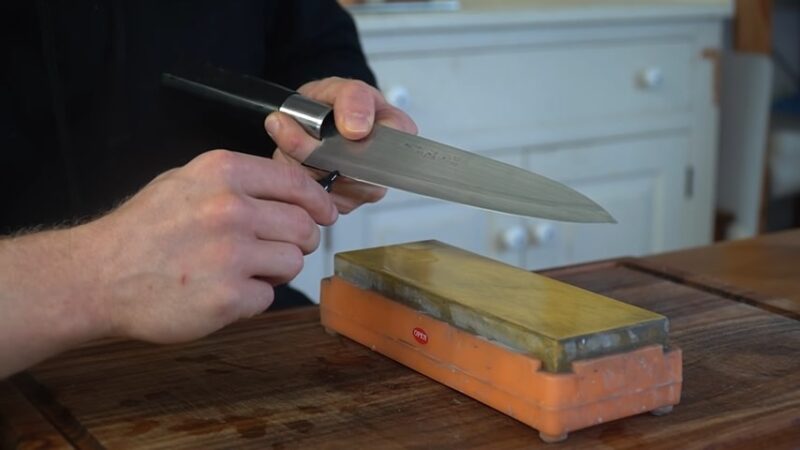 Whetstones, also known as sharpening stones, are natural or synthetic stones used to sharpen knives. They're made of different materials and have a different grit level.
When running the knife's sides back and forth across the surface of a whetstone, it will transform the dull edges, sharpen the knife or give it a nice, polished finish, depending on the type of the whetstone.
Sharpening a knife using a whetstone can look complicated but actually, it is not. All you need to do is to make sure that you're holding the knife at the right angle when rubbing against a stone and you're almost done.
Things to Consider When Buying a Whetstone
There are so many whetstones available on the market that you're probably confused and don't know what to consider when buying. I hope that this section will make your choice easier.
Size
Always look for a whetstone that has the right length and width for your cutting tools.
Getting a whetstone that is too small will not only prevent you from sharpening bigger knives but also make the process more frustrating and unsafe.
If you use a whetstone just for kitchen knives, get a whetstone that is around 6 inches long. However, if you plan on sharpening tools that are longer, you should consider getting a sharpening stone that is longer than 8 inches.
Type

There are 4 major types of whetstones available on the market that have their own advantages and disadvantages. Let's see what are those 4 types of sharpening stones and their characteristics.
Water Stones
Water stones are one of the most commonly used whetstones. As their name suggests, most of them need to be soaked in the water before using.
They are some of the best whetstones to choose from but that doesn't mean that they're flawless. Due to repetitive soaking and drying, they can become very brittle so you'll need to replace them after a while.
Oil Stones
Similar to water stones, oil stones need a splash of oil on their surface before sharpening. This way, the knife's metal residues will be cleared away during sharpening and prolong its lifespan.
Oil also makes the sharpening process much smoother but also slower and messy. Moreover, you can only use the honing oil.
Ceramic Stones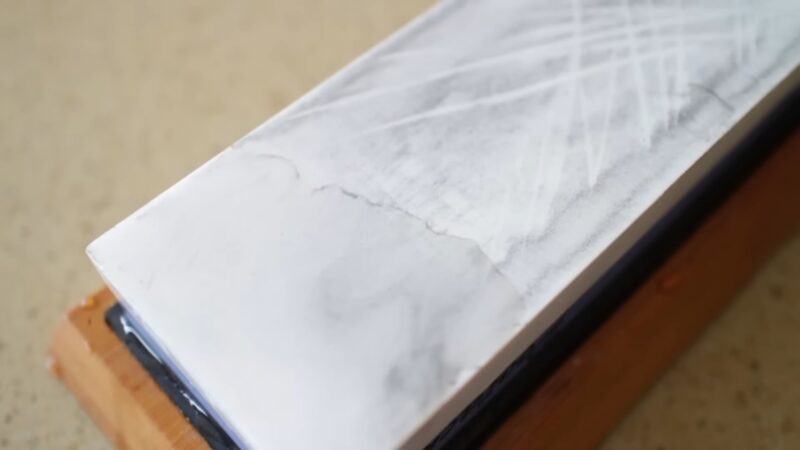 If you're looking for a whetstone that will last for many years to come, you should consider getting a ceramic stone. Ceramic is a really hard and long-lasting material but also brittle. Invented as the replacement of natural sharpening stones, the ceramic sharpening stones don't require water or oil before using.
However, that doesn't mean that you should leave it like that after the usage. Scrub the particles and remove them from the whetstone's surface after you've done. Proper maintenance is a must if you plan on buying a ceramic sharpening stone.
Another downside of ceramic sharpening stones is that they vary in quality so be careful and check the reviews if they're available before buying it.
Diamond Stones
These are the best and most expensive whetstones currently available on the market. Despite their high price, the popularity of these whetstones has increased substantially in recent years. The diamond whetstones are made of metal or plastic plates with a very small diamonds adhered on top.
There are two types of diamond sharpening stones. The more common type is the one that has holes in the surface while the other has continuous diamond surface without holes.Similar to the ceramic stones, diamond sharpening stones can be used dry and are quite durable but you need to pay a higher price for this type of whetstone.
Grit
You've probably seen that most whetstones have a number etched on its surface and you don't know what it means. This number represents the grittiness or coarseness of a whetstone. The lower the number the grittier the whetstone is.
Each grade of grittiness will sharpen your knife differently and therefore has a different purpose. Depending on the number, all whetstones are divided into 3 categories- coarse, medium and fine stones.
Coarse sharpening stones are the ones with a number less than 1000. These whetstones are primarily used for damaged and extremely dull knives. They don't leave a nice finish so they shouldn't be used if your chef knife is not that dull or damaged.
Medium sharpening stones are the ones with a number ranging from 1000 all the way up to 4000. The whetstone with a number 1000 is a basic stone for sharpening.
Whetstones with a number range from 4000 to 8000 are the fine or finishing stones, used to achieve a super refined edge.
​Quality, durability, and price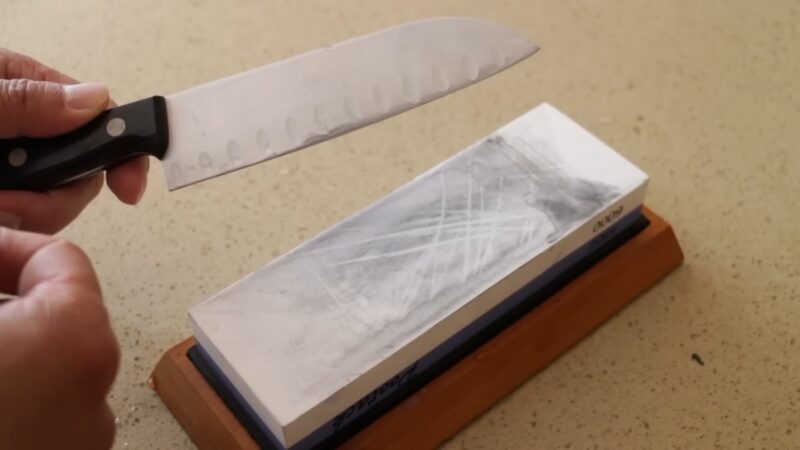 You don't want to spend money on something that is not made of quality materials and won't last long. Choose a product carefully, especially if you plan on buying a ceramic or more expensive diamond whetstone.
However, you should also know that longevity sometimes doesn't have to do with the quality of the product. Water stones are less durable than diamond stones because of the nature of the materials used.
Now that I've told you what to consider when buying a whetstone, I present you my top picks for sharpening stones currently available on the market.
FAQ
How do you clean a sharpening stone?
Cleaning a sharpening stone is an important part of maintaining its effectiveness and prolonging its lifespan. Here are some steps to clean a sharpening stone:
Remove any metal particles or debris from the surface of the stone. You can do this by using a wire brush or toothbrush to scrub the surface gently.
Make a cleaning solution by mixing warm water and dish soap in a bowl. You can also add a few drops of mineral oil or honing oil to the solution to help break down any stubborn dirt or debris.
Dip a soft-bristled brush, such as a toothbrush, into the cleaning solution and scrub the surface of the stone. Be sure to scrub all sides of the stone, including the edges.
Rinse the stone thoroughly with clean water to remove any soap residue. You may need to repeat this step a few times to ensure all the soap is removed.
Dry the stone completely with a clean cloth or paper towel. Allow the stone to air dry completely before storing it.
Optional: You can also use a flattening stone to maintain the flatness of your sharpening stone. Simply follow the manufacturer's instructions for using the flattening stone.
How long do sharpening stones last?
The lifespan of a sharpening stone can vary depending on a few factors, such as the quality of the stone, how frequently it is used, and how well it is maintained.
In general, high-quality sharpening stones can last for many years, even with regular use. However, lower-quality stones may wear down more quickly, requiring replacement sooner.
With proper maintenance, sharpening stones can last for several years. It is important to clean and dry the stone after each use, and to store it in a dry place to prevent any moisture or dirt from building up on the surface.
If you notice that your sharpening stone is becoming uneven or worn down, it may be time to replace it. Signs of wear include a concave surface or deep grooves, which can make it difficult to sharpen your knives or tools effectively.
What is the difference between a water stone and an oil stone?
Water stones and oil stones are two types of sharpening stones that are used for different purposes. Water stones are designed to be used with water, while oil stones are used with oil.
Water stones are typically softer and can be used to sharpen a wide range of tools, while oil stones are harder and are better suited for sharpening harder metals such as carbon steel.
Conclusion
If you've read the whole post, you've probably realized that getting the right sharpening stone can be pretty hard. In addition to serving all your needs, the whetstone also needs to be long-lasting, durable and high-quality.
With so many options available on the market, getting the wrong one is much easier than getting the right one.
If you're looking for a whetstone that is the best for a beginner, I recommend getting a set made by Poseidon Stones. The grit levels are just right so they won't ruin your knives. Moreover, it also comes with an angle guide and flattening stones that will make your sharpening easier.
I hope that with this post you've learned more about whetstones and that I've made your choice easier.

As a mom of two angels, I credit myself in making meals with high concentration yet the balance of nutrition. I pay good care about the health of my family and everyone. Thus, you will find most of my recipes focus on healthy ingredients.