Everyone loves grilled meat, especially when there are some gorgeously tempting dipping sauces to choose from. Whether you're using an outdoor grill or an indoor cast iron griddle, you can't beat grilled meat.
Here's a selection of dipping sauces that you will love! Best of all, many of them can be made in advance and then stored easily.
1. Speedy Aioli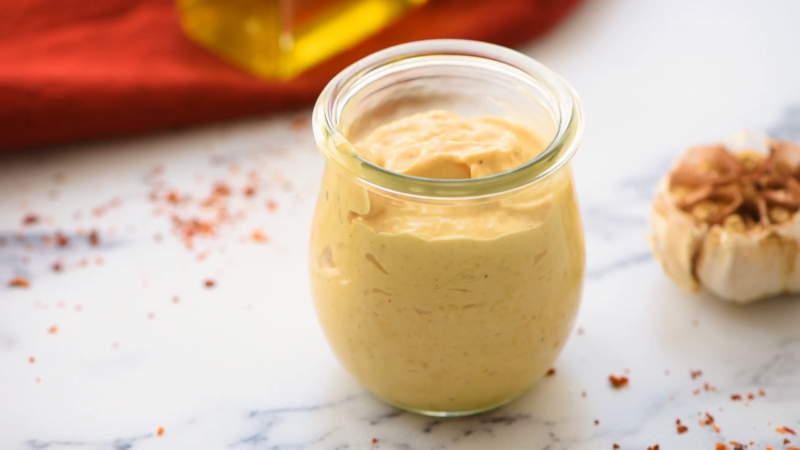 Ingredients
1 egg
4 cloves garlic, finely minced
Juice of 1 lemon (about 2 teaspoons)
1/2 cup of either vegetable or light olive oil
1/2 cup extra-virgin olive oil
Sea salt and freshly ground black pepper
Method
Blend all ingredients except the 1/2 cup olive oil. Pour into a bowl, then while whisking, drizzle in the olive oil. Taste test and add salt and pepper.
Your aioli will keep in a sealed container in the fridge for up to 2 weeks.
2. Chimichurri Sauce
Ingredients
1 cup fresh flat-leaf parsley
1 cup fresh mint leaves
1/3 cup olive oil
1/4 cup fresh lime juice (squeeze 1 to 2 limes)
2 tablespoons garlic, roughly chopped
1 teaspoon jalapeno, roughly chopped
1 teaspoon ground cumin
Salt to taste
Method
Toss all the ingredients in a food blender and process it till you get a nice puree. If desired, taste test, add salt, and keep in the fridge till you're ready to use it (up to 3 days).
3. Garlic butter sauce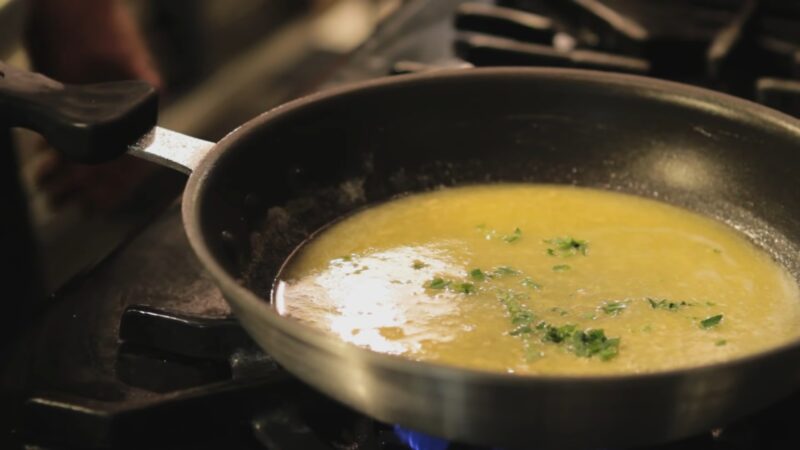 Ingredients
6 tablespoons butter, melted
Zest and juice of half a lemon
4 cloves garlic, minced
1 tablespoon Dijon mustard
Pinch of cayenne pepper or chili powder
1/4 teaspoon paprika (or smoked paprika)
2 tablespoons chopped fresh parsley
1 tablespoon chopped fresh chives
2 teaspoons chopped fresh thyme
1/4 teaspoon red pepper flakes
Salt and pepper to taste
Method
Whisk together the butter, lemon juice, garlic, mustard, cayenne pepper, and paprika.
Add in the remainder of the ingredients and stir well. Taste test, and add salt if desired.
4. Easy Satay Sauce
Ingredients
One can of coconut milk (about 14 ounces, or 1 2/3 cups)
1/3 cup creamy peanut butter (without added sugar)
2 tablespoons soy sauce
2 1/2 tablespoons brown sugar or honey
2 1/4 tablespoons red Thai curry paste
2 tablespoons fish sauce (or use more soy sauce)
1/2 tablespoon tamarind sauce or puree (optional)
1 teaspoon minced garlic
1-2 tablespoons freshly squeezed lime juice 
Salt, if desired
Method
Using a medium-sized saucepan, combine all ingredients except for the lime juice and salt. Bring the mixture to a boil, reduce the heat, and let it simmer until it thickens (about 5 minutes).
Remove the sauce mixture from the heat, stir in lime juice, and taste test. Add a pinch of salt if desired, then serve.
Any leftover sauce should keep in the fridge for up to 5 days.
5. Sweet Thai Chili Sauce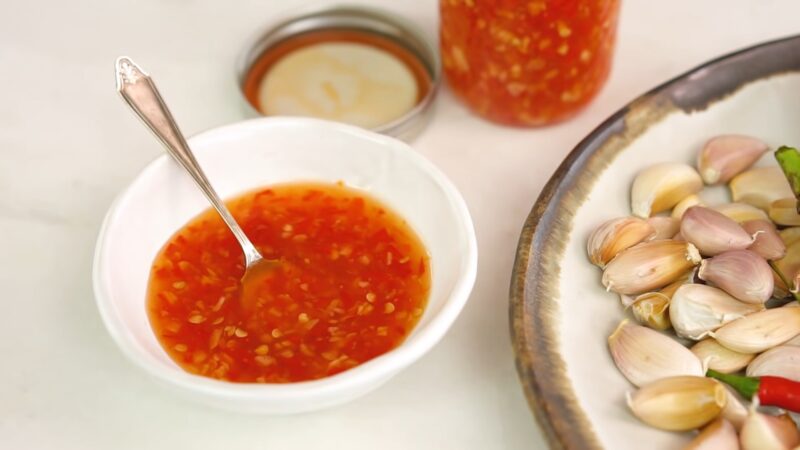 Ingredients
10 to 12 red Thai bird chilies, finely minced (use gloves)
4 cloves garlic, finely minced
1/4 cup Asian fish sauce
1/2 cup light brown sugar
3 tablespoons white vinegar
2 tablespoons lime juice
Method
In a jar or another sealed container, combine all the ingredients, shaking well till the sugar dissolves. Store your sauce in the fridge till you're ready to use your sauce – it will keep for up to 3 weeks.
6. Béarnaise Sauce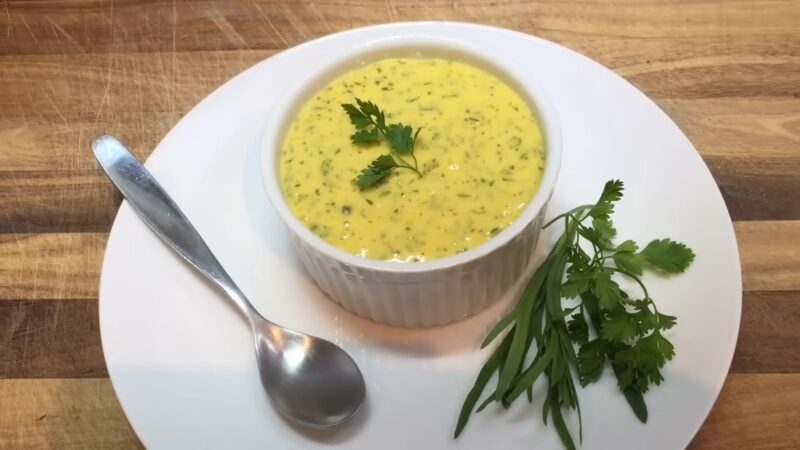 Ingredients
1/4 cup white wine vinegar
1/2 cup dry white wine
Leaves from 4 sprigs of fresh tarragon, minced (save the stems)
1 small shallot, roughly chopped
1/2 teaspoon whole black peppercorns
2 egg yolks
Salt
12 tablespoons (1 1/2 sticks) unsalted butter
Method
Combine the vinegar with all ingredients except for the egg yolks, salt, and butter in a small saucepan. Let the liquid simmer for 15 minutes or until the liquid reduces to be about 1 1/2 tablespoons.
Strain the liquid into a small bowl (use a fine mesh strainer).
Combine the reduced liquid with the egg yolks and a pinch of salt in a bowl or an immersion blender cup.
Melt the butter and put it into a cup that you can use to pour.
Now slowly pour the hot butter into the bowl with the egg yolk mixture, whisking (or blending if using an immersion blender) constantly. The sauce should be nice and creamy.
If your sauce is too thin, heat it in a saucepan in a bain-marie and whisk until thickened.
Stir in the chopped tarragon and serve immediately.
Note: Béarnaise sauce is delicious but cannot be reheated once it's made.
FAQ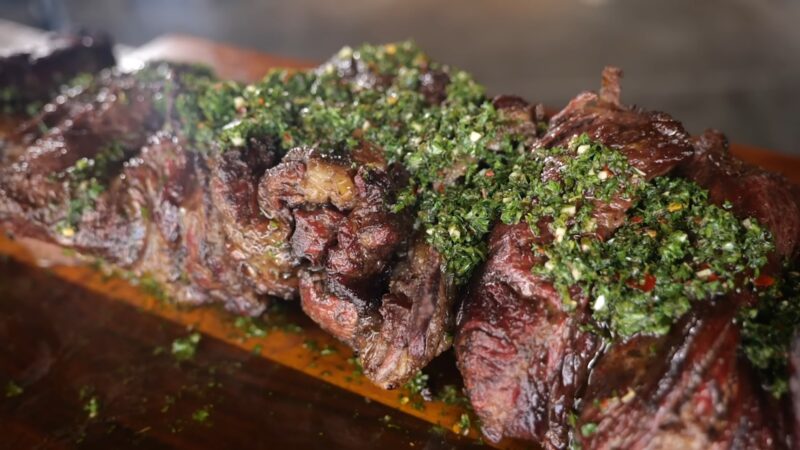 Q: How long does Speedy Aioli last?
A: Speedy Aioli can be stored in a sealed container in the fridge for up to 2 weeks.
Q: Can Chimichurri Sauce be made in advance?
A: Yes, Chimichurri Sauce can be made in advance and stored in the fridge for up to 3 days.
Q: How long does Garlic Butter Sauce last?
A: Garlic Butter Sauce can be stored in the fridge for a few days, but it's best to consume it within 2-3 days for optimal flavor.
Q: How long does Easy Satay Sauce last?
A: Easy Satay Sauce can be stored in the fridge for up to 5 days.
Q: Can Sweet Thai Chili Sauce be refrigerated?
A: Yes, Sweet Thai Chili Sauce should be stored in the fridge and can be kept for up to 3 weeks.
Q: How long can Béarnaise Sauce be kept?
A: Béarnaise Sauce should be served immediately and cannot be reheated once it's made. It is best consumed fresh.
Q: Can these dipping sauces be used with grilled meat only?
A: While these dipping sauces are commonly paired with grilled meat, they can also complement other dishes such as vegetables, and seafood, or even be used as dressings for salads or sandwiches.
Q: Are these dipping sauces spicy?
A: The spiciness of the dipping sauces may vary depending on the recipe and personal preference. The Sweet Thai Chili Sauce and some versions of Chimichurri Sauce can have a spicy kick, while others like Speedy Aioli and Garlic Butter Sauce are not inherently spicy.
Q: Can these dipping sauces be customized?
A: Absolutely! These recipes can serve as a base, and you can adjust the ingredients to suit your taste. Feel free to add or reduce spice, adjust seasoning, or experiment with different herbs and flavors.
Q: Can I use these dipping sauces for vegetarian or vegan dishes?
A: Some of the dipping sauces mentioned, like Speedy Aioli and Chimichurri Sauce, can be easily adapted for vegetarian or vegan diets by using plant-based alternatives for ingredients like eggs or fish sauce. Check for suitable substitutes and adjust the recipes accordingly.
Conclusion
In conclusion, these delightful dipping sauces can elevate your grilled meat and other dishes to a whole new level. Whether you prefer the zesty tang of Speedy Aioli, the vibrant herbiness of Chimichurri Sauce, or the richness of Garlic Butter Sauce, there is something for everyone's taste. The Easy Satay Sauce adds a delightful nutty and savory touch, while the Sweet Thai Chili Sauce brings a perfect balance of heat and sweetness.
For those seeking a classic and elegant option, Béarnaise Sauce is a creamy and flavorful choice. These sauces can be made in advance, allowing you to conveniently enhance your meals with their delicious flavors. Remember to store them properly in the fridge and enjoy the versatility they bring to your culinary creations. So, fire up your grill or heat up your cast iron griddle and indulge in the magic of these tantalizing dipping sauces.

As a mom of two angels, I credit myself in making meals with high concentration yet the balance of nutrition. I pay good care about the health of my family and everyone. Thus, you will find most of my recipes focus on healthy ingredients.