The food truck business is an extremely mobile kind of business, and it requires a mobile power solution. Using the trucks' own power supplied by its battery is not nearly enough or efficient for the business to work.
The best generator for the food truck business is the one that can power all the appliances inside and the fittings outside while maintaining the lowest possible noise levels packed with a big tank. These generators usually run on gasoline, diesel, or propane, and they should have a tank large enough to support all the appliances throughout the working hours.
Bear in mind that not only appliances will need power, but the signboards outside, lighting inside, and decorative lights outside of the truck all need electricity. If you just started planning a food truck business, have in mind all the appliances you will use based on the type of food you will serve.
You might need an oven, refrigerator, freezer, toaster, fryer, dishwasher, etc. Make a list of all the appliances you might need so you can pick the best generator that will suit your needs.
To make it easier for you, I will go through products I personally believe are the best on the market. Let's put these babies to the test, and compare them against one another, and see which one comes at the top:
1. Westinghouse WGEN7500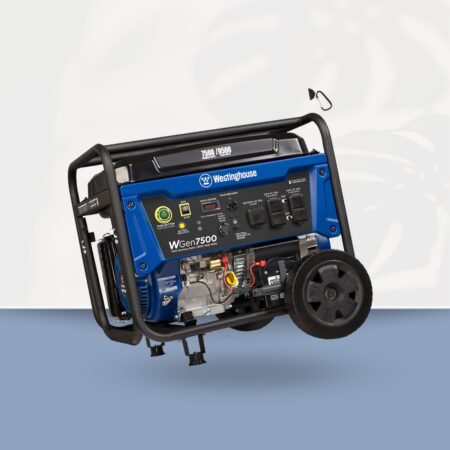 Check on Amazon
Check on Walmart
Check on Lowe's
I picked this power generator to be on the top of the list because it's an all-in-one kind of solution. It's not heavy, it's not loud, and it provides plenty of power. It produces 9500 starting watts and 7500 while running. That is plenty of power for most food trucks. It's not the lightest of the bunch, but it's not too heavy as well. It weighs 192 lbs.
It's not the loudest one, but it's not completely quiet as well. It's relatively quiet when you compare it to the other ones. It can run constantly for up to 16 hours at 25% load, so you won't have to worry are you going to run out of power in the middle of a big day.
Features:
Starting power: 9500 watts
Running power: 7500 watts
192 lbs.
306cc engine
16h run time at 25% load
6-gallon fuel tank
4x 120V-20A outlets
1x 120V/240V, 30A outlet
All of this comes with a 3-year warranty and tech support for life, which is extremely convenient if you have a problem in the middle of a working day. They have a team ready to solve the problem for you.
Pros
Not heavy
Good run-time
A lot of outlets
Large power capacity
Cons
Better soundproofing would make it better
2. Honda 6500W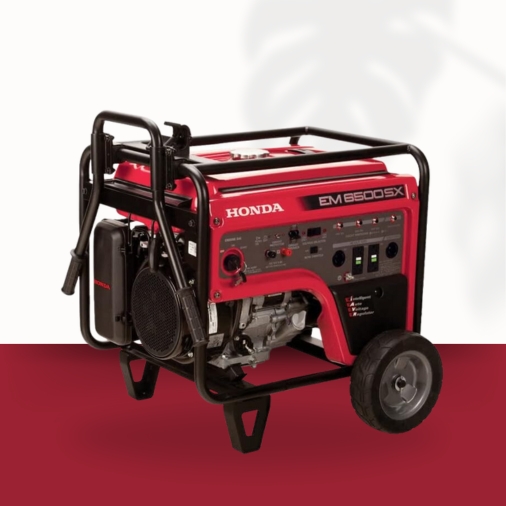 Check on Amazon
Check on Home Depot
Check on ACME Tools
I used to have Honda EM6500SXK2AN, a robust 6500-watt generator, and it was quite a good experience. One of its standout features is the CO-MINDER, an advanced system that detects carbon monoxide, ensuring my safety.
It can easily power essential household appliances like my refrigerator, freezer, oven, and even my well pump. The electric start feature is definitely a lifesaver, making it so easy to get it up and running. I trust this generator because it's not only durable but also reliable, perfect for my home and outdoor needs.
Features:
Starting power: 7000 watts
Running power: 6500 watts
231.7 lbs
Electric fuel type
6.2-galoon capacity
Corded-electric power source
Dimensions: 33.5″ L x 22.25″ W x 23″
Two Duplexes 120V 20A (5-20R)
120V 30A (L5-30R) receptacle
120/240V 30A (L14-30R) receptacle
Pros
High power output
Advanced CO-MINDER system
Electric start for easy operation
Durability
Cons
Slightly heavy
Premium price point
3. Briggs & Stratton 30675A Q6500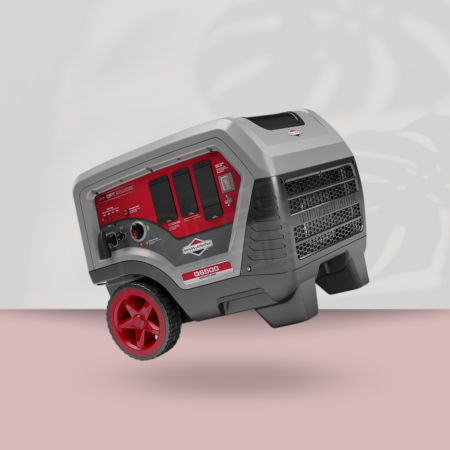 Check on Amazon
Check on Walmart
Check on Home Depot
This model is very close in performance to the previous two, but it is slightly below them. It has a power output of 6500 starting watts and 5000 running watts. While it's not the best choice for the demanding larger food trucks, it is an excellent solution for smaller ones.
While Honda 7000w is still the quietest one, the Briggs & Stratton Q6500 is very quiet as well. Its noise levels are 66dB at 23ft. It stands out in its runtime of 14 hours. It's a compact generator for compact food trucks that will have long working days.
Features:
Starting power: 6500W
Running power: 5000W
Weight: 138 lbs
306cc engine
5-gallon fuel tank
14h run time @ 25%
4x 120v-20A outlets
1x 120v/240V, 30A outlet
2x USB outlets
Noise level 66dB from 23ft
Recoil style start
All this and a 2-year warranty for consumers and a 1-year commercial warranty is what you get.
Pros
Very lightweight
A lot of outlets
Plenty of power
14h runtime
Compact
Cons
Not for larger, demanding trucks
4. Pulsar Products PG5250B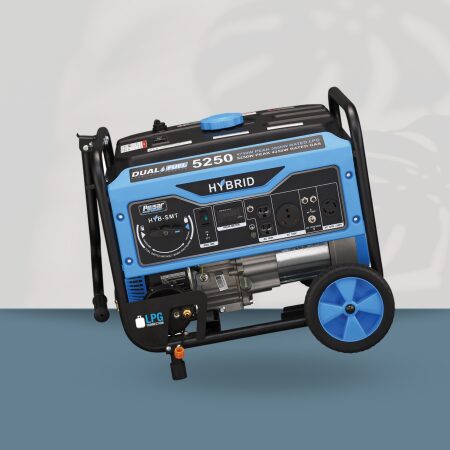 Check on Amazon
Check on Walmart
Check on DvaSata
This one here is a bit different food truck generator, and it can proudly be called the versatile champ! It can run both on gas or propane, making it ideal for emergency situations when you run out of fuel. Having backup fuel when running a mobile business is very handy.
As for the power output, it can generate 5250 starting watts and 4750 running watts. While not the most powerful one out there, it can provide plenty of power for most standard food trucks with a couple of appliances.
It's very lightweight, and its 115 lbs make it easy to transport it anywhere. But, the noise levels are when it comes short. It's one of the loudest ones, generating 78dB of noise at 23ft.
Features:
Starting watts: 5250
Running watts: 4750
224cc engine
Weight: 115 lbs
4-gallon fuel tank
15h runtime
2x 120v/240v outlets
1x 120v/240v outlet
1x 30A RV port
Noise level: 78dB from 23ft
Recoil style start
It comes with a 2-year warranty and decent customer service.
Pros
Very lightweight and portable
Plenty of power for most food trucks
15h runtime
Versatile fuel use
Cons
Very loud, possibly the loudest
5. ​Champion 3500W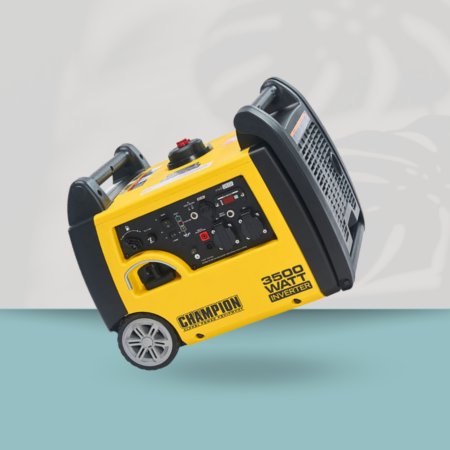 Check on Amazon
Check on CampingWorld
Check on HomeDepot
If you have a smaller truck and you don't need a large amount of power, but want to keep the noise levels as low as possible, this little food truck generator might be the one for you! It produces 3400 watts of starting power and 3100 running watts.
It can use both gas and propane as fuel. With noise levels of 59dB at 23ft, it's at the top of the list of quiet generators. You will be able to run it for 7.5h with gas or an amazing 14.5h on propane at 25% load.
Features:
Starting watts: 3400
Running watts: 3100
192cc engine
Weight: 95.7 lbs
1.6-gallon fuel tank
7.5h or 14.5h runtime at 25% load
2x 120V outlets
1x 240V outlet
1x 12V outlet
Sound level: 59dB at 23ft
Recoil style start
This little champ comes with a 3-year warranty and lifetime tech support.
Pros
Super lightweight
Duel fuel system
Plenty of power for smaller trucks with small appliances
Very quiet
Plenty of run time
6. ​WEN 56380i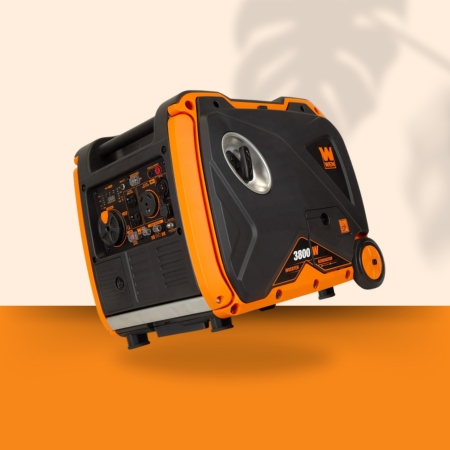 Check on Amazon
Check on Kiky
Having used the WEN 56380i generator for my food truck, I must say I had a blast. Of course, the design was the first thing to catch my eye, but it's the performance that truly showed me just how good my decision was. Powered by a robust 212cc 4-stroke OHV engine, it delivers a peak of 3800 watts and 3400 rated watts.
What's impressive is the ultra-low THD levels, ensuring it can safely power even the most sensitive cooking appliances. The portability is a bonus, with its wheel kit and collapsible handle making it easy to move around.
Sometimes i use it through the whole day, and the runtime was consistent, giving me around 7.5 to 8 hours at 50% load. And the noise? Barely noticeable. From a distance of 25ft, it was just a gentle hum in the background. Safety-wise, it's top-notch with low oil and overload protections.
In short, it's reliable, efficient, and perfect for any food truck owner.
Features:
Starting Watts: 3800
Running Watts: 3400
212cc engine
Weight: 99.2 lbs.
2.2-gallon fuel tank
7.5h – 8h at 50% load
55 – 57dB noise levels
2x 120V 15 amp outlets
Low Oil and overload protection.
Certifications: CARB and EPA compliant.
Pros
Efficient 212cc 4-stroke engine
Ultra-low THD levels
Portable with wheel kit
Quiet operations
Safety features included
Cons
No dual fuel option
Slightly limited fuel capacity
7. ​iGen4500DFc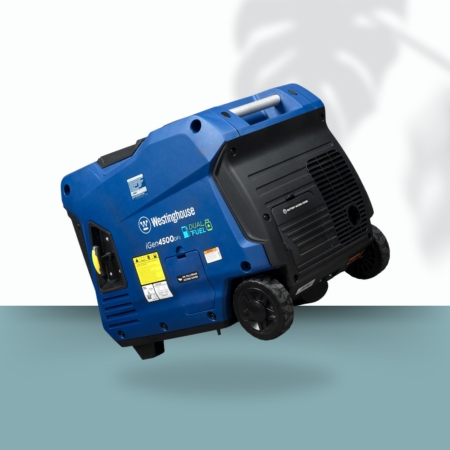 Check on Amazon
Check on Walmart
The Westinghouse iGen4500DFc is a marvel of modern engineering, designed to provide reliable power on the go. With its dual fuel capability, it can run on either gasoline or propane, offering flexibility in fuel choice. Its compact design, combined with a telescoping handle and never-flat wheels, ensures easy portability.
The digital display keeps you informed about fuel level, power output, and remaining run time. With a peak wattage of 4500W and running wattage of 3700W, it's powerful enough to handle most of your outdoor or backup power needs.
The remote start feature, paired with key fob, adds convenience, allowing you to start the generator from a distance. Additionally, its quiet operation ensures minimal disturbance, making it ideal for camping trips, tailgating, or as a home backup power source.
Features:
Starting Watts: 4500
Running Watts: 3700
LED Data Center
Extremely quiet operation with as low as 52 dBA noise output.
8 hours of run time
3.4-gallon gas tank
The generator is EPA and CARB compliant. It also has features like low oil shutdown.
Weight: 93 pounds
Dimensions: 29.6″L x 21.5″W x 24.3″H.
Warranty: 3-year limited service
Pros
Dual fuel (gasoline or propane)
Compact and easily portable
Digital display with vital info
Remote start with key fob
Quiet operation
Cons
Slightly higher price point
Limited outlets
8. ​Generac 7127 iQ3500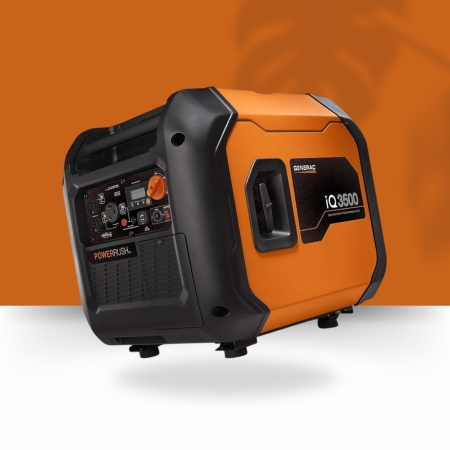 Check on Amazon
Check on DvaSata
The Generac 7127 iQ3500 is a portable inverter generator designed for versatile use. It boasts a powerful 3500-watt capacity, making it ideal for a variety of applications, from camping trips to home backup during power outages.
With its advanced PowerRush™ technology, it delivers over 50% more starting capacity, allowing for the simultaneous start-up of multiple appliances and tools. The generator is also designed with user convenience in mind, featuring an ultra-quiet operation that makes it 40% quieter than Honda.
Its intuitive PowerDial™ integrates the start, run, and stop functions into one simple-to-use dial. The digital Smart LCD display provides real-time information on the generator's performance, including fuel level, runtime remaining, wattage use, and more.
By consulting online reviews, you can get the idea just how many people enjoyed using this one.
Features:
Starting Watts: 3500 watts
Running Wattage: 3000 watts
Voltage: 120 volts
2.6-fuel tank capacity
Weight: 109.1 Ibs
Dimensions: 23.7″L x 18″W x 21.7″H
Extremely quiet operation with as low as 52 dBA noise output
Pros
Powerful 3500-watt capacity
40% quieter than competitors
Advanced PowerRush™ technology
Intuitive PowerDial™ operation
Real-time digital Smart LCD display
Cons
Slightly heavier build
Limited color options
How to pick the best generator for a food truck?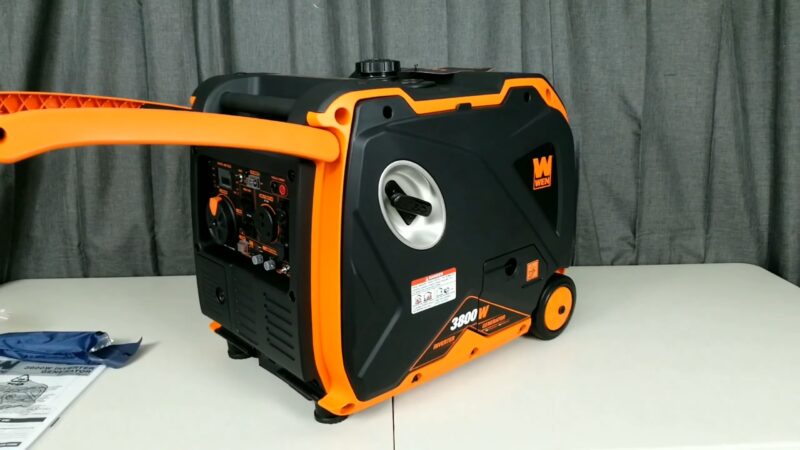 There are few main things you should have in mind when you're picking the best generator for a food truck.
Pay attention to these points:
Generator type
Starting and working power
Generator's size
Watts/ Amperes
Noise levels
Run time
Emissions
Installation
Generator type
All portable generators are very much alike. You can differentiate them based on the type of fuel they use.
Based on the type of fuel, generators are split into three groups:
Gas generators
Propane generators
Dual fuel generators
It's pretty clear what makes them apart, the unique ones are generators with dual-fuel systems, which can use both propane and gas.
Size
Portable generators come in all shapes and sizes. What's important is that the bigger generator doesn't mean more power. You can find some pretty compact generators that offer plenty of power, choose them based on the space you have available. But, smaller generators usually mean smaller fuel tanks.
Power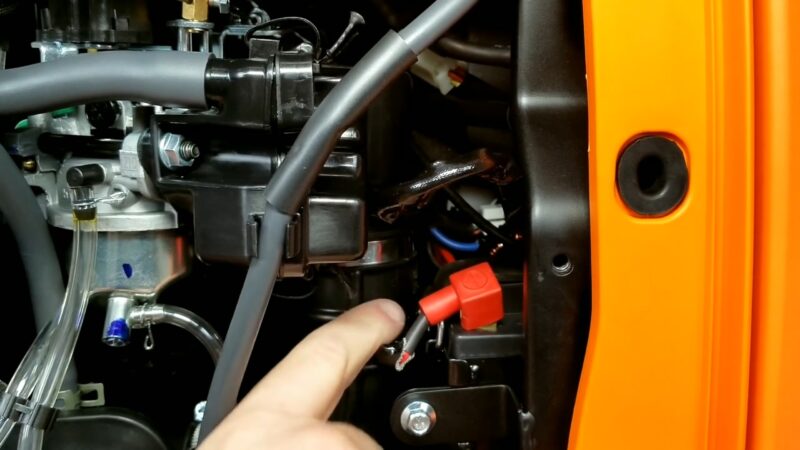 Once you're done with a list of appliances you will need, it's time to calculate how much power they will need to run simultaneously. Have in mind that some of them need to run all the time, refrigerator and freezer for example.
Depending on the type of appliance, there are two types of load/power usage:
Appliances with reactive load need more power to start but consume less when they are running. Appliances with motors are usually the ones with a reactive load.
Appliances with resistive load don't need a lot of power to start, but they consume a lot more when they are running. These are usually appliances with heating elements like ovens, microwaves, toasters, etc.
Since you will probably be using both of these types in your truck, consider them both when choosing the right amount of power the generator can output.
Watts / Amperes
All appliances should have their power consumption listed on their bottom or in the manual. What may confuse you is that usually the appliances have their power requirements listed in amperes, but the generator's power output is in watts.
To calculate how much power an appliance needs in watts check the manual of the appliance and see how many volts and amperes it has. Multiply volts by amperes and the result is how much power it needs in watts.
But, how can you calculate the total power needed for all appliances when the consumption may vary from time to time? It's simple – just calculate the total surge power of all appliances. If the generator matches this sum, you will be safe.
It is recommended, however, that the sum you got is the minimum power output of the generator. Getting the one that has a higher power output is recommended for the long run because some appliances need more power as they age.
Check the generator's specs to see how much starting and running power they have.
Run time
When you take a look at generators specs, you will see a number with the label run time. This number represents the number of hours the generator can run without stopping. Take this into consideration based on the working hours of your food truck. If you're working long hours it's better to pick a generator with less power, but with better run time.
Noise levels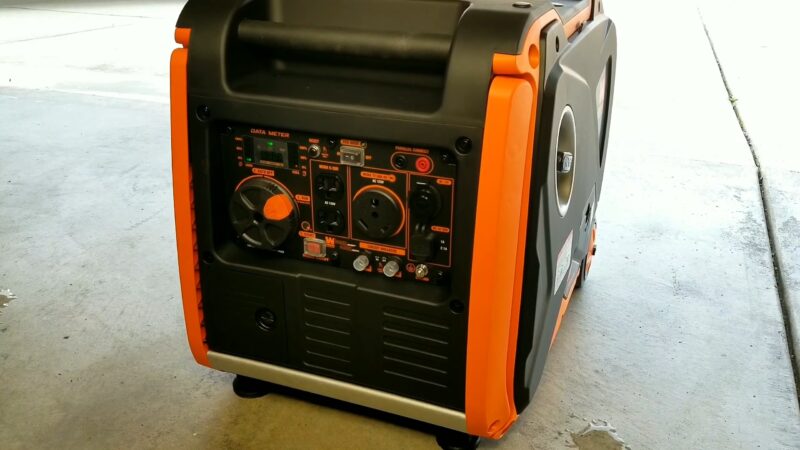 Noise levels depend on the engineering of the engine of the generator. There are no rules here, each has a different noise production, and the only thing you can do is to check its specs to see how loud it will be. For a reference, consider anything below 60 dB pretty quiet.
Emissions
Pay attention to the emissions of the generator. Use a standard generator that uses gas fuel from its own tank, or get an EVAP generator. You can find the emission details in the manual or in the detailed description of the generator.
Generators that have low emissions are better for the environment and for their close surroundings, especially for the people working nearby. Check your area's emission standards. If an EVAP generator is required in your area and you use a standard one, you may face a pretty large fine, up to $40000.
Installation
The food truck generator must be installed properly. It needs a larger space if you're going to install it inside, or you can fit it into a trailer or a trunk. Large space is required so it has plenty of air around it to keep itself cool and to have good airflow.
I would recommend that you put it in a separate space, the trunk is a good way to go if it's spacy. Check the voltage while you're installing it. Usually, it's 120 or 240. Also, make sure it's grounded properly, if you're not sure how to do it, it would be best that you hire a professional who will do it for you.
Ventilation and airflow
Make sure the airflow is good all around the food truck generator. Take this very seriously, good airflow will give improve the cooling of the generator, and it will prevent poisoning from the exhaust fumes of the people inside.
I would recommend that you hire a professional to install it, just to be safe everything will run properly and everyone around it will be safe.
Professionals will inspect the place where you want it installed, so it doesn't cause CO poisoning, protect it from going on fire and make sure everything is heat resistant and that is grounded properly. Be sure to have a small fire extinguisher near the generator, just to be safe and to deal with accidents as quickly as you can.
FAQ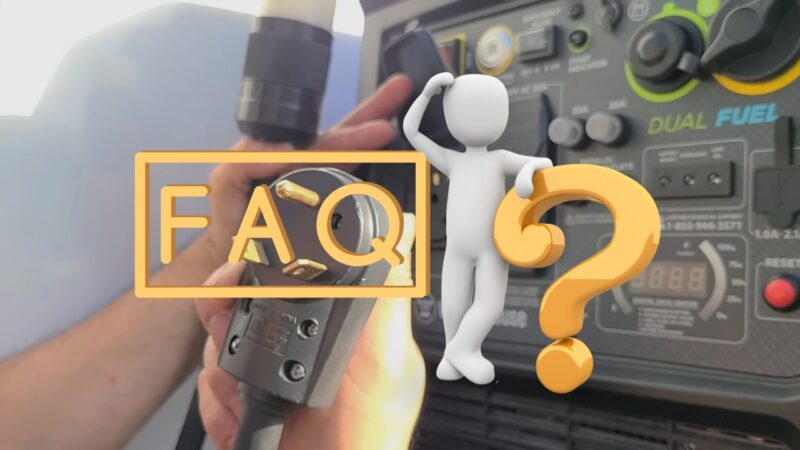 Are Food Truck Generators Reliable?
Food truck generators can be highly reliable if they are properly maintained and serviced regularly. Choosing a high-quality generator from a reputable manufacturer and following the recommended maintenance schedule will significantly increase its reliability.
How many watts are needed to power a food truck?
The wattage needed to power a food truck varies depending on the appliances and equipment you have on board. Generally, food trucks require anywhere from 3,000 to 20,000 watts of power. To determine the attage needed for your specific food truck, add up the wattage of each appliance and include a 20% buffer for potential power surges and additional equipment.
How big of a generator do I need for a food truck?
The size of the generator needed for your food truck depends on your truck's power requirements. After determining the total wattage needed for your appliances, choose a generator with a power output slightly higher than the calculated wattage to account for power surges and potential expansion.
For example, if your food truck requires 10,000 watts, consider purchasing a generator with a power output of 12,000 to 14,000 watts to ensure you have adequate power for all your equipment.
Are inverter generators better for food trucks?
Inverter generators are often preferred for food trucks because they provide clean and stable power, which is essential for sensitive electronics and appliances. They also tend to be quieter, making them more suitable for public spaces.
How often should I refuel my food truck generator?
The frequency of refueling depends on the generator's fuel capacity and consumption rate. Always monitor the fuel level and have extra fuel on hand, especially during busy hours.
Is it safe to keep the generator running all day?
Most commercial-grade generators are designed to run for extended periods. However, it's essential to give them breaks, maintain them regularly, and ensure they're not overheating.
How can I reduce the noise from my food truck generator?
Consider using a generator with a low decibel rating, placing it on a vibration-dampening mat, or using sound barriers or enclosures to minimize noise.
In conclusion
That concludes my list of the best generators for food trucks you can get right now. I hope you found the generator you like! Be sure to double-check your power requirements and choose the generator you want based on that information!
If you're not sure about setting everything up, I highly recommend that you hire a professional and be sure that everything will be working as it should, and the people working in the truck will stay safe.
Grounding is also very important! Make sure it is grounded properly! After everything is set up, the only thing left to be done is to maintain the generator properly, and your food truck will always be ready to serve tasty meals!