You may associate mortar and pestle as part of the ancient tools that our ancestors have been using for hundreds of years. However, this kitchen tool is never out of place in our so-called modern kitchen. A sentimental cook as I am, mortar and pestle is not just handy and useful but also gives my kitchen an atmosphere of prehistoric aura and drama.
Moreover, if you are someone who appreciates such sentiment and style, you will find yourself clicking each product that found its way on my priority list. Check out the best mortar and pestle that I am about to review, and pick one that would be great for your kitchenette.
Editor's Picks of Mortar and Pestle
Here are the top 7 of the highly rated mortar and pestle products that I am happy to do a review. I have carefully selected the items according to the positive reviews, recommendations, and sales rating. Try to ponder which one is suitable for your nice kitchen. For your ease, I chose the best product for each type of material.
1. Marble Mortar and Pestle Set: Anzone Natural Texture Stone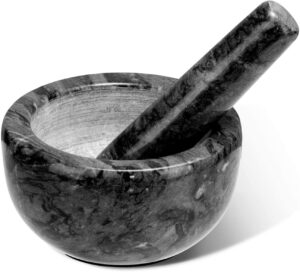 When you are set to make the good condiment or dipping sauce, Anzone Mortar and Pestle would be useful to you. You can easily control the degree of grinding with this type of material.
It's made of solid, heavyweight, beautifully crafted marble and has a capacity of 260 ml.
With the rich, high-grade, and dark marble stone material, it does not only help you make your food extra delicious, but the product itself makes a nice decoration in your kitchen. Marble material is easy to use and clean.
Amazon guarantees FULL-REFUND when your new mortar and pestle did not meet your expectations. Return it right away, hassle-free!
Dimensions:
Outer Diameter: 6.3" ,
Inner Diameter: 4.5"  ,
Height: 3.3" ,
Depth: 2.4" .
Pestle length: 1.8"
Pros
Solid and sturdy
The size is enough, neither too big nor small.
The weight heavy enough to stay in place.
2. ChefSofi Granite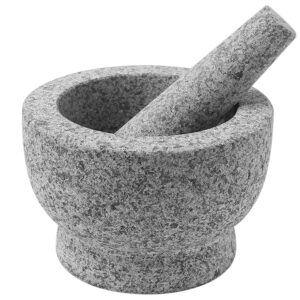 The ChefSofi unpolished heavy granite mortar and pestle is my contender for the hard stone material category. I love the organic appearance of the product itself and the fact that it's unpolished with the thought of improving its performance.
The product package includes an anti-scratch protector and an Italian recipe Ebook.
Since this mortar and pestle is made out of unpolished granite, it won't be hard for you to stabilize the pestle masher since the quality of this mortar's interior has the best metate-like natural friction for effective mashing.
With the 500 ml capacity, you don't need to refill the ingredients frequently. Besides, it has a FULL REFUND in case the performance doesn't satisfy you.
Dimensions:
Outer diameter: 6.25"
Inner diameter: 4.3"
Height: 4"
Depth: 3"
Pros
Durable
Versatile tool
Easy to Clean
Heavy enough not to slip on the counter
Has a nice texture, perfect amount of grit
The pestle is easy to grip
Good quality
Non-stick slip at the bottom
Cons
The bottom has a pointy tip.
The pestle is too short
Square back end of the pestle
Not dishwasher safe
3. Ironwood Gourmet Olmec Acacia Wood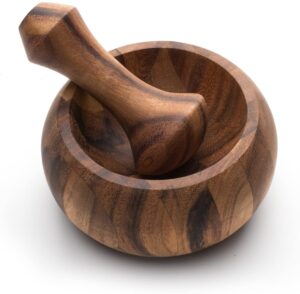 The Ironwood Gourmet Mortar and Pestle is made out of Acacia wood that is popular for its unique and natural contrasting patterns. I love the pre-Columbian design that adds a natural charm in the kitchen as a decorative function at its finest. It reminds me of an Asian kitchen ambiance.
It's a perfect gift for a friend who loves kitchen tools. I call it a useful piece of art. This product has a capacity of 1 cup with good size, effective, and handy.
Dimensions:
Outer diameter: 4"
Inner diameter: 2.2"
Height: 2.5"
Depth: 1.8"
Pestle: 5.25"
Pros
Nice decoration in the kitchen
The pestle tip is angled, nice and wide
Has a wide opening
Not too deep
The inner surface is round.
The top end of the pestle is comfortable to handle.
Cons
The bottom has a pointy tip.
The pestle is too short
Square back end of the pestle
Not dishwasher safe
4. Thai and Laos Kruk Grinding Earthenware Clay Mortar and Pestle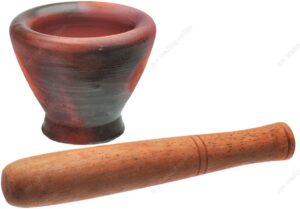 I am giving you the option of natural and safe clay material. Thai and Laos Kruk Mortar and Pestle is an excellent tool both at home and at the restaurant. The mortar is of clay material, and the pestle is of solid palm wood. The extra deep cone-shaped bowl is designed for lighter duty kitchen jobs.
The wood pestle is extra-long that makes grinding easy and effective. You will find the colors and dimensions slightly vary, with some rough patches in the interior and exterior of the mortar.
Dimensions:
Outer diameter: 6.25"
Inner diameter: 4.5"
Height: 5.25"
Depth: 4"
Pros
Natural and safe material
Suitable for small kitchens
The length of the pestle is easy to use and useful
Nice decoration at the kitchen
Cons
Absorbs the flavor and odor of the ingredients
Not sturdy
Not dishwasher safe
5. HIC Porcelain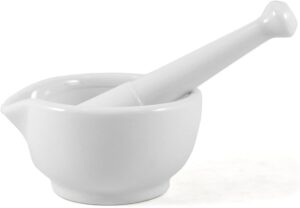 The HIC mortar and pestle is porcelain in material and has a pour spout to speed up preparation with minimum effort. Since it's made of fine porcelain, it complements any décor you have in your warm kitchen. There is no problem placing this in the dishwasher, and it's easy to clean too.
This product is easy to use in the kitchen when cooking when preparing herbs for homeopathy or use it for crushing pills. With its ½ cup capacity, it's also lead-free.
Dimensions:
Outer diameter: 4.5"
Inner diameter: 2.3"
Height: 3.5"
Depth: 2.5"
Pestle: 5.3"
Pros
Dishwasher safe
Elegant and is nice kitchen décor
Pour spout is convenient
Easy to use
Very handy
Cons
Not durable for heavy pounding
Too small for many ingredients
6. 3S Stainless Steel Spice Grinder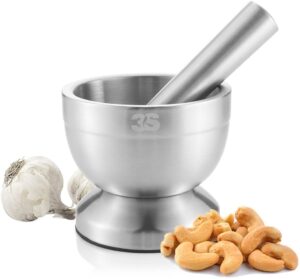 The 3S Mortar and Pestle is a heavy-duty stainless steel safe and more wearable spice grinder.  It is durable and can withstand heavy grinding and constant pounding. You don't need to worry about the cleaning as well since it can be placed inside the dishwasher.
For a more safe and detailed design, there's a rubber ring glued to the base of the mortar to prevent it from sliding when in use and protect the surface of the countertop from being scratched. The brush finish also prevents the pills and chunks from sliding away.
Dimensions:
Outer diameter: 5.9"
Inner diameter: 5.2"
Height: 4.5"
Depth: 2.5"
Pestle: 5.3"
Pros
Durable for heavy-weight pounding
Dishwasher safe
Easy to clean
Has a rubber ring at the base
Brush finish
Cons
Too small
The surface is too smooth.
Why Do I Like It?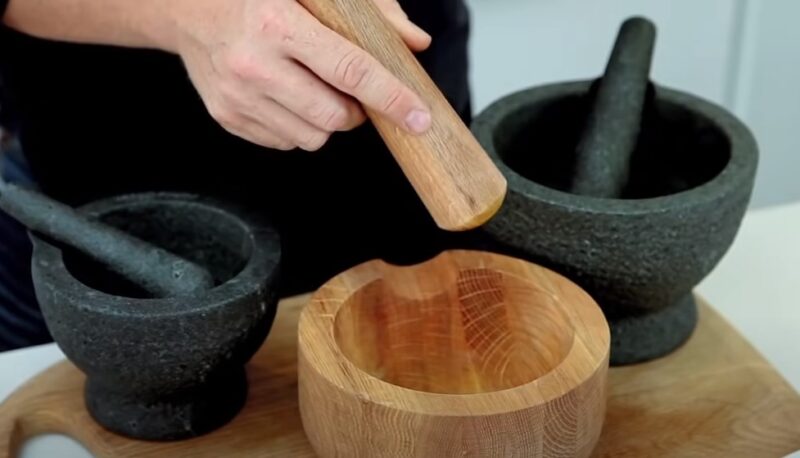 I like the feel of the pestle as I crack spices, especially peppercorns. It makes me happy to hear the cracking sound as I grind peppercorns against the hard surface of the mortar. My mortar and pestle are useful in my scullery.
For me, it's not only the best for spices, but for grinding aromatic roots and herbs for my home remedies as well.
I still choose mortar and pestle against the electric spice grinders or food processors.
I find those modern kitchen appliances costly and a waste of electricity. I believe that they are effective when you need to grind in volume and you don't have ample time and energy to do it.
Yet, for my well-organized kitchen, and cooking for a not so large family, a little bit of small things, goes a long way. I insist that manual grinding brings out finer and more delicate essence that transpire in the hand-grinding method.
It releases the essential oils, flavor, and aroma of the spice and herbs. Besides, nothing beats the mortar and pestle when it comes to being portable and ease of cleaning.
Buying Guide
What Do You Need to Consider When Buying the Best Mortar and Pestle?
+ Material
Of course, you need to look for a material with a considerable mass to it and a solid surface. You'll need a mortar and pestle that has a surface texture that is not overly rough, absorbent or too smooth. I find porous surface difficult to rinse and smooth ones greasy that makes my ingredients to spurt out.
Stone : Stone materials are very effective. In fact, mine is granite. I bought the type that is heavy enough to be firm in place and has a matte pebble surface that can endure hefty and constant pounding. As what I learned, when your bowl is new, and you found a trace of bits of chalk in it, simply season it with dry white rice and pound it until it turns to powder. Throw the rice and repeat the process until it's chalk-free. Do the same if you want to get rid of bad odors or stains from the bowl.
Wood : I admit that wood is attractive when it comes to mortar and pestle. Nevertheless, I found it too light and not suitable for heavy pounding. It looks great as décor in my kitchen shelf though.
Clay and Porcelain : I won't use clay if I have other choices. Although it will work for some, for mine I find it too absorbent. I am sure it will break after some heavy pounding as well. Porcelain is quite fragile for the kitchen. Unless you don't use mortar pestle that much, maybe this may be suitable for you.
Stainless Steel : Stainless steel is too smooth and slippery surface. The ingredients will slide and spill during the process.
Go choose the mortar that is sturdy and heavy enough to keep its whole body in place while in use and will not break from the pressure exerted while grinding.
Keep an eye for surfaces that have a slight pebble or matte finish (in the bottom part of the well) to generate ample friction, gripping the ingredients while crushing. Choose one that is not hard to clean afterward.
+ Cleaning Tips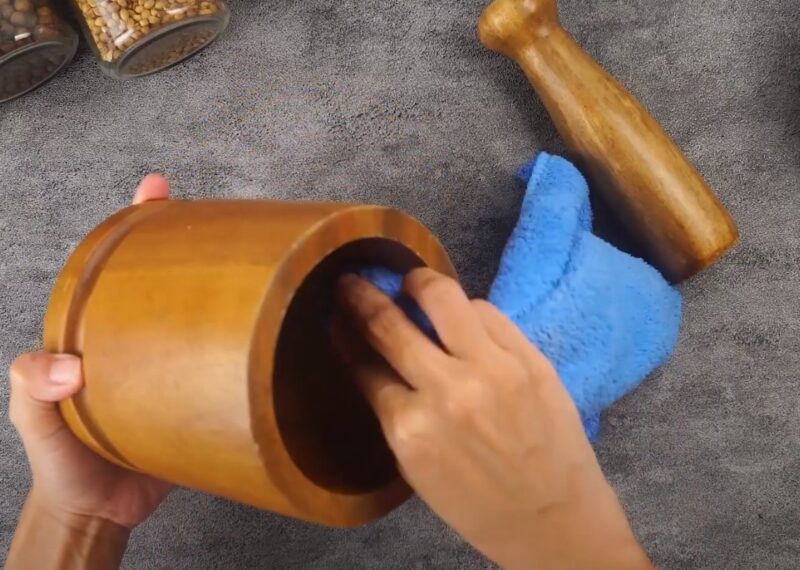 Avoid using soap if possible. The porous type of material can absorb the soap's flavor. Using warm water to rinse is enough to clean.
If you're particular in getting rid of bacteria, season it with lemon by rubbing the lemon itself at the surface. Set aside for a few minutes, rinse, and do the same method again if needed.
You can clean your Porcelain and stainless steel mortar and pestle using the dishwasher.
+ Your purpose will determine the size and the design of your tool
I understand that when you plan to buy a mortar and pestle, you know exactly what to use it for at home. For you, what is the purpose of such a tool? If you plan to use it often for a bigger volume, I recommend purchasing a large one that holds enough capacity to meet the need.
I suggest choosing the kind that has a deeper well to hold the ingredients sufficiently.
Otherwise, if your main purpose is to grind herbs for your medicine occasionally, a small size is enough. Pick a mortar and pestle according to your personal choice.
A deep round well will hold up the ingredients adequately thus preventing the ingredients to spurt and hurdle out while grinding than those shallow ones.
The structure of the pestle must have a wide and slightly curved base that is broader than the tip. It should be amply wide in circumference so that it's easy to manage while handling. Wider base keeps the ingredients in place.
The weight and the size are equally important too. Choose the product that is not too heavy for you to carry as well as a size that fits the space you allocated. Make sure to check the dimensions suitable for your kitchen before buying one.
Since the mortar could scratch the surface of your countertop, look for an additional feature like felt pad underneath to make it slide smoothly.
How to Use It?
If you want to grind something until it becomes powder, a mortar and pestle is a suitable tool for you. It's perfect for making a paste, pounding herbs, grinding spices, grains, nuts, salt, and even those that are not for culinary purposes. Let me show you a video on how to use the tool. It's simple and fun!
Practical Tips When Using:
1. Don't put more than 1/3 full of ingredients. Else, it will be hard for you to even pound without spilling
2. Hold the mortar firmly around the base with one hand, while using the other fist in holding the pestle. Twist the ingredients against the surface and grind evenly until you reached the desired consistency and texture.
FAQ
How do I clean and maintain a mortar and pestle?
To clean a mortar and pestle, rinse it with warm water and use a brush or sponge to remove any residue. Avoid using harsh detergents or abrasive cleaners that may damage the surface. Allow it to air dry thoroughly before storing. Additionally, it is recommended to season or cure the mortar and pestle by grinding some rice or bread crumbs to remove any leftover particles and oils.
Can I use it for non-food items?
While mortar and pestles are primarily designed for culinary use, they can also be used for grinding non-food items such as herbs for medicinal purposes or crushing pills for pharmaceutical needs. It's important to dedicate separate mortar and pestles for food and non-food uses to avoid cross-contamination.
Can I use it for grinding spices and herbs other than salt and pepper?
Absolutely! A mortar and pestle are perfect for grinding a wide variety of spices and herbs. From whole spices like cloves, cardamom, and cumin seeds to fresh herbs like basil, cilantro, and mint, a mortar and pestle can help release their flavors and aromas for enhanced culinary creations.
How do I choose the right size mortar and pestle for my needs?
Choosing the right size mortar and pestle depends on your intended use and personal preferences. If you typically grind small quantities of spices or herbs, a smaller mortar and pestle may be sufficient. However, if you often work with larger quantities or need more room for pounding and grinding, a larger mortar and pestle would be more suitable.
Are there any specific maintenance tips for different types?
Each type of mortar and pestle may have specific maintenance requirements. For example, stone and granite mortars and pestles should be seasoned before use to prevent flavors from transferring.
Wooden mortars and pestles may require occasional oiling to keep the wood moisturized. Ceramic and porcelain mortars and pestles are generally dishwasher safe but should be handled with care to avoid chipping. It's always recommended to follow the manufacturer's instructions for cleaning and maintenance.
Can I use it for grinding wet ingredients or making pastes?
Yes, a mortar and pestle can be used for grinding wet ingredients and making pastes. Whether it's crushing garlic, ginger, or making pesto, the grinding action of the pestle against the mortar's surface helps break down the ingredients into a paste-like consistency. It's important to choose a mortar and pestle with a smooth surface that can handle wet ingredients without staining or absorbing flavors.
My Personal Pick
I had fun reviewing the best mortar and pestle products. I purposely chose one best item for each kind of material for easier decision-making. If you know the purpose in using the tool, then for sure you have picked one already. We all have different choices, depending on our needs.
My personal pick is the u>granite mortar and pestle< since the size and weight fit the need in my kitchen. Honestly, I already have one at home. Cooking for a family of 8, this mortar and pestle serves its purpose and never disappoints me. It's been with me for 4 years now, and it still looks good as new!
I hope that this review has been helpful to you. You may drop a message if you have questions and suggestions.

As a mom of two angels, I credit myself in making meals with high concentration yet the balance of nutrition. I pay good care about the health of my family and everyone. Thus, you will find most of my recipes focus on healthy ingredients.