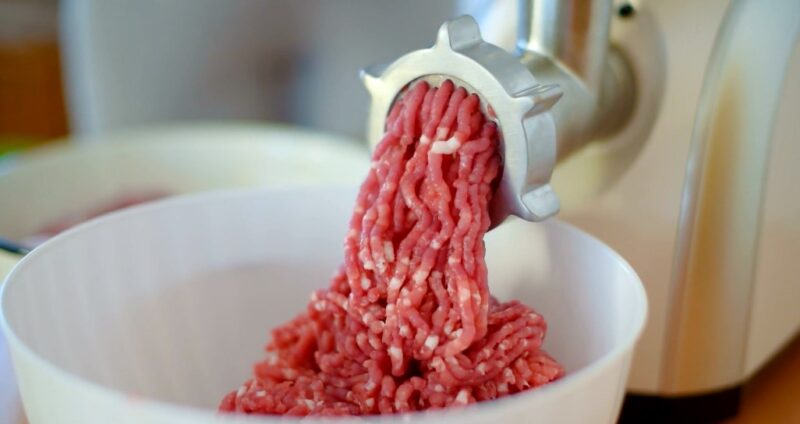 When I first started experimenting in the kitchen, I quickly discovered the magic of using freshly ground meat.
The richness and depth it adds to dishes are simply incomparable. From homemade sausages to the perfect burger patties, it has become an indispensable tool in my culinary adventures.
I'll walk you through my personal experiences and research on the leading devices out there.
1. STX Turboforce Classic 3000

Check on Amazon
Check on Walmart
Check on eBay
Key Features:
1200 Watts Output Power
3 Speed Modes (Low, High, and Reverse)
3 Tempered Steel Plates
3 Stainless Steel Cutting Blades
3 Sausage Stuffing Tubes
Kubbe/Kibbe Attachment
Size #12 Polished Cast Aluminum Head
175 to 225 Lbs of Meat Per Hour
The brand STX International is known for manufacturing the best-quality devices. They are heavy-duty and come pre-equipped with a 1200-watt motor which is powerful enough to grind those tough fibers.
It also comes with a 12-inch grinding head which makes the device a lot versatile as compared to others that are already available in the market.
Its three additional plates facilitate different forms of grinding. The company uses tempered steel to manufacture its grinding plates which can be washed in a dishwasher with ease.
Its powerful 3-speed mechanism provides the best experience. It also possesses convenient buttons to switch on or off the grinder.
While operating, if any kind of debris happens to go inside its feed chute, it can be stopped immediately. This ensures that no further damage is caused to the unit. Its beaner plate facilitates the easy flow of meat from the grinder to the sausage casings.
Also, one gets to choose among the three different stuffing tubes. This amazing unit comes with a money-back warranty which can be availed within a period of 30 days and also comes with a 3-year warranty on its quality.
Pros
Well-equipped with a powerful motor
Instructions ensure proper usage
3 different sizes of plates
Massive capacity
Money-back guarantee
Cons
Not fit for commercial use
It cannot process animal tendons
2. Sunmile SM-G31

Check on Amazon
Check on DvaSata
Key Features:
800 Watt Output Power
Up to 150lbs of Meat Per Hour
Easy On/Off Switch
3 Stainless Steel Cutting Plates
3 Sections of processing at low speed
1 Sausage Attachment
This is the most affordable meat grinder available in the market. It replaces those ancient hand grinders by using a powerful 800W motor which can tear down every fiber with ease.
It has the capacity about 150 pounds every hour. It comes with a well-placed design of switches which makes switching actions a lot easier and convenient. The unit also incorporates a well-built and sturdy design.
It comes with an additional gearbox that can nullify any kind of resistance faced during the procedure.
In times of emergency, its power supply gets cut via its safety switch. All these features make this one affordable, multifunctional, and the best one for home use.
Pros
Compact design
Numerous attachments
Excellent price
Easy to clean
Cons
Doesn't have a reverse button
Attachments may make it bit slower
Smaller meat pieces are a must
3. KitchenAid FGA Food Grinder Attachment

Check on Amazon
Check on BestBuy
Check on KitchenAid
Key Features:
Fits all Stand Mixers from KitchenAid
2 Plates, Fine and Coarse
Fortunately, this one can be easily used with other KitchenAid grinders. It grinds to perfection. Now, preparing sausages at home won't be a difficult job to do. Its mechanism also facilitates fine grating of hard cheese.
It comprises of a hard-plastic grinder. Apart from processing only meat, it enables one to do a lot of other operations. Several attachments like housing, securing ring, stomper, wrench, coarse plate, auger, knife, etc are also included which makes the unit multifunctional.
Pros
Fits every KitchenAid mixer
Useful for mixing sauces and spreads
Easy to install and assemble
It is 100% dishwasher safe
1-year replacement warranty
Cons
Its plastic possesses a chance of breaking
4. VBENLEM Manual 304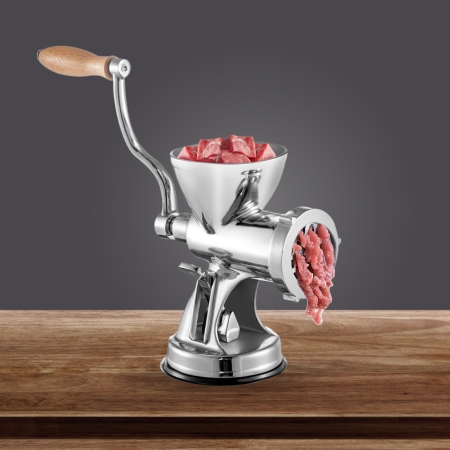 Check on Amazon
Check on PlanetsHoup
Key Features:
Hand-powered for a tactile experience
High-quality material
Simplifies assembly and cleaning
Aesthetically pleasing
No unpleasant noise
Achieves a smooth texture
Provides stability preventing unwanted movement
It can process vegetables and even pasta
Upon using the VBENLEM Manual 304, I was immediately struck by its robust construction. Made entirely of 304 stainless steel, this device exudes durability and a polished aesthetic that fits seamlessly into any kitchen setting.
The manual operation gave me a sense of control over the process, and I was pleasantly surprised by the fine consistency. The detachable design made assembly straightforward, and cleaning was equally hassle-free.
While it's a manual grinder, the operation was smooth, and the results were consistently impressive. The quiet operation was an added bonus, ensuring a peaceful cooking experience.
The VBENLEM Meat Grinder Manual 304 is a testament to the fact that sometimes, manual tools can offer a level of precision and control that electric counterparts might not. While it does require a bit more effort, the end results are worth it, especially for those who appreciate the art of cooking.
The manual operation might not be for everyone, but for those who value quality and durability, this grinder is a must-have if you prefer manual over electric.
Pros
Durable 304 stainless steel
Easy to assemble and clean
Quiet operation
Cons
Manual operation
Limited capacity
5. Gideon Hand Crank Manual

Check on Amazon
Check on eBay
Key Features:
2 High-Quality Stainless Steel Blades
Compact and Lightweight
Suction Base
Easy to Dismantle
Almost all reviews agree that this is the only device that stands out in functionality, features, and durability. Users have assured 100% safety despite the use of sharp cutting blades. The blades are fully enclosed and are lightweight to cut those tough tendons at full speed.
It comprises a meat pusher which helps one to insert the piece into the grinder properly. The unit also comprises a hand crank which prevents one from getting stained. Also, the grinder processes your favorite portion to perfection.
The brand Gideon takes the help of high-quality cutting screens and blades to mincemeat.
These materials ensure its durability and longevity. It can easily be disassembled for washing or making space for another kitchen Tupperware. In all, the device is 100% dishwasher safe and comes with such features which make it a multifunctional one.
Pros
Comfortable to use
Components are 100% safe to wash
Highly dismantlable and extremely lightweight
The components are of high-quality
The suction base helps avoid slipping
It uses several safety features
Cons
Cannot handle tough tendons well
Requires frequent dismantling to clean
6. LEM Products Stainless Steel

Check on DvaSata
Check on HomeDepot
Check on LemProducts
Key Features:
0.35-1.5 HP Output Power
Comes With Circuit Breaker
2 Stainless Steel Plates
180 lbs per Hour
LEM's device helps one to grind those chunks so efficiently that he may not know what he grounded a few seconds earlier. This is made possible by its completely different approach. It comprises of a casting tool which can easily pull off pieces of meat quietly.
Its quite fewer gears also help in getting that noiseless experience.
It consists of several modernized features. It uses a drawer-type tray for the proper storage of plates and knives. Also, its rifling pattern facilitates pushing it forward. All its metal gears, stainless-steel motors are ETL certified. This makes them 100% safe and long-lasting.
Also, it comprises of an efficient lubricated motor and handles for facilitating easy moving. The unit can efficiently grind 7 pounds per minute and consumes a power of 0.75 watts only. Being resistant to stains, this gadget is very easy to clean.
Also, its good customer support and warranty of 5 years assure it to be worthy of the money invested in it.
Pros
Can carry out ultra-quiet operations
Brushed steel finish
Requires minimal power to operate
Additional plate and knife storage tray
Meat chunks can be automatically pushed forward
The whole unit is ETL certified
It comprises of a lubricated motor
Inbuilt circuit-breaker
100% resistant to stains
Additional 5-year warranty
Cons
Cannot be operated in the reverse direction
The second round is usually slower
7. Cuisinart MG-100

Check on Amazon
Check on PlanetsHoup
Key Features:
Powerful 300 Watt Motor
180 Pounds of Meat Per Hour
2 Metal Cutting Plates
2 Sausage Attachments
Comes with Reverse Mode
This Cuisinart variant electric device consumes low power while applying just enough force to make it minced. Having a capacity to grind the meat up to 3 pounds per minute, a superior paste can be made by a single rotation. It is versatile and 100% safe to use.
Its rustproof quality of food-grade stainless steel, makes it hygienic and safe as well. It can effortlessly grind a lot of stuff. Either you need cooking meatballs, meatloaves, and burgers, or chilies and sausages, everything can be done via it.
Different textures like coarse and medium can also be obtained from a single-use.
It also comes pre-equipped with two attachments for making sausages. With on/off switches and reverse switch, this machine eliminates every complexity that one may face during grinding meat. Many consider this device to be the best value.
Pros
It is very easy to use
Only one cycle can give perfect results
It is made from high-quality parts
Can be put into several usages
Can be used in the reverse direction too
It consumes low power
Cons
Not suitable to be used for bulk processing
8. Sunmile SM-G33
Key Features:
800 Watt Max Output Power
3 Different Stainless Steel Cutting Plates
1 Sausage Attachment
1 Stainless Steel Cutting Blade
Dish Washer Safe
Reverse Mode
Being ETL certified for high performance and safety, this one from Sunmile never disappoints. By a single switch, one can easily operate the grinder. Also, the grinder works between a range of 250 watts to 800 watts.
This assures that your meat grinding sessions are less harsh on your pocket. It can very efficiently process up to 150 pounds of meat per hour.
Its red-copper coiled motor material ensures high durability and power. Also, its large capacity is perfect to hold huge quantities of ground meat. It's parts are easy to disassemble for proper storage and cleaning.
Every component of it is made from high-grade quality materials and food-grade lubricants are used to lubricate the moveable parts.
The whole set comprises an assembly and disassembly guide, 3 attachments for making sausage, 1 food-grade plastic food pusher, and several cutting plates. All these features make this one an extremely affordable and useful one.
Pros
Easy auto regulatory options
Suitable for both commercial and personal purposes
High-quality coil assures a long life span of the motor
The screw knobs can be easily assembled
Every component is made from food-grade materials
Includes a durable design of materials
The components are 100% ETL certified
Cons
Knives require frequent sharpening
9. Huanyu Manual Meat Grinder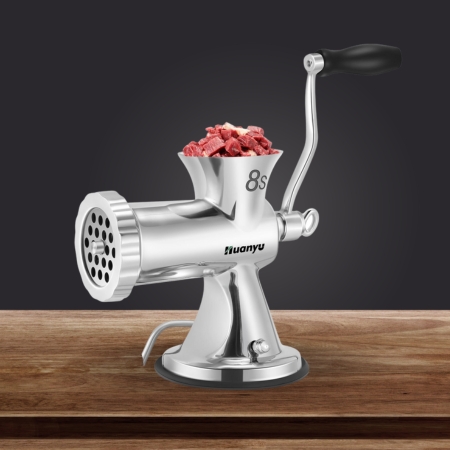 Check on Amazon
Check on DvaSata
Key Features:
Crafted entirely from this high-grade material
Ensures desired consistency
Very simple cleaning process
Adds a touch of sophistication to any kitchen setting
Designed to minimize noise
Capable of processing a variety of foods
Prevents any movement during use
Perfect for various culinary creations
While I haven't personally used the VBENLEM Meat Grinder Manual 304, I've spent considerable time sifting through online reviews to understand its strengths and potential drawbacks. The majority of users praised its robust construction, made entirely of 304 stainless steel.
This not only ensures durability but also gives it a polished aesthetic that many found appealing. The manual operation was highlighted by many as giving them a sense of control over the grinding process. Users were particularly impressed with the fine consistency of the meat it produced.
The detachable design was another feature that many reviewers appreciated, noting that it made both assembly and cleaning straightforward. The quiet operation was frequently mentioned as a significant advantage, especially when compared to some electric grinders.
The VBENLEM Meat Grinder Manual 304 seems to be a reliable and efficient tool for those who prefer a hands-on approach in the kitchen. While the manual operation might require a bit more effort, the end results, as noted by many users, are worth the extra work.
Pros
Durable 304 stainless steel
Easy to assemble and clean
Quiet operation
Cons
Manual operation
Somewhat limited capacity
Therefore, this sums the whole list of the best meat grinders available in the market. They have succeeded in getting the best grinder reviews. So, if you need one, then click on those product links and we are sure you would be amazed at how they work so efficiently at such an affordable price.
Also, read more about best meat slicer in the market.
Buying Guide For Your Kitchen Appliances
We have shortlisted the top 10 best meat grinder available in the market. These will not only provide you with healthier options of protein but will also allow you to go creative with those monotonous recipes.
You can easily grind up a huge chunk by using these best meat mincers. So, why are you still waiting? Get yourself the best value and we are sure you would love to snack on those delicious hamburgers and sausages.
Factors to be considered before purchasing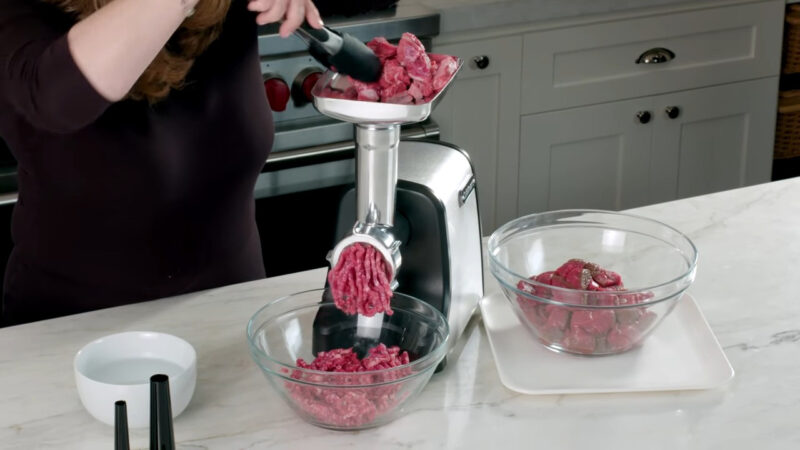 1) Power consumption:
This can have a serious impact on your pocket. Generally, these are available for commercial use consume an approximate power of 1000 watts to 1200 watts. Those devices which are not required to grind huge quantities of flesh, they can efficiently work on low powers.
2) Capacity:
This ensures whether your set of best home meat grinder can be used for commercial purposes or not. Because to make patties for a lot of people, a huge quantity is required.
Before buying, a decision must be taken whether your best value can produce the quantity of ground meat that you had desired for.
3) Circuit protection: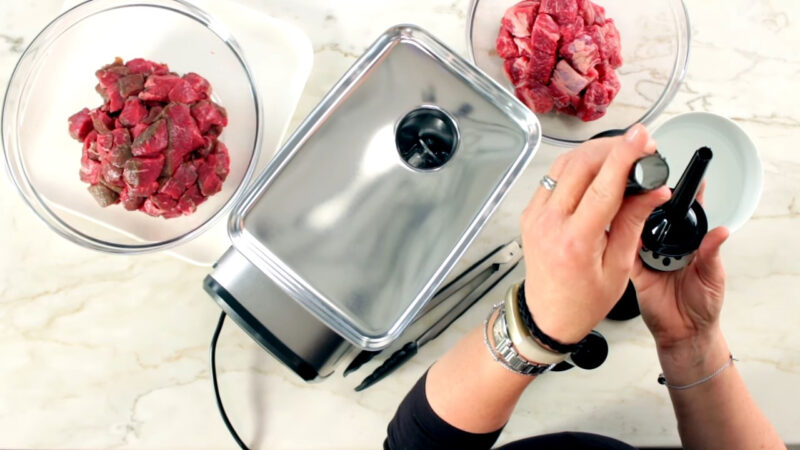 This is an important thing to note down. Care must be taken that your best meat grinder comes with inbuilt circuit protection. For this purpose, circuit breakers are used.
If there happens to be voltage spikes or surges in current, then these circuit breakers break off automatically thereby disconnecting the device from the power supply.
4) Accessories:
Care must be taken in determining the accessories that your favorite set of best manual device comes with.
Accessories like a meat pusher, a blade, grids, sausage kits with keeps are really helpful in exemplifying the functionality of the grinders.
5) Ergonomic design and robustness:
This determines whether your meat grinder can last for a long time or not. Every part of the grinder must be built from food-grade stainless steel and plastics. This shows the robustness of the gadget.
Also, they must be resistant to stains and corrosion. Their design must facilitate easy handling and dismantle as and when required.
6) Ease of cleaning:
It is very necessary to make sure that device can easily be cleaned. As microbes are most likely to grow on moist meat, therefore cleaning the grinders should be the most important responsibility. Therefore, care must be taken that your gadget can easily be dismantled to promote proper cleaning.
FAQ's
What grid sizes should one go for in their best meat mincer?
This greatly depends on the needs of the individual. If you want to make fine pies, then a grid size of 4.5 mm would be perfect. For people wanting to make sausages and mincemeat, then size of 10 mm to 12 mm would definitely be ideal. A 10 mm grid size must have opted if you are a true dumpling lover.
Should one go for a manual or electric grinder?
This depends from person to person. If you happen to live in a country, where power cuts are very common then a manual meat grinder would be perfect for you. Otherwise, you must definitely go for the best electric meat grinder as they require the least efforts and process huge amounts within seconds.
How should one take care of his best commercial meat grinder?
Maintenance should be done properly to assure your grinder a longer life. Always make sure that the device gets cleaned up after every use. Also make sure that every accessory like knife, funnels, plates gets cleaned in warm soapy water to get rid of any germ that might be thriving on them.
After washing, they must be wiped off with a dry cloth. Also, store them in a dry place until you use it the next time.
So, what is the best meat grinder?
The best meat grinder is that which can easily convert those into a fine paste or different textures. They must be safe and hygienic. Also, they must be very handy. Their ergonomic design must reflect robustness, therefore, making them flexible to use.
Can I grind bones in a meat grinder?
Most home devices are not designed to grind bones, and doing so could potentially damage the machine. Still, some high-powered commercial grinders can handle small, soft bones, like those from chicken or rabbit.
Always check the manufacturer's instructions before attempting to grind bones.
How often should I sharpen the blades of my meat grinder?
The frequency of blade sharpening depends on how often you use your grinder. If you use it regularly, you might need to sharpen the blades every few months.
If you notice that the grinder isn't working as efficiently, or if the meat is coming out in clumps rather than being finely ground, it might be time to sharpen the blades.
Can I grind other foods in a meat grinder?
It is possible for these devices to be used for grinding other types of food. For example, you can use them to grind vegetables for soups and sauces, or to grind bread for breadcrumbs. Some people even use these devices to make homemade sausages.
What safety precautions should I take when using a meat grinder?
Always make sure your hands and the work area are clean before you start. Never put your fingers or other objects into the feed tube while the grinder is running. Use the pusher tool to feed meat into the grinder. Always unplug the grinder before cleaning or disassembling.
Last Thoughts
With all the experience I have, I can confidently say that investing in a top-quality meat grinder is among the best investments you will make. The freshness, texture, and flavor it brings to your dishes are unparalleled.
It doesn't matter whether you're a professional chef or a home cook like me, having the best meat grinder in your kitchen arsenal will elevate your culinary creations to new heights.